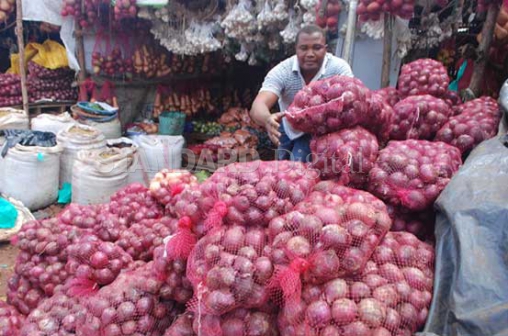 Fruits and vegetables are profitable options for those looking for alternative crops or people seeking sources of extra income. If you're out there wondering what business to do with your little capital, stop and read this. Today, we highlight crops that can change your fortunes this year.
A key to profitability with these crops is to know which varieties perform best under the growing conditions in a particular area.
Passion fruit
If you are looking for a high-value crop that can produce an income in the first year, take a look at passion fruit farming. Passion fruit farming has nearly unlimited possibilities from extended life span exceeding three years after establishment to ability to intercrop. It doesn't cost much to start growing passions for profit either — just a few shillings for seedlings and supplies.
Demand for passion fruits is set to rise even more, due to changing consumer preferences as Kenyans move from carbonated soft drinks to fresh juices. Furthermore, brands like Coca-cola, Afia juices, Del-Monte are already sourcing various fruits from farmers to tap fresh fruits processing segments.
Read More
Despite all the interest by fresh drink processors, the supply of this fruit is scarce. This presents an opportunity for you as a farmer. The crop produces high yields under proper care, for instance, a yield of 50,000kg of passion fruit per hectare has been reported in Kenya. The average price of one kilo of passion fruits is Sh50 in various market centres in the country. However, you can can still sell at a higher price through direct marketing.
From one hectare, it's possible to earn over Sh2,000,000; an earning that exceeds many other farming enterprises.
Furthermore, the maturity and ripening of the fruits, does not happen at the same time some take three days others one week while others two weeks. This is an advantage, as it will allow you to harvest weekly, and have time to market the produce. Starting as a small grower you will find lots of eager buyers at you neighbourhoods and supermarkets.
Straw berries
The demand for strawberries is bursting at the seams and the supply is low. This is because of the strawberry flavour from yoghurt, ice-creams, and jams and in perfumes. Companies that use these fruits are relying on imports this is sufficient justification why strawberry farming is and will remain lucrative agribusiness in the years to come.
Strawberries can grow in almost every part of our country provided there is constant water supply and stable temperature. A one eighth of an acre would be adequate for a beginner but if you are in an urban setting you can invest in a few containers (which you can then put in your backyard) and start farming.
It takes about 70 days for the crop to mature and produce the first fruits. But because the fruits are highly perishable (stays fresh for four to five days after harvesting), it is advisable to start looking for market early enough to avoid incurring losses.
An eighth piece of land can produce between 30kg and 50kg of strawberries per week and each kilo goes for about Sh200 at the current market price. Now assuming your small farm produces 50Kgs per week then that means you can make Sh40,000 per month using only a small portion of your land. Once you plant them, 70 days down the line you will get your first harvest. This will continue for up to three years with two to three harvesting seasons every year. Like any other business with attractive returns, strawberry farming in Kenya requires capital. Chandler is the most popular variety. Strawberries are runners, so once you plant, you do not need to buy other seedlings as you can propagate them by removing the splits from the parent plant.
You don't have to be an agriculture expert to succeed in strawberry farming. All you need to do is find a good piece of land. Then you need to source for the right seedlings – and this is where you need to contact Kenya Livestock and Agricultural Research Institute (Karlo) for assistance. Alternatively, you can talk to other successful farmers in your area for assistance in sourcing for the right variety.
Mushrooms
Mushroom production of late has captured the attention of the Kenya's farming community with most mushroom farmers boasting amazing profits. Mushroom are land and rainfall independent hence making them the better option for those looking to maximise revenue from their land usage. For those without space to garden, growing mushrooms for profit can produce a great return in a small space.
Exotic mushrooms, such as oyster and shiitake, make sense, as they can be grown indoors without soil. They only require a house and your attention. Mud thatched houses can create the right climate for mushroom growing.
The demand in Kenya is unsatisfied with data indicating that we are only producing 500 tonnes of these mushrooms against an annual demand of 1,200 tonnes. Mushrooms can be grown using various substrates from agricultural wastes such as cereal straws such as maize stalks, bean stalk, wheat straw Coffee pulp, coffee husks, paper waste, papyrus, water hyacinth, banana fronds etc. Cotton husks, maize cobs, banana leaves, papyrus, grass straw, paper wastes, sugarcane bagasse and hay. Spawns 'seeds' can be easily obtained from Jomo Kenyatta University of Agriculture, Science and Technology (JKUAT).
Oyster mushrooms, for example, produce around 10kg per square foot of growing space in a year's time. At the current price of Sh300 a kilo, that's Sh300,000 worth of mushrooms from a 10'x10′ space! Exotic mushrooms do not travel well, so as a small local grower you will always have an edge over distant producers. In most supermarkets, the oyster mushrooms are also the first items to sell out. Before, mushroom farming has been a very complicated venture requiring lots of chemistry, biology and attention. This made it a no-go-zone for the small-scale farmers. However, there continuous seminars and workshops by JKUAT which can make you a master.
Onions
Although the onion has played second fiddle to conventionally cultivated crops, it might just be the next big thing in 2016. It is a goldmine waiting to be exploited. It can answer your perennial cash difficulties since its commercial potential is enormous. A net of onions weighing between 13-14kg fetches Sh900 on average or Sh70 per kg.
With proper management a hectare of land can fetch between 14 to 17 tonne. Do the calculation. To obtain even higher returns you can use F1 varieties which have a harvest potential of up to 23 tonnes in a hectare. Most of these varieties only take three months to maturity which makes it possible to cultivate the crop for up to three times in a year. This is in contrast to other crops which can only be cultivated once or twice in a year.
These should be your favourite profitable crops, as they all enjoy strong demand year after year, yet can be grown by anyone who has, or can learn a few basic gardening skills.
- The writer is an expert/consultant on sustainable agriculture and agricultural solutions