Who said only cow milk sells? Goat milk is the new white gold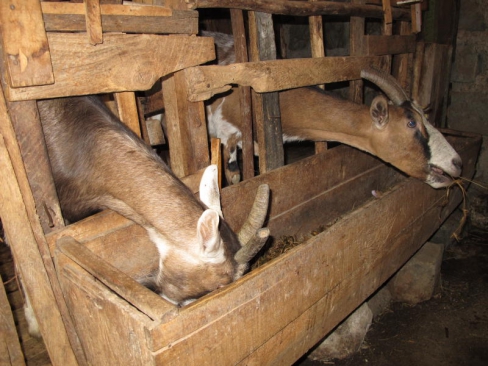 Had his son not been affected by cow milk, Charles Wathobio would not be involved in dairy goat rearing today. Although he loved livestock during his childhood, Wathobio never thought of keeping animals in future.
His entry into dairy goat keeping started in 2005, after his son developed complications due to taking cow milk. "He had been ill for sometime but after diagnosis, it was discovered that he was allergic to cow's milk," he says.
To treat the problem, the doctor recommended that he takes goat milk. Goat milk was recommended because it does not have much cholesterol like cow milk.
But getting goat milk was a headache.
Market research
"I traveled far and wide in search of this white liquid and whenever l got it, it was very little," says the farmer.
It was then that he discovered a serious supply shortage of goat milk yet the demand was there.
Mr Wathobio resolved to start keeping goats to produce enough milk for his son and sell the surplus.
He started researching about goat rearing. To roll out the project, Mr Wathobio used over Sh100,000 to buy four alpine dairy goats from Dairy Goat Kenya in Nyeri.
He also bought feeds and a structure for the animals. He says within one year, his stock had doubled, because goats give birth to twins and triplets. And in two years, he had over 20 goats.
Realising the population of goats was higher than his structure could accommodate, Wathobio took some goats and started another goat dairy farm back in his rural home in Nyeri.
Today, his Nyeri farm has 34 goats, while those in Rongai are 12.
"I have more goats at my rural home because there is enough space, compared to Rongai where there's little space," he said.
Interestingly, he says the 12 dairy goats in Rongai bring him more profit than those in Nyeri. How so? one may wonder.
He says in Rongai, one litre of goat milk costs Sh200 and above, while in Nyeri it is less than Sh100. And at times, the price can be as low as Sh50.
On average, each of his 12 goats give him three litres of milk in a day, therefore totaling to 36 litres. Mr Wathobio reveals that he pockets at least Sh100,000 profit in a month.
He says the returns are high, while their labour is nearly zero.
Current demand
"The only work involved is feeding and milking the animals which takes less than two hours. Once l have fed, milked and cleaned their shed in the morning, l can go on with my other activities uninterrupted till evening," Wathobio says.
To get more milk, he feeds his goats with dairy meal, in addition to proteins, such as soya and minerals. He says minerals are extremely important for lactating goats.
"When you add some minerals, they eat little because there are enough nutrients in the food. And if nutrients are little in the feed, they will eat a lot of feeds to compensate for that shortage," he explains.
Wathobio sells the milk to individual clients and some institutions.
Although he is settled and making good profit, he says the journey has not been all rosy.
"At first nobody wanted to buy my milk because it was new to them. Some people did not even know goat milk can be consumed by humans. I had to put posters all over the town advertising my produce and its many benefits. I have realised you must advertise your goods for people to know. That aggressive marketing is what opened a market for me," says Wathobio, who is trained in marketing.
Today, he has more clients and at times he's forced to outsource milk from friends and fellow farmers to satisfy the market. He also travels to his rural home frequently to collect milk for the Nairobi market.
To meet client demand, he has also opened a goat milk kiosk in Rongai and sells his milk through online platforms like Facebook.
Animal production
To farmers who want to keep goats, Wathobio says the secret is feeding them well, to ensure they stay calm so that they can produce lots of milk.
"For the goats to produce plenty of quality milk, they need to be well fed and stay in high spirits. If I hear my goats making a lot of noise, I know that something is wrong. I have to make them calm otherwise the milk output will be very low," he explains.
Wathobio uses artificial insemination to get healthy goats and also keeps a breed called alpine goats. "Alpine dairy goat are the best to rear because they are resistant to tropical diseases," he says.
To get maximum benefit from value addition, Wathobio also makes yoghurt and sells a litre at Sh400.
One of the challenges he faces is that goats give birth to twin or triplets yet they don't produce enough milk for the young ones. At times, he is forced to buy cow milk and mix it with goat milk so that he can feed the infant goat.
He warns, "If they suckle all the milk, you will have nothing to sell."
Another challenge is that good affordable veterinaries are hard to come by.
Whenever his goats are unwell or are having a pregnancy complication, he is forced to hire a vehicle to take them to a vet stationed miles away and their services are expensive.
To boost his knowledge and skills on animal production, Mr Wathobio enrolled for a related course at Egerton University, and now he has a wealth of information on urban goat farming and trains other farmers on the same.
For those interested in this venture, he advises them to start with the little they have and if they do not have land, they should lease.
"Saving to start a project is tricky, because it takes a lot of time and by the time you are through with saving, a lot of market dynamics have changed," he notes.
Wathobio, 43, has partnered with a group of people and are now constructing a goat milk processing plant.
Once the structure is ready, he says the team of farmers will tap into economies of scale and value addition.