Shipper's plan to ease port congestion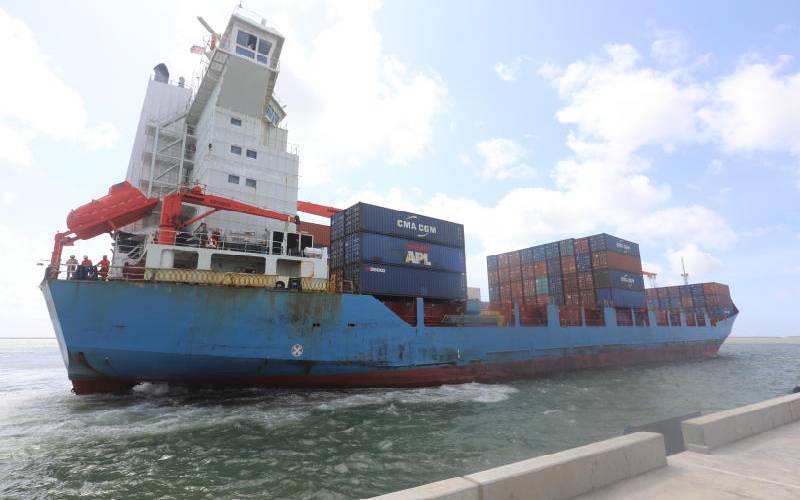 Shipping company, Maersk, is planning to redesign its service on the Mombasa-North Europe route.
The plan dubbed "ME7 service" is hinged on creating a single transshipment route from Mombasa and Lamu ports to the port cities of Europe.
Maersk ships are only expected to take rests on the hubs of Colombo and Salalah in Oman.
The initiative is meant to ensure cargo flows smoothly without getting affected by delays in case of congestion.
The fresh service will be helpful to the new Port of Lamu which has already introduced transshipment services.
It will also now be easier to transport fresh produce in reefer containers.
Last week, at Lamu Port, the first reefer containers were loaded onto MV Spirit of Dubai, in a move that signals better business days for the port.
Lamu's first berth was commissioned by President Uhuru Kenyatta on May 20 this year. The other two berths are expected to be ready by end of October this year.
MV Spirit was loaded with containers of avocado and cut flowers destined to Europe through Jeddah, according to Kenya Ports Authority (KPA) General Manager Operations Sudi Mwasinago.
"Lamu Port is ready for business. It has introduced shipment of fresh produce like avocado and cut flowers from upcountry to the world using reefer containers," Mr Mwasinago said.
Reefer containers are shipping boxes that are refrigerated to carry perishable commodities like flowers and fruits.
In a statement, Maersk said "ME7 service" will drive shipping services from Mombasa to North Europe specifically the seaside English town of Felixstowe and Rotterdam Port.
Maersk said the changes in network were primarily aimed at providing higher predictability in shipping operations while offering flexibility to customers' supply chains.
Maersk noted that the ME7 service, will bring more resilience to customers' supply chains, and protect them from operational challenges that arise from shipping contingencies.
"We welcome the redesign of our ocean network from Salalah which will connect our Kenyan customers cargo to Europe through a single transhipment," said Carl Lorenz, Maersk Eastern Africa Managing Director.
"This ocean product enhancement will ensure further peace of mind to Kenyan exporters, injecting more resilience, predictability, and reliability into our customers' supply chains, particularly essential for perishable cargo from Kenya."
The ME7 service will connect Kenya's exports through Salalah to Europe ensuring the cargo will flow smoothly.
The ME7 service will also provide regular rotations between the hubs of Colombo and Salalah, therefore letting customers have a more flexible option of moving their cargo.
"Our customers deserve a predictable service that will allow them to plan their supply chains better," said Bhavan Vempati, Regional Head of Ocean Management, Maersk West and Central Asia.
"With our redesigned ocean network, we are not only providing our customers with predictability, but also greater speed to market ."
Boats on L Victoria a ticking bomb
Even though KMA warned all lake operators that they should acquire life jackets and other safety gears, few have observed this directive.