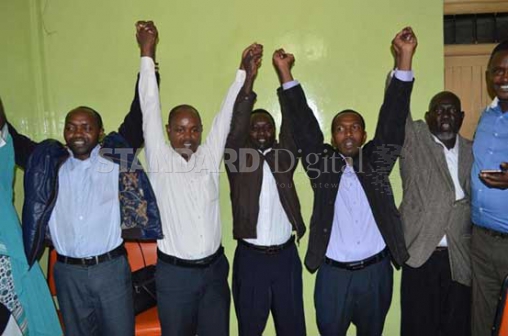 Health workers have vowed to go on strike next week after talks with the Meru county government collapsed.
The workers' union officials, who attended a meeting convened by County Secretary Julius Kimathi on Tuesday, left in a huff to protest an invitation to the media for a joint press conference to "call off the strike".
They said county officials had not consulted them prior to inviting the media and there was no concrete agreement reached after the three-hour meeting at the county government offices.
Read More
The Health workers, who issued a seven day strike notice last week, are threatening to go on strike because of failure by the county government to fulfill a deal that ended a one-week strike on September 7, last year.
Unions claim they have been taken on a wild goose chase in negotiations with the county since the deal brokered by Governor Peter Munya last year, which saw the county concede on all their 12 grievances.
AUTOMATIC PROMOTION
During the Tuesday meeting, the county officials are said to have announced that only 54 of the 1,600 health workers have so far been promoted automatically, insisting all the others were only eligible for promotion on application.
The health workers are seeking to have the bulk of them in the four lowest job groups promoted automatically as was the norm when they were under the national government.
But the county government stuck to its guns that it would only award automatic promotions to those on two entry level job groups.
Other county government officials, who attended the meeting were Public Service Chief Officer Nabea Moses, Director of Human Resources Mary Kimaita, County Director of Medical Services Elias Nyaga and the County Public Service Board Secretary Clare Kagwiria.
The unions represented at the meeting were Kenya National Union of Nurses, Kenya Association of Public Health Officers Kenya and the Association of Kenya Medical Laboratory Officers.