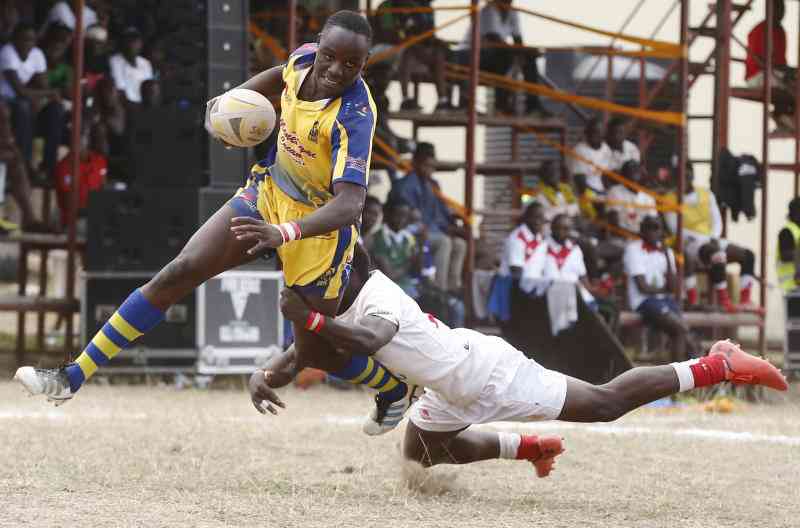 Homeboyz were on Sunday crowned the 2022 Dala Sevens after seeing off Menengai Oilers 19-14 in a close Cup final at Mamboleo in the Jomo Kenyatta Stadium in Kisumu.
Amon Wamalwa, Leonard Mugaisi and Collins Shikoli struck for Homeboyz who became the fourth different team to win after four legs of the 2022 National Sevens Circuit.
Amos Onyinkwa and Beldad Ogeta touched down for Oilers who are now two-time unlucky after previously losing to Mwamba during the Driftwood Sevens two weeks ago.
In the match, the deejays drew first blood after Wamalwa crossed over the white wash with a silky run that was converted by Mike Nyakundi.
Oilers would respond after pouncing on a loose ball that they quickly recycled before, setting up Onyinkwa for the five pointer under the sticks before Kwemoi's conversion leveled the scores at 7-7.
Moments before the break, Mugaisi sent the fans packed at the new Jomo Kenyatta stadium to their feet after an immediate response sent Homeboyz 12-7 up at half time.
In the final half, Shikoli stretched the scores to 19-7 after touching down a try that Brian Juma converted.
Despite Oilers' late push through Ogeta's try, Homeboyz won the Dala Sevens title with little time left on the clock for the Nakuru based side to pull a late comeback.
Homeboyz were 14-10 winners over Mwamba, while Menengai Oilers defeated KCB 14-12 in their respective semifinals.
Meanwhile, KCB finished third after a 10-3 win over Driftwood Sevens champions Mwamba.