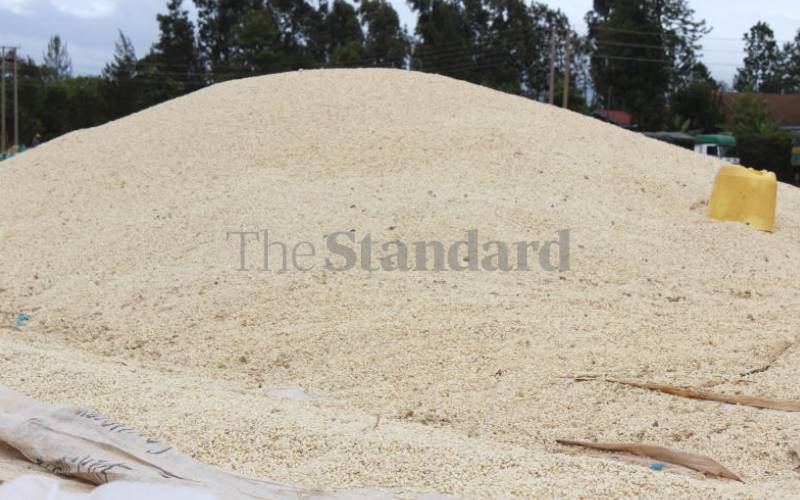 Maize farmers in the North Rift region want the government to suspend plans to import the staple until they can sell their produce.
The farmers said they still have maize in their stores awaiting better prices.
Agriculture Cabinet Secretary Peter Munya recently announced that the government will import 540,000 tonnes of white maize.
Mr Munya also accused farmers of hoarding maize. According to the ministry, farmers were holding 8.5 million 90kg bags of maize stocks out of 10.1 million bags, which has left millers staring at a shortage.
But the farmers have argued that maize prices are too low, and it will not be profitable to sell given the high cost of farm inputs. A 90kg bag of maize is currently retailing at Sh4,050.
Kenya National Farmers Federation chairperson Ruth Kemboi said the government should focus on improving market prices rather than importing maize when farmers have hundreds of bags in their stores.
Ms Kemboi added that it was unwise for the government to import maize when farmers in Nandi and Narok are nearing the harvesting season.
"Farmers have enough maize to feed the entire country, and the Ministry of Agriculture should not import maize. Instead of spending millions in importation, the government can make better use of the money by investing in the agriculture sector and helping farmers acquire affordable farm inputs and pesticides," said Ms Kemboi.
The farmers argued that importing maize would only give room for cartels to thrive.
A large-scale farmer from Moiben, Uasin Gishu County, said she had more than 500 bags that she has not sold because the price is not attractive.
The farmer, who refused to be named, said she would only sell her maize if the price improves.
"A price of Sh4,200 would be better given the hard work we put in our farms. The Ministry of Agriculture also knows well that farm inputs are very costly and that the farmer is not cushioned from the harsh economic conditions. We are not hoarding maize. We are only asking for fair prices that can help farmers get profit," she said.
Another farmer, Paul Kemei from Bayete, said he had 150 bags of maize which he is yet to sell. Mr Kemei, like the other farmers, said that he would only be encouraged to sell his produce if he was given a better price.
"Importing maize is not a solution. If the government sees importing as the best option while ignoring the local farmer, will we be importing maize every year?" he posed.
Mr Kemei said the government should listen to the farmers, review its prices and give farmers more time to clear their stocks before resorting to importation. "Importing maize only destabilizes market prices and makes farmers incur more losses."
Meanwhile, maize farmers in parts of the North Rift are grappling with destructive fall armyworms that have invaded the region.
Farmers who spoke to The Standard said they fear losing their investment following the high cost of inputs that saw planting fertilizer hit Sh6,000 for a 50kg bag in the current season.
In West Pokot, the pests have been reported in Alale, Mnagei, Kapenguria, Siyoi and Chepararia wards, and farmers are appealing for assistance from authorities.
In Uasin Gishu, the destructive pests have been reported in Sergoit and Kerendile areas in Moiben sub-County.
Adams Keitany, a farmer in Sergoit, called on the county and national governments to intervene before it is too late.
"We urge the government to take immediate action since the worms spread fast to other regions and might cause more harm. We need the Ministry of Agriculture to help and enlighten us on control measures or help us with required pesticides to deal with the worms," said Mr Keitany.
Tony Rotich, a farmer, said more than 100 acres of maize plantation had been affected by the worms.
He said that despite the farmers rushing to spray the affected farms using common pesticides, the worms always return, making their efforts futile.
"I have tried spraying my 20-acre maize farm, but the stubborn worms won't die. As you can see, hundreds of them still surviving. The worms continue nipping the maize buds, and I am afraid I might not harvest anything," said Mr Rotich.
Uasin Gishu Agriculture Executive Samuel Yego said the worms invade when rains subside.
"We have received reports of isolated cases of attacks. It is not severe, and farmers who report are supported with pesticides and sprayers. The county has the control chemicals, and we urge farmers to report whenever they come across the insects," said Mr Yego.
Prof Julius Bittok, who is a financial counsellor for the Kenya Kwanza caucus, while addressing the media during the Kenya Kwanza economic forum, said that farmers have been subjected to losses at the expense of substandard maize.
"It is not advisable for the government to import maize when we have a lot of maize in our stores. It does not make sense to import when our farmers are incurring losses for lack of good prices and cannot get market for their produce," said Bittok.