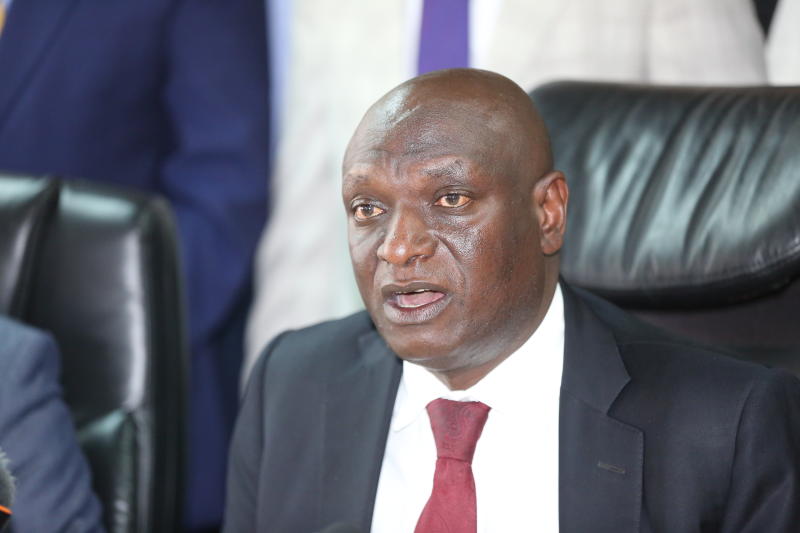 The entry of former Devolution Cabinet Secretary Charles Keter into the Kericho governor race has spiced up the battle to succeed Paul Chepkwony who is serving his last term.
Prof Chepkwony's deputy Lilly Ngok, who became Kericho's second deputy governor after the death of her predecessor Susan Kikwai in March last year, is also in the race.
The former dean at Kisii University is the only woman in the race so far.
Other candidates in the race are Erick Mutai, Fred Kirui, and James Sang who are all eyeing Deputy President William Ruto's United Democratic Alliance (UDA) ticket to run for the county's top job in the August elections.
There is also an independent candidate, Elijah Maru, who comes from Soin/Sigowet Constituency. He is an engineer by training.
"The battle ahead of me is not easy but with your support, we will make it. If I win, I will share the country's resources equally among all six constituencies. I am also calling on residents of Kericho to embrace women leaders," Ms Ngok told residents of Sereng village in Kipkelion West Constituency during a recent rally.
Before his appointment to the Cabinet in December 2015, Mr Keter was the senator for Kericho. He'd also served as Belgut MP from 2007.
Keter, who spoke during a meeting at his home in Chepsir, Kipkelion East Constituency, said he was ready for the battle to succeed Chepkwony.
During the meeting, the former CS was endorsed by a section of MCAs, including County Assembly speaker Dominic Rono, members of the clergy, and some Kenya National Chamber of Commerce and Industry officials.
In a post on his social media, Keter said his desire to be governor is fuelled by his desire to enhance devolution and to develop the region.
"We discussed various development issues including the progress of the Chepsir/Kokwet/Kiplelachbei water project that is supported by the national government through the Ministry of Devolution," said the former CS.
The project is expected to cost Sh60 million and will provide about 3,000 households with water. Dr Mutai has been traversing the county, for the past two years, selling his agenda.
"I have been visiting various parts of the county to farmiliarise myself with the challenges facing the people of Kericho," he told The Standard.
The aspirant, who comes from Bureti Constituency, is currently a senior lecturer at Embu University.
Some residents who said they support Mutai, claimed they do not like established politicians who they said are aloof and surrounded by cartels which makes it hard for them to serve the people.
"What residents of Kericho are yearning for is a county government that will make devolution work as envisioned in the constitution. I am also now familiar with the challenges they want addressed," said Mutai.
Ngok said her main focus will be enhancing girl child education.
"I may not be able to buy household items for everyone in this county. However, I will make sure we pay school fees for needy but bright students, thereby securing the future of the next generation," said the deputy governor, who spoke at a rally in Jagoror, Kipkelion East Constituency.
For Kirui, who is also an engineer, this will be his second attempt at the governor's seat. He lost to Chepkwony in the 2017 Jubilee preliminaries.
The former Kenya Ports Authority director has centered his campaigns around revamping agriculture and enhancing the provision of water.
"Kericho is a known producer of tea, maize, coffee, and sugarcane, among other crops. The problem is that we don't have industries to process these crops. That is why I will give special attention to value addition if elected the next governor," said Kirui who comes from the Kipkelion Constituency.
Prof Sang, who is in his late 60s and the oldest of the contestants, said his priority is health and education.
"As we work hard to make the bottom-up economy a reality, education, and health are key," he said.
Maru, who is also an engineer, said he would need only three years to transform the lives of residents economically.
"In Dubai, though in a desert, the income per capita is far better than Kericho. Yet our county is endowed with massive resources," said Maru.
The independent candidate said his administration will also pay special attention to value addition if he wins.
And the race is open after Chepkwony said he has no preferred candidate.
"I don't intend to go around campaigning for anyone. My focus will be on offering services to residents of Kericho until my last day in office. I will then decide what I will do next," he said.