19 years later, family of slain journalist still seeks justice for kin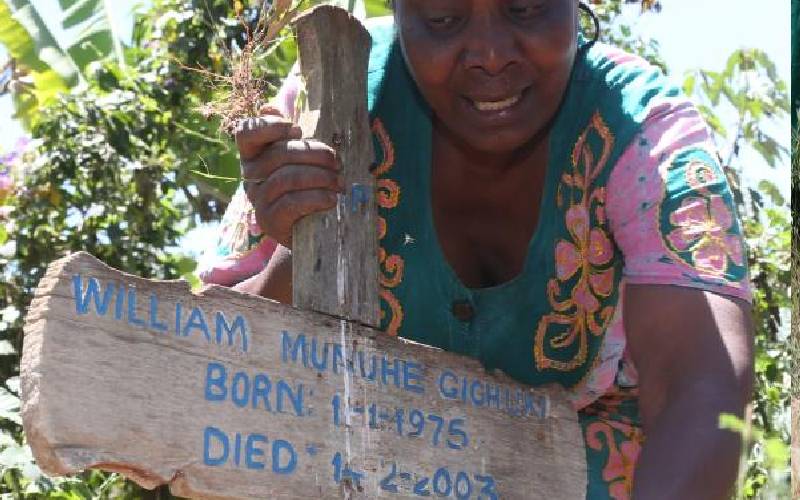 On January 14, 2003, freelance journalist William Munuhe was murdered.
Munuhe met his death while attempting to lay a trap for Rwandan Genocide suspected mastermind Felicien Kabuga to be arrested by agents from the US Federal Bureau of Investigations (FBI).
His body was found three days later covered with a blanket at his home in Karen, Nairobi. He had a bullet wound in his head and a burning jiko was next to his bed.
Nineteen years later, his family is still holding on to a February 13, 2003 statement from the American Embassy assuring them that justice will be served.
"We urge Kenyan authorities to pursue and apprehend Kabuga to investigate thoroughly the circumstances surrounding Munuhe's death," read the press release by the Embassy.
The statement had offered them hope, a hope that is now dwindling.
For 16 years, the family had been following up the case with the Kenyan Government.
Munuhe's father Nicholas Gichuki died in December 2018, aged 71.
When they got no help, Munuhe's elder brother Josephat Mureithi moved to the High Court in Nakuru in 2019 and sued the state accusing it of "killing" their case.
Mureithi had sued the PS Ministry of Interior, Inspector General of Police, Directorate of Criminal Investigation, Director of Public Prosecution, Principal Civil Registrar Immigration and Legal advisors of government as defendants.
There was a glimmer of hope on May 16, 2020, when Kabuga, 84, was arrested near Paris, France and taken to court for genocide and crimes against humanity.
In August, Justice Joel Ngugi advised Mureithi to seek help at Kituo cha Sheria to push their case to ICC.
Ngugi noted that the High Court had limitations in handling the case.
"The compensation case can only be handled after Kabuga's trial is concluded and he is found guilty," advised Ngugi.
The case has never proceeded since September 20, 2021.