Tunai lists gains, challenges in last address to county assembly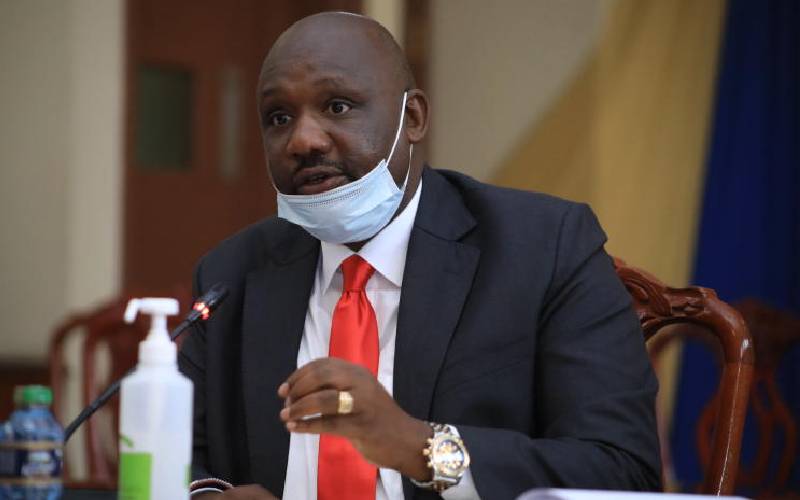 Narok Governor Samuel Tunai on Thursday outlined his achievements in his last 'state of the county' address.
While addressing the County Assembly, Governor Tunai spoke of the gains he made and challenges he faced in his two terms in office.
Among the key areas that the governor prides in is the education sector, where he revealed his administration had spent Sh2.1 billion on school infrastructure.
He said another achievement includes the confirmation of 843 Early Childhood Development Education (ECDE) teachers on permanent and pensionable terms.
"We had 857 ECDE teachers on contracts in 2016 up from 475 that we found when I was elected in 2013," said Tunai.
He also revealed that since 2013, his administration had spent Sh1.4 billion on bursaries that he said have benefitted over 200,000 bright students from needy families across the county.
On roads, the governor said his administration opened up over 3,000 kilometres of feeder roads across the county, enabling farmers and livestock keepers to access markets.
On tourism where he serves as the Committee Chair at the Council of Governors, Tunai said he was able to spearhead the diversification of tourism.
"I championed for change of tack in marketing tourism by venturing into cultural and recreational parks, and beach sports," he said.
He, however, regretted that the county made a loss in tourism revenue from Masai Mara Game Reserve due to the Covid-19 pandemic that led to the cancellation of international flights.
Tunai, who is rumored to be eyeing the senator's seat, also attributed the recent launch of the Maasai Mara International Airport within the park as part of his legacy.
"Air infrastructure is key in tourism and together with the national government we agreed to upgrade Angama Airstrip into an airport.
"This is going to be an exciting experience to our visitors," said Governor Tunai.
He also hailed his administration's relationship with the county assembly that saw the creation of the Masai Mara Community Fund which saw 19 per cent of the total tourism revenue go into supporting education in the surrounding areas.
He also took credit for venturing into a regional economic bloc with neighbouring Kajiado County under the Narok-Kajiado Economic Bloc (NAKAEB), which he said fostered mutual working relationships.
"The NAKAEB now has a working secretariat and we have identified areas of operations such as livestock markets, disease outbreak control and revenue collection among others," he said.
On peace in the county, Tunai said he managed to bring together all the communities and clans living in the county.
He maintained that he was elected twice due to his ability to unite all the communities living in the cosmopolitan county.
Tunai has however warned those aspiring to succeed him to carry out peaceful campaigns devoid of incitement.
In agriculture, he said his administration has empowered farmers by providing subsidised fertilisers as well as avocado and macadamia seedlings to farmers free of charge.
He said that he will be remembered for the Sh500 million upgrade of the Narok County Referral Hospital as well as the Kenya Medical Training College (KMTC).
On Covid-19 management, Tunai said the county received 82,000 vaccines, and so far about 50,000 residents have been vaccinated.