Nakuru Bishop Maurice Muhatia speaks after appointment, condemns school unrest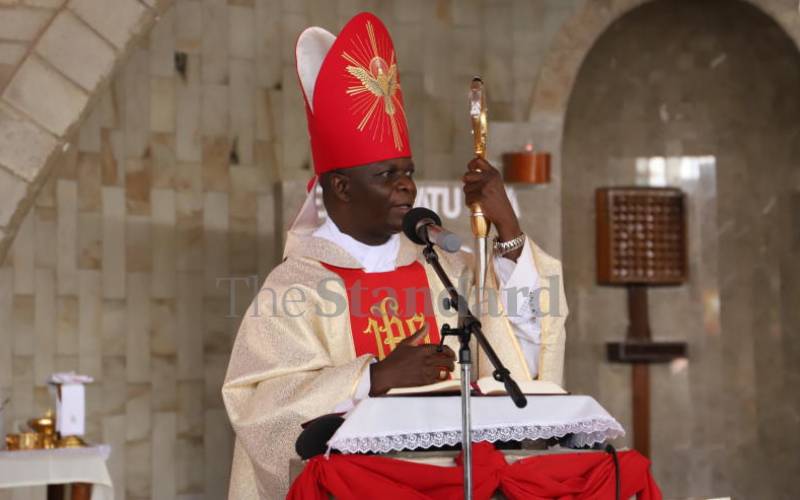 Nakuru Catholic Diocese Bishop Maurice Muhatia (pictured) has condemned student unrest in secondary schools across the country.
Speaking on Sunday as he celebrated the first mass after he was appointed Apostolic Administrator for the Kisumu Archdiocese, Bishop Muhatia called for calmness in schools.
He urged teachers, school administration and parents to have a dialogue to find amicable solutions to the issue.
"I call for calm and urge students not to lose their morals or hope in a life to a point of torching schools or destroying properties," he said.
He also urged parents and teachers to advise students and youth to avoid chaotic ways of solving disputes in schools.
The bishop called on politicians to maintain peace during the campaign period.
He noted that Kenya experienced peace over the last two elections and wants the same maintained.
According to the bishop, he did not expect the appointment, but he will embrace it.
"I will serve the people of Kisumu and Nakuru. I will divide my time, half in Nakuru and half in Kisumu until when an archbishop is appointed," he said.
Muhatia took over the position after Pope Francis appointed Archbishop Philip Anyolo to take over from John Cardinal Njue as the Archbishop of Nairobi.
He will oversee administrative functions at the archdiocese as the Vatican prepares to name a new archbishop, but he will remain the Nakuru bishop.
Anyolo has served at the Kisumu Archdiocese since 2018.
In 2009, Muhatia became the youngest Catholic bishop in Kenya at the age of 41 years.
Before becoming a bishop, he had served as a priest in Kakamega.
Meanwhile, the Muslim fraternity has condemned the chaos experienced in various parts of the country during campaigns.
Sheikh Sayyid Aidarus, who spoke during the celebration of the birth of Prophet Muhammad in Nakuru, called for tolerance among political parties.
Sheikh Abdulrazak Amir also condemned immorality, including homosexuality in East Africa.
He urged Kenyans to maintain peace during elections.
Lake View Mosque Imam Sheikh Shabir called on the political and religious leaders to extend peace campaigns throughout Kenya as they did in the handshake.