Archbishop Anyolo installed in Nairobi as Muhatia takes Kisumu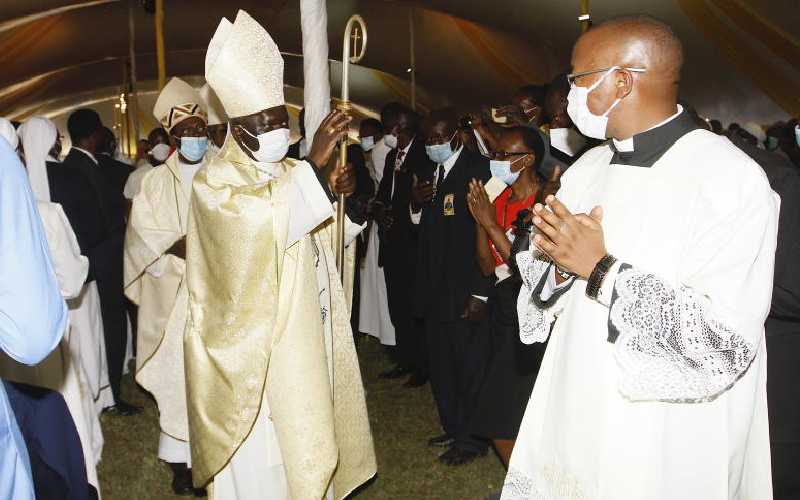 At exactly 10am yesterday, drumbeats, ululation and songs set the mood at St Mary's Msongari grounds.
Children, women and men in themed attire burst into song as a host of Catholic clergy made their way into the designated location to welcome the newly-installed Catholic Archbishop of Nairobi, Philip Anyolo.
During the holy mass, members of the clergy, including bishops and archbishops, congratulated Anyolo for his appointment.
Anyolo was appointed by Pope Francis to take over from John Cardinal Njue, who had served as the Archbishop of Nairobi since 2007. Anyolo served at the Kisumu Archdiocese since 2018.
When it was his turn to speak, the archbishop walked to the pulpit amid song and cheer as worshippers welcomed him.
"My appointment to Nairobi comes when we are facing enormous challenges in the country. In the spirit of charity, we will play our role to reduce starvation in the arid counties," he said.
He pledged to work with religious leaders and other agencies to promote peace in the country.
Anyolo, 65, was installed by Apostolic Nuncio to Kenya and South Sudan, Archbishop Hubertus Matheus Mana Van Megan.
Megan praised the new archbishop as a patient and religious person who is keen to listen to people's plights.
In his pastoral vision for his new archdiocese, Anyolo pledged to be a symbol of love, peace and unity among the people regardless of their political, social or religious status.
Anyolo said his appointment came as a surprise.
"The news of my appointment to come to Nairobi was not something I have been expecting. Having worked in Kericho, Homa Bay and Kisumu, I thought that was my last point then all of a sudden I was posted to Nairobi," he said.
Anyolo expressed his gratitude to Pope Francis for his appointment, saying it was a sign of trust and confidence.
"I was just beginning to settle down in Kisumu and the idea of coming here never crossed my mind. But when the call was made on October 10, I had to juggle my mind. I later decided the Will of God be done," he said.
Magnitude of responsibility
"I am consciously aware of the position of Nairobi as a key area in the country. I am cognisant of the magnitude of responsibility bestowed to me and I greatly accept with humility."
Among the leaders who attended the ceremony are One Kenya Alliance (OKA) principals Musalia Mudavadi, Moses Wetang'ula and Kalonzo Musyoka, and MPs Tim Wanyonyi (Westlands), Chris Wamalwa (Kiminini) and Charles Nguna (Mwingi West).
"I assure the political leaders that I and other clergy will continue to be the voice and conscience of the nation. I will not shy away from calling out the ills in society," said Anyolo, while calling for political accountability and tolerance.
In his congratulatory message, which was delivered by Energy Cabinet Secretary Monica Juma, President Uhuru Kenyatta gave Anyolo a Sh1 million gift.
The president said he had had the honour of working with Anyolo in the various capacities he has served in the church.
"In every engagement and joint effort between the church and the State, you have distinguished yourself as a man of deep faith, wisdom and love for others," he said.
Cardinal Njue also congratulated his successor and pledged to work with Anyolo, whom he termed as a "new shepherd".
Kisumu Archdiocese
The Archdiocese of Nairobi has been vacant since January 2021 when Njue, who had been at the helm since November 2007, retired at the age of 77.
Bishop David Kamau was appointed as Apostolic Administrator after Njue's retirement.
Meanwhile, Nakuru Bishop Maurice Muhatia Mukumba has been appointed Apostolic Administrator for the Kisumu Archdiocese.
In this new role, Muhatia will be expected to oversee administrative functions at the archdiocese as the Vatican prepares to name a new archbishop. He however remains the Nakuru bishop.
The Catholic fraternity congratulated Muhatia for his appointment.
Muhatia made headlines in 2009 when he became the youngest Catholic bishop in Kenya at the age of 41 years.
Prior to his appointment as the Nakuru bishop, he had served as a priest in Kakamega. Muhatia holds a Licentiate and Doctorate in Philosophy from the University of Santa Croce in Rome.
Additional reporting by Harold Odhiambo