Beryl Jerop: Quest for justice for student who died in school continues
RIFT VALLEY
By Titus Too | November 11th 2021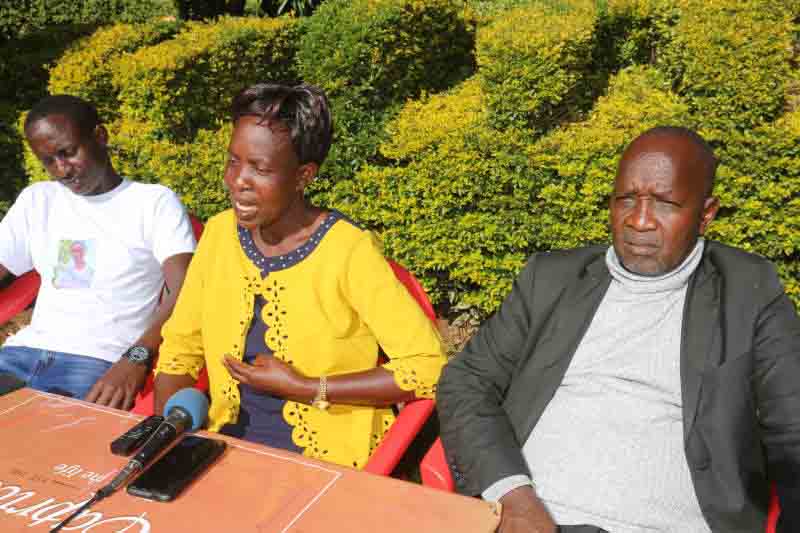 A family in Uasin Gishu has asked for thorough investigation to establish the truth surrounding the death of a Form One student at a school in Nandi County.
The relatives of Beryl Jerop, 16, who died at St Teresa of Avila Secondary School in Ndalat, said more than two weeks into her death, they were yet to be told the circumstances under which she died.
They said they were yet to come to terms with her death on October 24, and accused the school of negligence.
A postmortem report, signed by a Dr Macharia B M, indicated the cause of death as bacterial meningitis.
Yesterday, Jerop's mother Ruth Keino, uncle Thomas Too, and brother Kevin Kiplimo, all who spoke to The Standard in Eldoret, urged the Education ministry to ensure credible investigation for justice to be served.
"Jerop's death is still disturbing, and many questions remain unanswered. As a family, we call for justice because we strongly believe our daughter died a painful death in school due to negligence," said Too.
He added: "We are yet to be told who confirmed the death of Jerop, whose body we only found in the mortuary at the Moi Teaching and Referral Hospital. We have not been shown any records of her sickness."
The uncle said the school did not communicate to the family about the student's sickness and recounts that on the fateful day, he was called by a senior teacher, who told him to rush to the school as Jerop was sick.
Too claimed he left church and went to the school, only to receive another call 20 minutes later, asking him to go to the MTRH mortuary.
"It is devastating to be called to receive a relative in the mortuary. We want to know why an ambulance and the police were called if our daughter had not died in the school," said Too.
The uncle also claimed that despite having been called to go to the school and later to the mortuary, he had not recorded any statement with the police.
"I went to Kabiyet police station to record a statement, but surprisingly, I was told if I recorded, I would be supporting the school. Our interest is to ensure justice is served for Jerop, and I should have been allowed to state what I know," he said.
Jerop's mother said she could have saved her daughter's life had the school notified her of her ailment.
"It was painful that I learnt of her death through one of my sons, who is in college. It was so painful since I had taken my daughter to school while in good health after half-term," said Keino. She said they had not received any communication from the school. No one from the school attended Jerop's funeral at her home in Emgwen village, Kapkoi, in Uasin Gishu County last week.
The family said the matter should be fully addressed to ensure such a tragedy does not befall other students in future.
Kabiyet OCPD Jamleck Ngaruiya said a file had been opened and that investigation into the matter was ongoing. The OCPD confirmed that the school principal and nurse in charge had recorded statements.
Jerop lived with her grandparents at Sergoit River farm in Itigo, and would occasionally visit her parents at Emgwen in Kapkoi.