Retired administrator pushing on to bring stadium home, meet Natembeya, daughter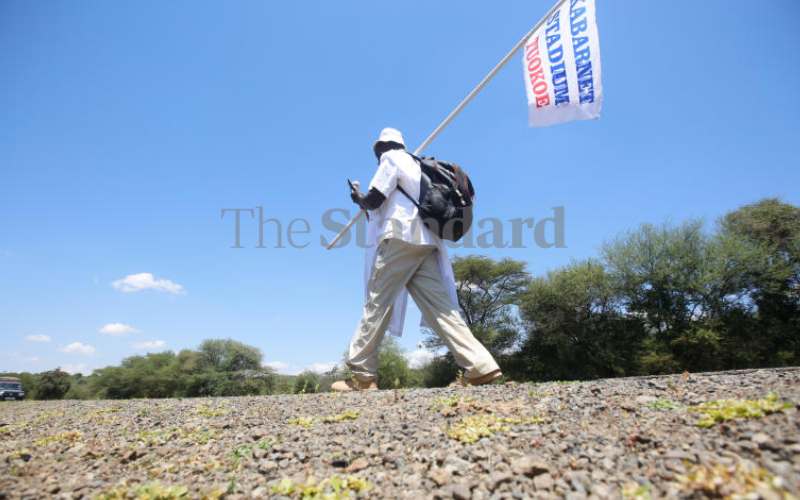 The quest by a 61-year-old retired chief to have the stalled Kabarnet Stadium completed is still on.
By yesterday, Joseph Malatit Chebii has less than 160 kilometres to cover to reach State House, Nairobi.
Dressed in a white dust coat with the words 'Kabarnet Stadium Tuokoe', Joseph Malatit Chebii stepped in Nakuru town after a five-day walk from his home in Salawa. So far, he has covered 170 kilometres.
Malatit says nothing will deter him from achieving his dreams. He admits the journey has not been easy.
His entry to Nakuru saw business come to a standstill, with motorists stopping to wish him well.
Chris Singei, a motorist, parked his vehicle by the roadside to have a word with Mzee Malatit. He said he saw the old man in the Radad area along the Nakuru Marigat road.
"This is a noble cause. I am impressed that he is championing the interests of the community" said Singei.
Francis Kandie said he hopes Malatit's efforts will bear fruits.
His third-born daughter Felistus Malatit and her friends gave him milk as they sang to welcome the old man.
Felistus said she is happy her father is soldiering on, and he is determined to finish his mission.
According to Felistus, her father did not inform them that he will be walking to Nairobi.
"Our dad did not want to tell any of his daughters of the journey, but after we realized he decided to take that step, we resolved to support him," she said.
Felistus said they will be happy if the government takes action and have the stadium constructed.
"It takes the sacrifice of some few people to bring change. Our father has shown us that he cares about tomorrow. We pray that his cries, and that of other Baringo people, will be heard," she said.
Rift Valley Regional Commissioner George Natembeya also received the former administrator at his office.
Natembeya hailed Malatit for taking the initiative, adding that the stadium, if completed, it will serve the interest of the people of Baringo.
"The old man chose to walk and look for sponsors. We thank him and wish him well. Not many people can do what he is doing," Natembeya said.
At The Standard office in Nakuru, Deputy News Editor Alex Kiprotich promised Malatit that he will be accorded the support he requires.
Mr Kiprotich promised to keep track of Malatit's movement until he reaches his destination.
Malatit, a former Kimoso chief, started his journey to State House, Nairobi, on Tuesday last week.
He said he is on a mission to compel the government to have the construction of Kabarnet Stadium completed.
Though he has not secured an appointment with President Uhuru Kenyatta, he believes he will be allowed to have an audience with him. And if not received, he says he will go back home.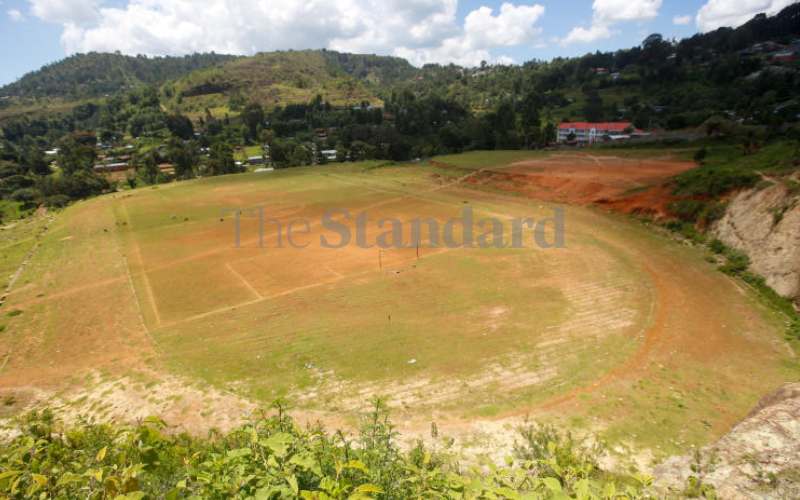 The stadium whose construction started in 2014, according to the locals, has been turned into a drinking den.
Though a least Sh40 million has been spent on it between 2014 and 2020, little has been done. Audit reports have raised questions on the expenditure of the funds allocated for its construction.
The county government in the financial year 2014/2015 proposed that a boundary wall be built at the stadium at a cost of Sh10,775,356, but it was left incomplete, and part of it collapsed.
A contractor was awarded a tender to rehabilitate the stadium at Sh17.5 million. The contract was signed on November 22, 2017, and the commencement date was December 1, 2017.
The expected date of completion was February 28, 2018.
Expenditure records for the Ministry of Youth Gender Sports and Culture revealed that the contractor was paid Sh16,776,268 as of June 2018.