Charcoal trade leaves scenic Kerio Valley bare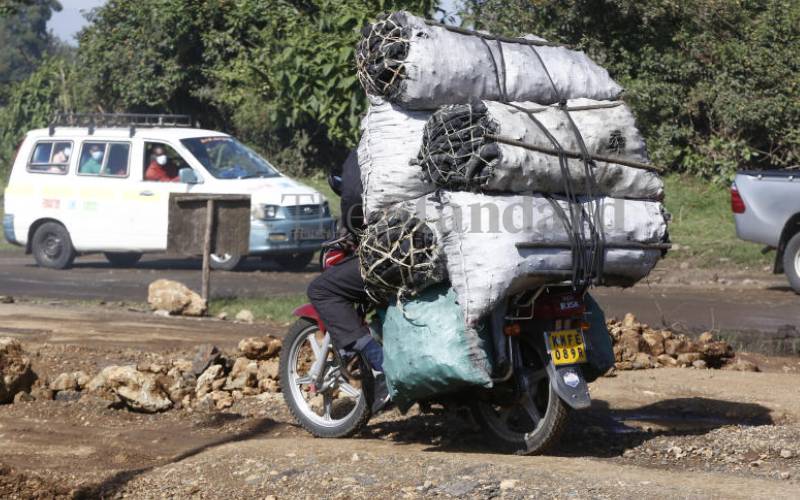 When you drive down the Iten-Kabarnet road, which cuts across Elgeyo Marakwet and Baringo counties, you are likely to marvel at the scenic hanging valley.
In between the hanging valley lies the Kerio Valley. A charcoal business that has existed for decades is thriving unabated along the valley and on sections of the escarpments.
The sloppy escarpments, which are prone to landslides that have caused deaths, destruction of property and infrastructure during rainy seasons due to its loose soils, and which also frequently spark rock falls, are becoming bare after many years of charcoal burning and agricultural activities.
As you approach the Kerio Valley, and as you walk just 100 metres off the highway to enjoy warm weather, you will be greeted by the smell of charcoal – burning in soil-heaped kilns.
Charcoal is produced daily in areas near Cheptebo, Biretwo and near Rimoi Game Reserve, and transported to major towns such as Iten and Eldoret.
At the same place, the number of acacia trees, which are good for charcoal and firewood, are dwindling each day.
Gullies occasioned by runoffs during rainy seasons are deepening and widening each year after the loose soils are left bare as tree cover continuously shrinks.
Until three years ago, huge bags of charcoal were being sold on roadsides, but government authorities intensified crackdowns on illegal charcoal burning.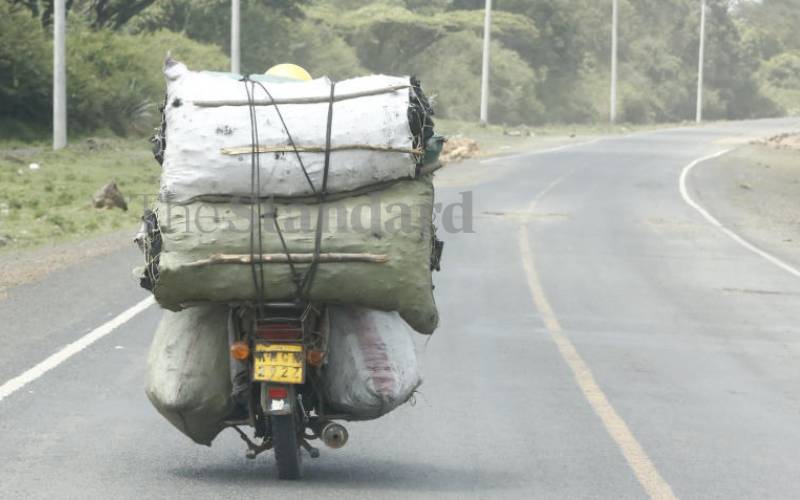 But the burning of charcoal is back in what some dealers attribute to increased taxation in Liquefied Petroleum Gas (LPG). This, they say, forces families to use more charcoal and less gas to cook.
"The demand for charcoal is higher in Eldoret and other towns. The price of one bag of charcoal here at the source rose from Sh500 in April to Sh900 in August. The transporters tell us a bag goes for between Sh1,500 and Sh1,700 in Eldoret," Daniel Kemboi, a charcoal seller in Kerio Valley, says.
Mr Kemboi adds: "These days many families and hotels prefer to use charcoal because it lasts longer than gas. The cost of producing charcoal has also risen because those burning it are using power saws, which use petrol. They increased the cost of cutting down trees from Sh300 to Sh500."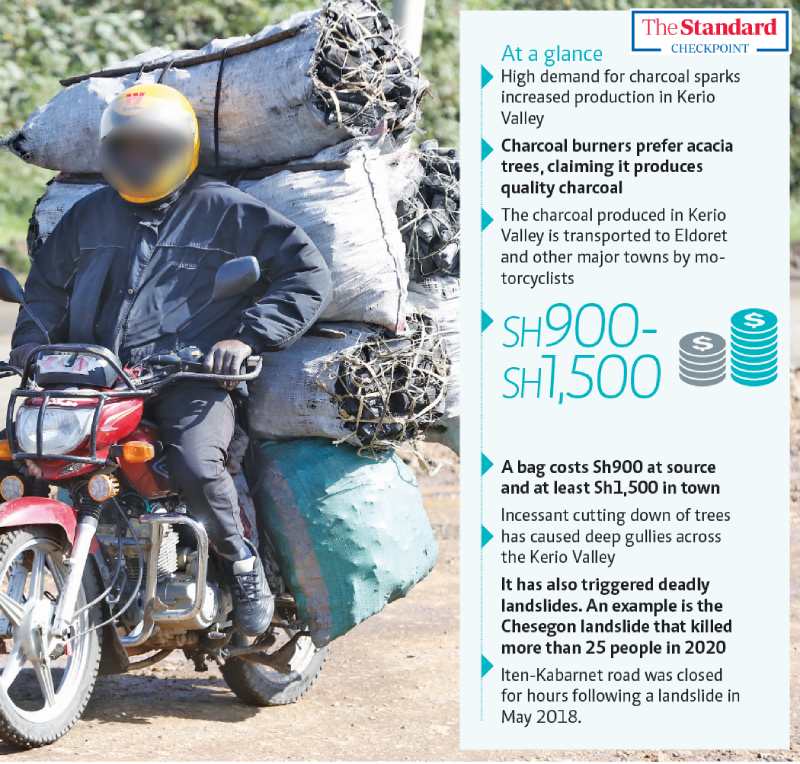 He says he makes Sh200 per bag, and sells at least 18 to a group of motorcycle riders who transport the commodity to Eldoret and major towns in Rift Valley.
Each of the motorcycles spotted by The Standard had at least four bags of charcoal. The charcoal is transported to Eldoret. There are police roadblocks at Tambach and Iten.
At places where charcoal burning has been happening in large scale, the businessmen say they get permits to cut down trees from their local chief. The Elgeyo Marakwet County Commissioner Ahmed Omar has, however, dismissed these claims.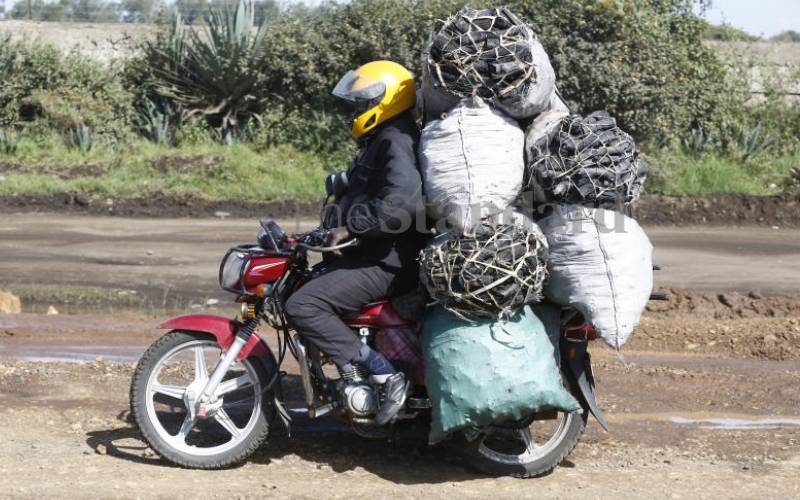 A man who only identifies himself as Kiplimo says he has been burning and selling charcoal for more than six years, but the demand has been high since June.
"Apart from the motorcyclist transporters, we also get several phone calls from dealers and individuals in Iten and Eldoret who want charcoal. The number of people using cooking gas is reducing," he tells The Standrad.
He says since the business is illegal, they often have to play hide-and-seek with police officers.
David Daraja, a chef at Eldo City restaurant in Eldoret town, says the food joint minimised the use of gas since July after the price shot up.
"We are only using gas in warming soup and frying fish, unlike before July when we used gas in most of our cooking. I have been experiencing headache, which I suspect is as a result of inhalation of more carbon," says Mr Daraja.
Mr Omar says those burning and transporting the charcoal engage in illegal activities. Charcoal burning was banned in 2012.
"Charcoal burning has had devastating effects on the environment. We have mounted road barriers, but the charcoal transporters have been working with a few rogue police officers who have been helping them (the transporters) to evade dragnets," Omar tells The Standard.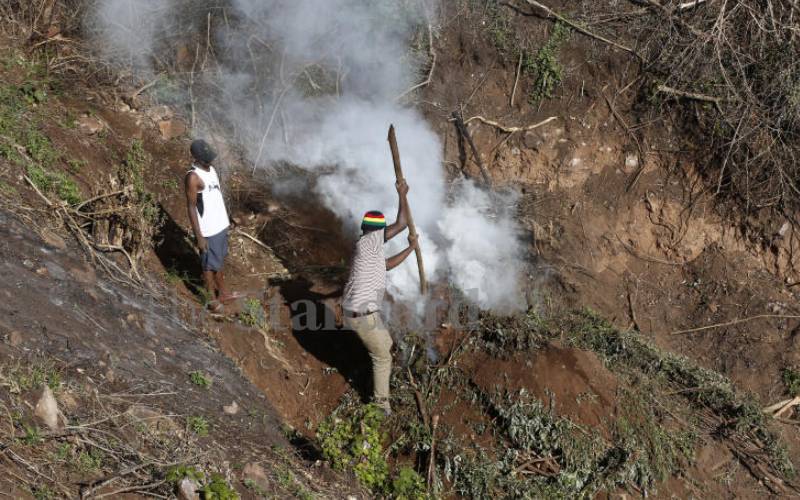 The county security boss says some dealers in charcoal were arrested in recent months, but were released after paying fines.
"The Judiciary has been a weak link in the illegal charcoal burning. We arrest the culprits but they are released after paying small fines," Omar says.
Kenya Forest Service North Rift Regional Conservator Anthony Musyoka says the charcoal burning business is a threat to acacia and other indigenous trees in the Kerio Valley.
Mr Musyoka says those burning charcoal and the sellers can only engage in the business if the 2012 ban is lifted. "Whether the demand for charcoal is high or not, the business is illegal. They have to replace all the trees they have been cutting because it will expose the area to more landslides and mudslides," he said.