State begins enforcing the Irish potato regulation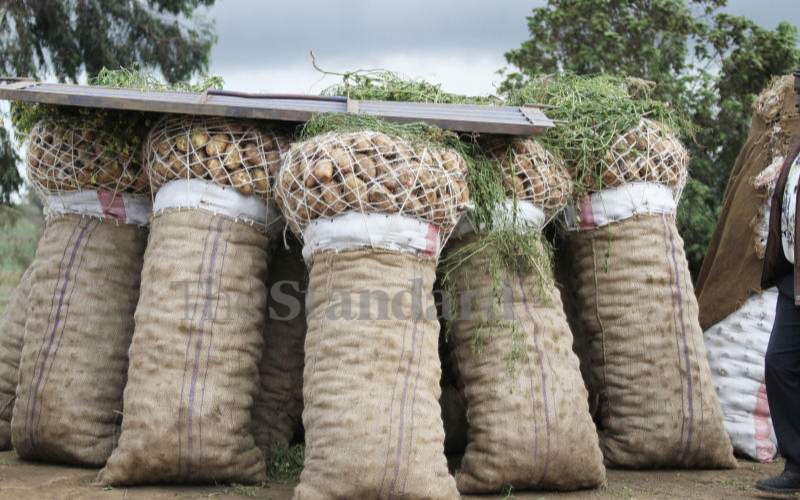 A driver carrying potato bags weighing up to 76kg has been arrested for violating the newly enacted Irish Potato Regulation Act.
Njoro Deputy County Commissioner John Mbugua said the enforcement team will ensure there is compliance with the regulation aimed at protecting farmers.
"They had documents of transportation but unfortunately, they were not compliant with packaging directive. They will have their day in court tomorrow. We are calling upon everybody involved in the entire chain to support the regulations," Mbugua said.
This is the first crackdown on traders and transporters violating the regulation that came into force in 2019 but was never fully implemented.
A multi-agency task force comprising county officials, administrative officers and county enforcement officers that was put in place in potato growing counties begun enforcing the law on Friday in Nessuit, Njoro Sub-County.
They sought to ensure that all Irish potato transporters are registered, that a bag of potato weighs 50kg and all storage units and go downs are registered in order to ensure high standards in the whole value chain are maintained.
According to the Crop Inspector in Njoro Stephen Kamau, agriculture officers have been sensitizing the farmers through barazas, field days, and exhibitions.
He encouraged other grower's associations and collection centres to register for the campaign.
Kamau said this was the second time that the team had stepped out to inspect compliance with the regulations.
One of the farmers, Rael Rotich said the regulations were helpful to farmers. She, however, asked the government to set a price cap for the 50kg bag so that farmers reap better returns and also to crack down on middlemen.
Meanwhile, three farmer groups from Molo and Kuresoi North sub-counties have benefited from high-value Irish potato seeds.
On Friday, Turi Green, Ipinda and Koyum-Kokwet self-help groups in Kwa Benjamin, Kaplelach and Soimet locations respectively, received 20-50 kilograms each of the Kenya Karibu variety of breeder seed.
According to the Kenya Agricultural and Livestock Research Organization (KALRO), this new variety will help farmers earn more income through increased yields and early maturity.
Nakuru County Potato Liasion Officer Lynnette Echessa who led the distribution asked the groups to ensure that the seed is planted on uncontaminated soil.
Chairman of the Ipinda self-help group, Peter Kiprotich, admitted that farmers have found it difficult in the past to acquire the certified Irish potato seeds.
The county government is set to distribute 700 bags of Shangi, Kenya Karibu and Dutch Robin seeds to farmers all over the county. This project will cost over Sh1 million.
The seeds have so far been distributed to Kuresoi South and Molo and Kuresoi North sub-counties. Groups in Bahati, Gilgil and Njoro sub-counties will receive the Dutch Robin variety.
The county government will also train the groups on best agronomy and gross margin analysis to enable them to reap more profits.
"I would like to thank our governor for supporting us with these certified seeds. We will conserve them well and share them with our neighbours once they multiply," said Paul Loris, the chairman of the Koyum-Kokwet self-help group.