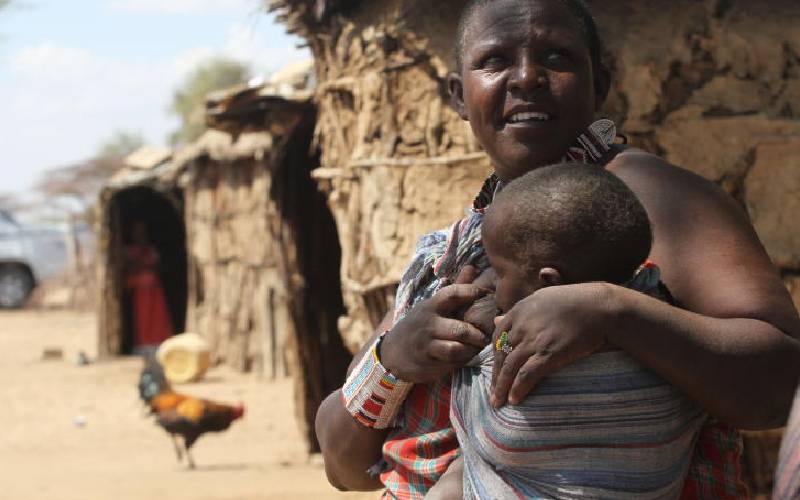 Children in arid and semi-arid counties are at risk of malnutrition as drought continues to bite, hampering food sources.
The National Drought Management Authority, in their July 2021 early warning bulletin, said the trend was worsening in eight counties including Kajiado, Laikipia, Lamu, Makueni, Nyeri, Samburu, Tana River and Wajir.
The negative trend, according to the report, was attributed to reduced milk consumption owing to a decrease in milk production and fewer integrated health outreaches delivering essential nutrition services.
"As compared to previous month, mid-upper arm circumference is on the worsening trend with eight counties recording worsening trend," read the early warning bulletin in part.
Milk production, it was revealed, was on worsening trend as compared to the previous month.
Eleven counties including Embu, Garissa, Kajiado, Kilifi, Kitui, Marsabit, Meru, Nyeri, Samburu, Taita Taveta, and Tana River are recording decreased milk production.
The below normal milk production was attributed to poor rainfall for the 2021 long rainy season.
Livestock production in nearly all counties as indicated in the report was on the decline due to reduced pasture availability both in terms of quantity and quality, and increase in distances covered by livestock in search of pasture and water due to drying open water sources.
The state of pasture and browse in most of the arid and semi-arid counties was noted to be generally in fair to poor conditions.
Isiolo, Garissa, Wajir, Tana River, Laikipia and Kitui recorded poor pasture conditions.
"The current pasture and browse condition is on a worsening trend as compared to the previous month due to the poor performance of the 2021 long rain season," said the NDMA.
NDMA recommended that there be a provision of food assistance and a scaling up of cash transfers targeting households that are currently food insecure as a result of the prevailing drought stress.
It also noted the need for support on hygiene and sanitation promotions, including provisions for severe acute malnutrition in terms of Ready to Use Therapeutic Food and supply for moderate acute malnutrition and Ready to Use Supplementary Food.