Man-eaters of Baringo: Crocodiles leave trail of injuries, deaths as lake floods villages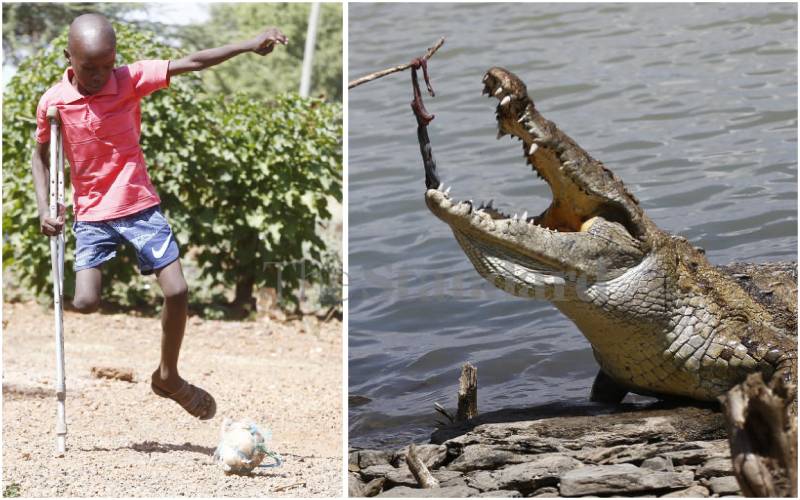 There could probably be nothing worse than an unexpected attack by a wild animal. Yet, this is what many of the people living near Lake Baringo have had to go through or witness over the years.
It is even worse when the victims of attacks by crocodiles cannot access basic first aid, let alone treatment, because there are no health facilities in some of the remote areas and the few that are available are ill-equipped. Some have survived but there are those who were not lucky.
In villages near one of the freshwater lakes in the Rift Valley, you lose count of the number of families whose members have been attacked by the amphibious animals. Some are still nursing injuries while others died. Those who are lucky survive tell of their ordeals in the powerful jaws of crocodiles.
On November 23 last year, a bond between two friends, both pupils at Misiori Primary School in Baringo South, almost came to a crashing end one evening.
Vincent Kemboi, 10, and Lesabato Barno, 11, had just come from school when they decided to go to Lake Baringo to fetch water, as they always did.
It was a terrible experience the boys say they would wish to forget forever. Their encounter with a crocodile left them with life-threatening injuries.
Lesabato, who was the first one to be attacked by the reptile, is still terrified and memories of the incident still haunt him. His right arm is completely paralysed.
"They would always go to the lake, some 300 metres away, to fetch water after school. However, this was not their lucky day," says Lesabato's mother, Mary Tiren.
They were accompanied by Kemboi's aunt, Betty Lowar, 13, who decided to go ahead after fetching water as the boys took a bath.
"I felt something grasp my hand while I was bathing. By that time, my friend was still struggling to remove his trouser as it was too tight. I later realised it was a crocodile," says Lesabato.
He cried for help even as he struggled with the reptile that had latched onto his hand and was pulling him into the water.
Lesabato said Kemboi rushed into the water and held his other hand as he desperately tried to pull him out of the water. The crocodile leapt out of the water again and this time, viciously attacked Kemboi on the right leg.
"I heard them screaming for help. I rushed back. Lesabato was in the water, helpless, as Kemboi held his hand. The reptile was still trying to drag Kemboi into the water. It bit my hand as I tried to rescue them," says Lowar.
Lowar never gave up. She later spotted a piece of wood with which she struck the unrelenting animal in the eyes. The crocodile gave up the fight and retreated. However, damage had already been done.
"I quickly pulled the boys out of the water. They were bleeding but Lesabato's bleeding appeared more serious," she says.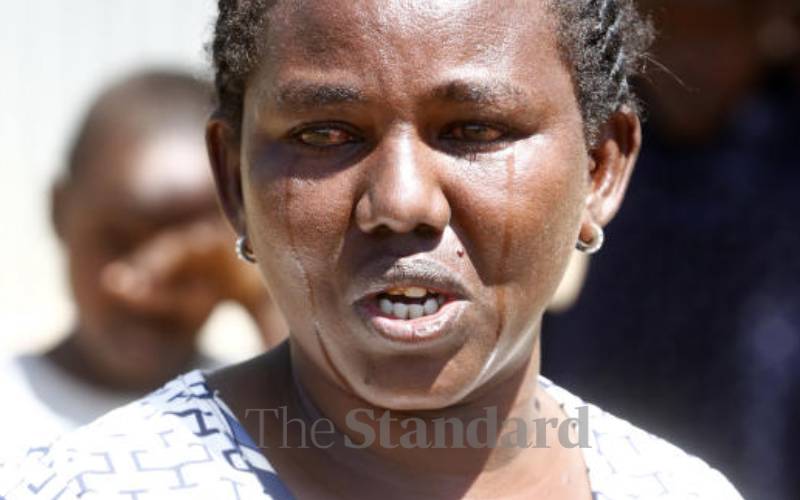 Kemboi's father, Joseph Tumar, who was at home when the attack happened, says he also heard the children screaming for help. He rushed to the lake but by the time he arrived, the boys had already been rescued.
"The local dispensary had already been closed. I hired a taxi and took them to Marigat sub-county hospital where Kemboi and Lowar were admitted. Lesabato was later referred to Kabarnet County Hospital. His situation needed specialised attention," says Tumar, a father of three.
The burden that had come upon Tumar's shoulder was heavy. Other than struggling to provide for his family, he needed to take care of the medical bills of his son and younger sister.
"My sister's injuries were not as severe but Kemboi's will take longer to heal. He has been in and out of the hospital. I have used more than Sh100,000 on their medication," says Tumar, a casual worker.
Lesabato's mother recalls the agonising journey of nursing her last-born son. The mother of six says this has drained family resources. The incident also bought back the bad memories of how her husband, Wilson Tiren, was killed by a hippo 10 years ago.
"Lesabato was just six months old when his father died. I feared my son would follow the same terrible route as his father. I thank God he survived," she says.
In another homestead a few metres away, 10-year-old Kevin Longonop is still trying to come to terms with his amputated right leg.
When The Saturday Standard visited, Longonop was playing with an old motorbike tyre, clutching on a crutch.
Like Kemboi and Lesabato, Kelvin was also attacked by a crocodile while fetching water in May last year. "He was lucky there were people passing by and they rescued him," says Kevin's guardian, Viola Longonop.
It was a nerve-wracking experience before Kevin got medical attention. He was first taken to a local dispensary, a health centre in Marigat and Baringo County Hospital in Kabarnet before he was eventually admitted to Kijabe Mission Hospital in Kiambu County.
"The attack happened as the Covid-19 pandemic was at its peak. We didn't have money and there was no one to even borrow from. We had to go to the bank where we took a Sh600,000 loan to settle the medical bill at the Kijabe Mission Hospital. We had also paid Sh18,000 at Baringo County Hospital," says Viola.
At the hospital in Baringo, we meet 14-year-old Lesandei Tiren writhing in pain. He had just had a lucky escape from the jaws of a crocodile at Kambi Samaki.
The bandages on his chest, ribs and back conceal the depth of the wounds inflicted by a crocodile. However, the pain and shock on his face reveal it all.
"Were it not for a friend, I would have been mauled by the crocodile," says Lesandei, a Standard Seven pupil. He had gone to fetch water to wash his school uniform when he was attacked.
"I saw something like a log floating in water. I did not think it could be a crocodile. It pounced on me. I shouted and attracted the attention of a friend who hit it in the eyes with a stick and I escaped," says Lesandei.
"He has a deep cut on the chest. We were fearing for the worst but we have established it did not puncture the lungs. He is stable and he might be discharged in a week's time," says Dr Herald Kipkirui, who is attending to him.
At Ngenyin village, near the shores of Lake Baringo, a thick cloud of grief still hangs on the home of 70-year-old Grace Laktano.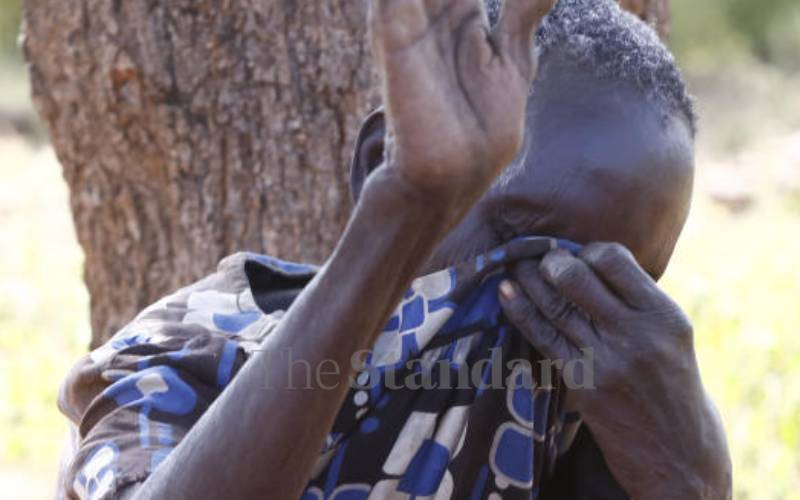 Ms Laktano is yet to come in terms with the death of her 10-year-old grandson Brian Kemboi who was killed by a crocodile in April last year.
When The Saturday Standard team arrived, Laktano, or Mama Lina as she is popularly known here, was heading to the same lake to fetch water.
The question has been why residents keep visiting the crocodile-infested Lake Baringo.
And the response from residents has been swift; what do you do if that is the only source of water available?
The grave of Laktano's grandson next to a footpath she uses serves as a constant reminder of that fateful day when last saw the boy alive.
She walks to the lake with her dogs in tow with the hope they will protect her in case the reptile strikes.
At the lake, Laktano starts by throwing stones in the water and shouting to scare away any crocodile that may be lurking nearby.
Brian, who was a Grade Three pupil at Ngenyin Primary School, had gone to look after his grandmother's goats when he went missing.
His remains were found at the lake three days later.
"I had sent him to graze the goats but he did not come back. I tried looking for him in the grazing field but I did not find him. We later spotted the crocodile that was still feasting on his decomposing body," recalls Laktano.
Residents, who had been involved in the search, attacked the crocodile with rods and stones until it abandoned the body.
"I have poor eyesight and with old age, I can't do much. He used to help me look after the goats. He also helped me with household chores. Now, I am all alone. I wish the crocodile took me instead. It is painful," Lakatno says as tears roll down her cheeks.
Other areas surrounding Lake Baringo where many attacks by crocodiles have been reported are Salabani, Kiserian, Noosukuro, Chesiran, Katuwitt, Kakibich, Loruk and Kokwo Island.
"I know of five people who have been killed by the crocodiles here and about 10 are nursing injuries. Some people, including a Form Two student, are still missing. We found shoes and clothes of some of those missing on the shores of the lake," says Nicholas Keino, a resident of Kambi Samaki.
He says the lake has expanded into the nearby Mathenge trees providing conducive breeding and hiding ground for crocodiles.
"We would spot crocodiles from far. However, not anymore. The lake's waters have now reached many villages and submerged some in the process. We also used to control the breeding of the reptiles by destroying their eggs.
"However, due to the floodwaters and the invasive Mathenge trees, this is no longer possible and we are forced to live with the risk of being attacked by the reptiles," said Keino.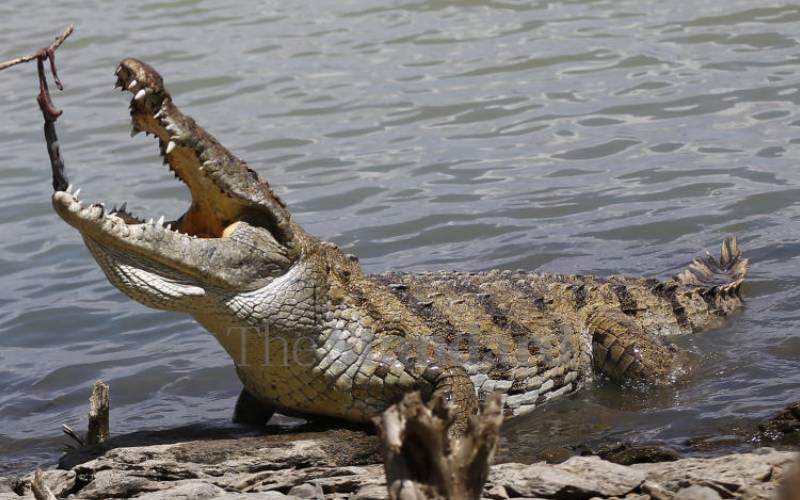 Kambi Samaki dispensary, on the shores of Lake Baringo, got submerged early this year. This forced authorities to relocate the facility which residents rely on for treatment in the event of attacks by crocodiles.
Baringo County Director of Medical Services Thomas Chepchieng says this year alone, the county hospital has recorded at least five patients who had been attacked by crocodiles.
The crocodiles are also attacking livestock.
Ilchamus MCA Joseph Leparsalach says: "The population of crocodiles in this lake has increased tremendously. Initially, crocodiles never used to attack people. We used to even swim in the lake. They are now attacking livestock and human beings since they don't have enough food."
And as if this is not enough, victims and their kin have to undergo a tedious and expensive process to get compensation.
Mary Tiren, Lesabato's mother, who sustained serious injuries after he was attacked by a crocodile, says she gave up on following his compensation.
"I need at least Sh1,000 to travel to KWS offices in Kabarnet town and back. Where do I get that kind of money from?" she poses. "When my husband was killed by a hippo, KWS officials asked me to get a report from the police in Marigat which I did. The officers also told me to get a medical report from the doctors, but the doctor demanded Sh1,000 which I could not raise. I just gave up."
Recently, Tourism CS Najib Balala, while launching a human-wildlife conflict compensation payment plan in Baringo County, announced that the government had set aside Sh523 million to pay victims of wildlife attacks across the country.
However, those who were attacked in the last two years were not on the list of those earmarked for compensation. Only those attacked between 2014-2017 were considered in the first phase.
A total of 4,090 people were considered for compensation nationally, 50 of whom are from Baringo. They got Sh29.7 million. Farmers were also paid for crops destroyed by wild animals.
Balala said Sh500 million and Sh600 million was allocated in the 2020/2021 and 2021/2022 financial years respectively.
He acknowledged that Sh3.1 billion would be required to pay 2014 and 2020 victims.