Last of 9 giraffes rescued from disappearing island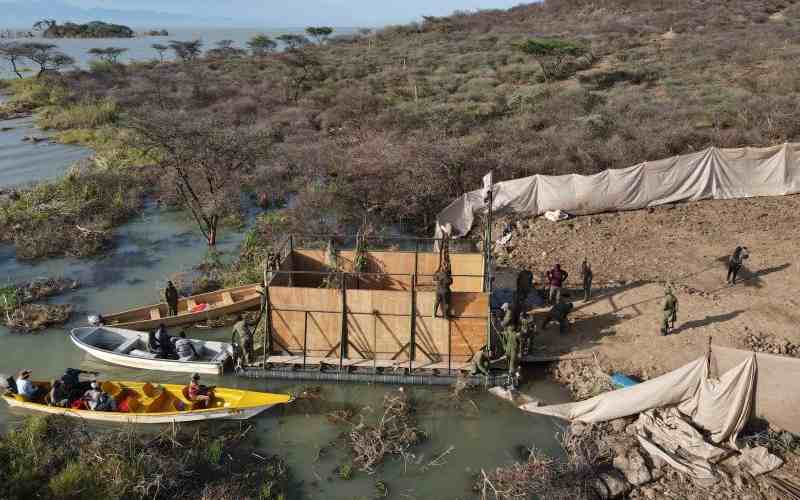 The last of the nine Rothschild giraffes that were stranded on a shrinking island in Lake Baringo has finally been relocated to Ruko Conservancy.
Nkarikoni, the female giraffe, was the last to leave the island since 2011 following increased water levels in Lake Baringo that led to shrinking space within Longicharo Island.
The rescue efforts that targeted moving the giraffes from Longicharo using a custom-built barge to the dry land started last December. The efforts were jointly spearheaded by the Kenya Wildlife Service (KWS), the Northern Rangelands Trust (NRT) and the Baringo County Government.
LOCAL COMMUNITY
"Her steps marked the successful conclusion of an ambitious rescue effort started in December 2020, ending on Friday, April 9, 2021, and led by the local community that saved nine Rothschild giraffes from a disappearing island," NRT said.
Before the water levels in Lake Baringo rose in 2013 to split the island from the mainland, Longicharo formed part of the community-owned Ruko Conservancy where the giraffes were since 2011.
The endangered Rothschild giraffes, however, remained on the island alongside warthogs, ostriches, impalas, snakes, birds and insects. Hippos and crocodiles, too, found an abode on the island.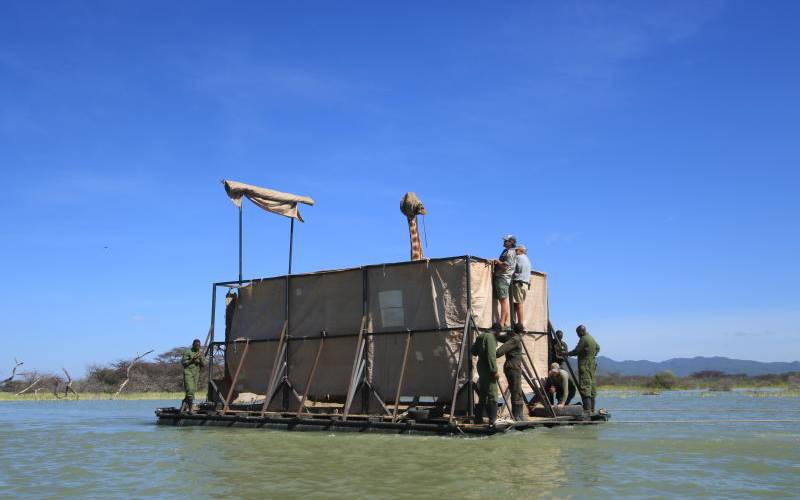 According to NRT, which Ruko is part of, the rising water levels cut off their peninsula home from the mainland. This necessitated rangers to supplement the giraffes' food as natural browse became scarce.
Take a quick survey and help us improve our website!
Take a survey
The conservancy's officials said this was, however, an expensive venture coupled up with fears that nutritional deficiencies were affecting the breeding potential and overall health of the animals.
"This necessitated a translocation as the animals were hurdled in one area. Competition for food was high and the water levels were unpredictable," said KWS Central Rift Assistant Director Dickson Ritan.
Before the translocation, the animals were first accustomed to the barge, a long flat-bottomed boat. The animals could be fed from the badge, a trick used to accustom them.
Ruko Conservancy, according to KWS senior scientist Joseph Edebe, is one of the sanctuaries that was identified for the re-introduction of the species after they became extinct in Baringo.
When translocation began, there were eight giraffes on the island but in December, Nkarikoni, who was still on the island, gave birth to Noella.
"Nkarikoni and Noella were two of the last animals to be rescued due to the sensitive nature of moving such a young giraffe," NRT said.
KWS data on giraffes indicates that Ruma has the largest population of Rothschild giraffes at 273 while Soysambu Conservancy hosts 159 giraffes.
The latest data from Lake Nakuru National Park, which is a sanctuary for the giraffes, indicates that the numbers have been constantly growing from 65 in 2016 to 92 in 2018.