Mystery as woman killed, note demanding Sh2m found next to body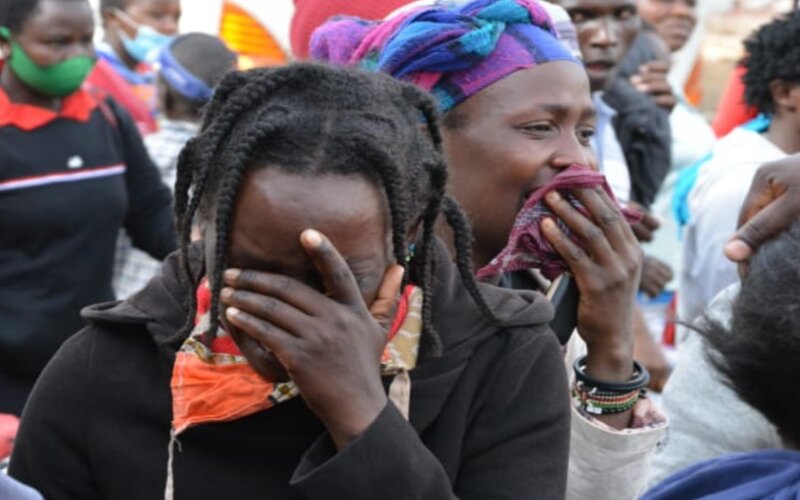 Police in Naivasha, Nakuru County are investigating the mysterious murder of a 30-year-old woman whose body was found inside her house.
Next to her body was a note demanding Sh2 million from the woman's relatives, warning she'd be killed if the money won't be wired to her supposed kidnappers' accounts.
Beth Mwihaki's death was discovered by her relatives on Wednesday. They went to check on her at her Kayole Estate house in Naivasha after she failed to receive phone calls on several occasions.
Mwihaki's body, which was semi-naked, was found wrapped in a bedsheet and placed on the bed.
Lakeview MCA Simon Wanyoike said police took the ransom note for further investigations.
"It appears they killed the lady, left the note behind and locked her door from the outside," said Wanyoike, revealing the deceased was foaming at the mouth when her body was discovered.
"We had to break down her door to access the house," added the ward rep.
A neighbour, Steve Macharia, said they hadn't heard any commotion emanating from the deceased's house, and that news of her death shocked them.
Naivasha OCPD, Samuel Waweru, said they couldn't immediately establish how or why the mother-of-two was killed. He, however, pledged to spearhead investigations into Mwihaki's killing.
"For now, I can assure Naivasha Town residents that we'll increase regular patrols to thwart planned criminal activities," said Waweru.
The deceased's sister, Ruth Wanjiku, told The Standard that they decided to check on Mwihaki after she failed to open her shop or answer the phone.
"My sister recently separated from her husband. We're, however, not sure whether her separation has anything to do with the death," said Wanjiku, who called for speedy investigations into her sibling's death.
Wanjiku revealed none of her family members received a distress call from Mwihaki or her alleged kidnappers, suggesting the ransom note could have been planted at the murder scene.
Mwihaki's killing comes barely two days after a 54-year-old woman was found raped and murdered in the neighbouring Karai estate.