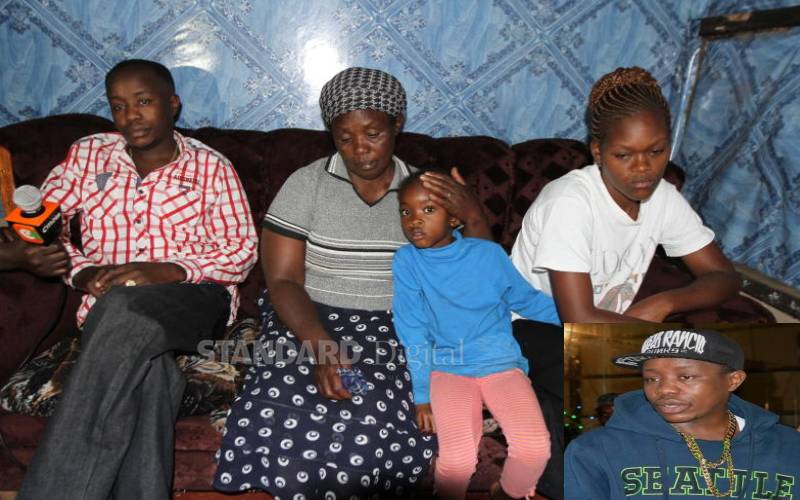 The curtains closed and the sound of a microphone drop reverberated far and wide in the ears of lovers of Mugithi music after the Subukia-based musical Salim family lost yet another member.
Timothy Njuguna alias Mighty Salim, who specialised in one-man guitar performance, succumbed to a kidney-related ailment on Sunday.
The father of three has been ailing for the past three years and had also been diagnosed with diabetes.
News about his death was announced by his sister Sarafina Salim, who posted a heart-wrenching message on her social media accounts.
"There are no goodbyes for us. Wherever you are, you will always be in my heart. Rest well my brother Njuguna," Sarafina wrote.
Speaking to The Standard, Joe Salim, also known as Kajei Salim, said his uncle died at Kenyatta University Teaching, Referral & Research Hospital (KUTRRH) hours after he was admitted.
"He was jovial and strong until Sunday at around 2pm when he fell ill. He was rushed to the hospital and doctors attended to him. In the evening the doctors informed us that he was no more," said Kajei.
Kajei added that the death shocked the family, as the musician, who died aged 40, had responded well to treatment.
Fifth anniversary
On Saturday evening we marked the fifth anniversary since the death of his elder brother Paul Mwangi alias Salim Junior, in Kiambu. He was full of life and was looking forward to performing to celebrate his brother. As he prepared to hit the stage, police ordered the venue closed, as it was past curfew," said Kajei.
Samuel Muchoki alias Samidoh, also a Mugithi singer, yesterday mourned Mighty Salim by highlighting his contribution to the growth of the music industry.
"A good heart has stopped beating. A good soul has ascended to heaven. You will stay in the history of Múgithi forever. Thank you for all the pleasure you gave us. To the Salim's family, may our Lord bring you and your family the much-needed peace during this sad time," wrote Samidoh.
Grief-stricken Subukia residents gathered at Mighty Salim's father's home after learning about his death.
He had been diagnosed with Kidney failure in 2018. The condition took a toll on his health, forcing him to keep off music performances for months as he underwent treatment.
In a past interview, Mighty revealed that he had, for more than 15 years, been battling diabetes since his formative years in the music industry.
"I was diagnosed with diabetes in July 2003. In November 2018, I suffered Kidney failure. I have been going for dialysis, two sessions per week. It has been a painful journey," he said.
His journey in the music industry began in December 1999, when he joined his brother Salim Junior, who by then had just quit Queen Jane's band and got employed for live performances at a Mombasa club.
Though singing was not his thing since childhood, despite their father having been a musician, Mighty had his first shot in the industry when he was hired to do live performances at a club in Nairobi, where he would rake between Sh500 and Sh1,500 per session.
On many occasions, the two brothers shared a stage and their one-man-guitar style gained popularity in the industry. Their siblings also joined them, propelling the Salim family name to fame.
Their father Joseph Mwangi, alias Salim Senior, is a gospel musician. His other children; Naomi Salim, Sarafina Salim, Laban Kinuthia alias Salim Young, and their nephew Kajei Salim joined in the profession.
Though Mighty and Junior produced their original songs, they also performed renditions for songs composed by other artistes, most of which became more popular than the original versions because of their one-man-guitar style.
Naomi, in 2013, produced her first album, Undu Mweru (something new), following in the footsteps of her father, strictly composing gospel songs even as her younger siblings produced gospel and contemporary music.
She was followed by Sarafina, the Uka Mwendwa (come my love)-hitmaker, who released her first album, Hamisi, in 2017. Young, 29, shot to stardom in 2018 when he released Indo Ciene track, loosely translated to 'someone's wife' after what he described as failed trials since 2011.
The same year, Kajei released his first track Ciku Gaitu (My sister Wanjiku), which became an instant hit, riding on his melodious voice and the fame associated with the Salim name.
Just as the family continued to shine in the music industry, Junior, on January 23, 2016, however succumbed to chest complications at Nakuru War Memorial Hospital. He was aged 43.
Dorcas Muthoni died
In June 2019, their sister Dorcas Muthoni alias Domsa, who was a business lady in Mombasa, died of cancer.
The siblings have always hailed Junior, who got his first guitar from his father when he was in Standard Five, and their sister Muthoni as their mentors and support system in the industry.
Prior to his death, Mighty thanked his sister Muthoni for holding his hand in his medical treatment journey. Each dialysis session cost him at least Sh18,000 per week.
However, Junior's death appears to have hit him hard that in June last year, he composed a farewell song - Hamwe na Mwathani (Together with God), in which he emotionally eulogised his brother next to his grave. "I have never accepted that my brother died. We were very close and he was supportive of me. At times I breakdown on stage whenever I remember him," Mighty said in a past interview.
Months before he died, Mighty appeared to be shifting towards producing gospel music.