New faces as Governor Lenku reshuffles cabinet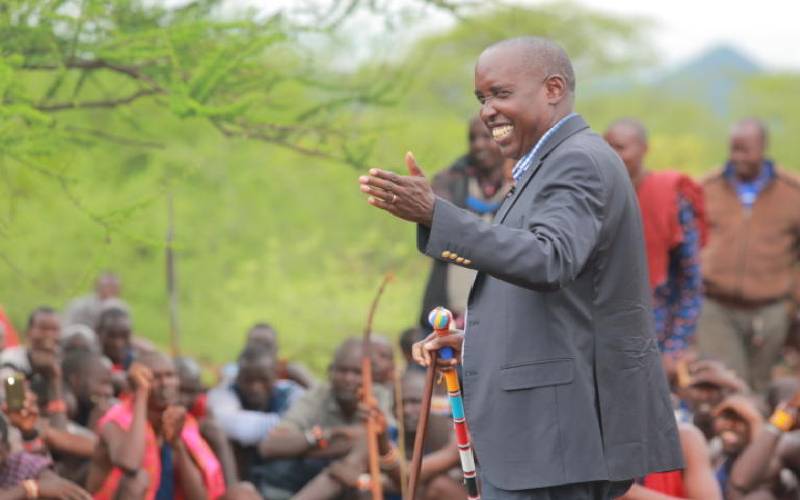 Kajiado Governor Joseph ole Lenku on Friday reshuffled his cabinet bringing in new faces.
The reshuffle saw County Secretary Samuel Seki become county executive for Gender, Tourism, Wildlife, Youth and Sports while Florence Waiganjo will now head the Public Service, Social Services, Administrative, and Inspectorate Services docket. Francis Sakuda, formerly of Public Service and Citizen Participation returns to his former position of County Secretary.
Seven new Chief Officers have been named in the new team with Eddy Kimani appointed Chief Officer, Public Health while Jacqueline Wairimu will take up the Transport and Energy docket.
Tonic Moraa is headed to the Vocational Training docket while Rose Mumbe Munyambu will be at the Cooperatives and Enterprise Development docket. Other new Chief Officers are Jonathan Kulei (Public Service and Social Services), Francis Metian (Administration and Inspectorate Services), Jackson Ning'ori (Irrigation and Food Security).
Speaking after the announcement, Governor Lenku said his aim was to bring all the ethnic groups in Kajiado together.
''When I took power as the Kajiado Governor, I promised that my major assignment was to bring together the people of Kajiado, I will stop at nothing to do so,'' said Lenku
Medics' strike
Meanwhile, more than 700 nurses in the county have resume duties after successful negotiations with the county government.
Kenya National Union of Nurses Kajiado Branch Secretary Rose Leina said one of the contentious issues was the Risk Allowance that has now been increased to Sh5,000 every month.
The representatives, who first held a meeting with Lenku, health executive Esther Somoire and other senior officers in the health department said they were satisfied with the outcome of the negotiations.
Somoire said all issues discussed and agreed upon by her department and the nurses will be fulfilled to the letter.
''We will go through all the issues we have discussed; I am promising that we shall fulfil them without delay,'' she said.
The governor thanked the nurses for agreeing to talks with his administration which led to the agreement.
"I am glad we managed to stop the suffering of our patients from today. We have agreed to address areas that were contentious and I am grateful that the nurses have put humanity before themselves. We shall address their demands and no one will be victimised," said Lenku.
Leina said they had called off the strike after a positive negotiation with the county government's department of health and the County Public Service Board.
"We are satisfied that the things we have agreed on will be addressed, the governor and his team has demonstrated goodwill in this matter. I urge other governors to engage the nurses for the good of all," said Leina.
As part of the deal, the county government will not take disciplinary action against any nurse who was not on duty during the strike.
The county government will also withdraw all "show cause" or dismissal letters that may have been written to the striking nurses.