Queen of pop Madonna tours Samburu, Baringo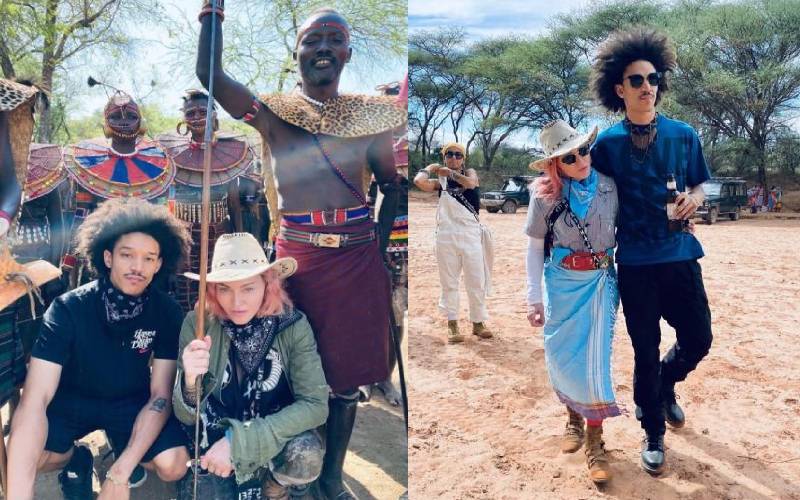 Kenya can rightfully brag about being a prime destination toured by the cream of the entertainment industry, with iconic pop star Madonna being the third international star to visit the country in a span of three months.
Privately slipping into the country around January 8, the Material Girl hitmaker took to her Instagram account to document her experiences, spending time in Samburu County.
"Spending time with the Samburu tribe is always an honour. They are nomadic warriors and here the men are singing, dancing, and telling stories to attract the attention of the females," Madonna captioned a clip of an intimate candle-lit dinner that was followed by the chanting of Samburu men as they danced and jumped high in their red and yellow attires.
In the clip, the pop sensation continues to interact with the locals, speaking to one eloquent Samburu woman and asking her about how she makes her marriage a success.
"Women are strong because we bear the children, I make sure my home is always at its best," she responds before singing and chanting continues in the video.
Yesterday, Madonna's adventures took her to the Pokot people in Baringo County, where she continued to document her encounters on Instagram.
"Visiting the Pokot tribe was a special moment for all of us. They invited us to dance with them and shared their daily prayer of thanks," wrote the seven times Grammy award winner.
A lot of her fans were in awe of her posts, celebrating the 62-year-old singer for including her viewers on her travels, and many others appreciating the beauty of the county as well as the people.
"Looks like an interesting culture! Thanks for sharing," wrote Bee.
"I like how you see true happiness, not fake happiness; real happiness that money can't buy," wrote another Instagrammer.
On her Instagram stories, the celebrated mother of six uploaded photos of herself on the campsite where she is presumed to be staying, as well as images of Pokot and Samburu locals beaming in their traditional attire and ornaments.
The superstar was in the company of four of her children on the visit.
She is also known for her charitable works in the country and Africa at large, having been involved in First Lady Margaret Kenyatta's Beyond Zero Campaign in 2016.
The star also has strongholds in Malawi, from where she has adopted four of her young children. She also opened a hospital wing in the country in 2016 and runs a charity organisation dubbed Raising Malawi.