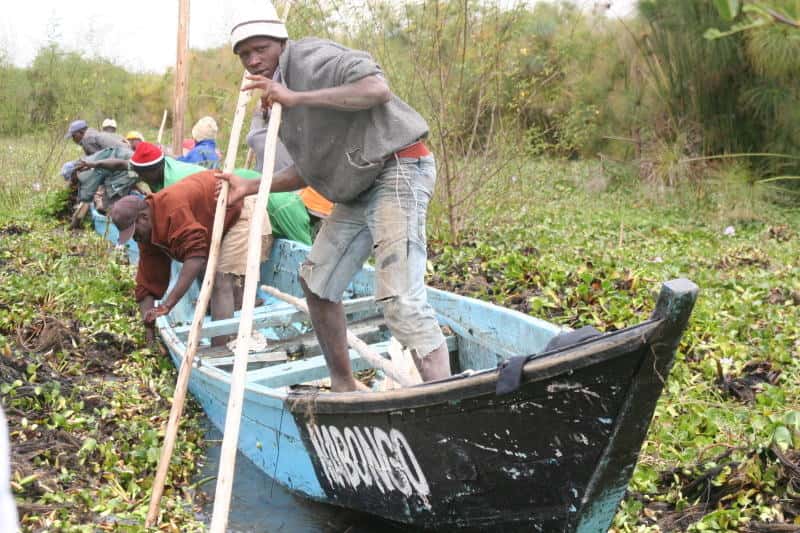 Water hyacinth has been identified as the major challenge currently facing Lake Naivasha, with one-third of the water body covered by the invasive weed.
This has adversely affected fishing and ecotourism activities with fishermen counting losses running into thousands of shillings every week.
This sorry state of affairs was revealed on the day three fishermen, who had been trapped by the weed near Kamere landing beach, were rescued after spending two days on the lake.
According to stakeholders around the lake, the government has forgotten the lake and instead fixed its attention on Lake Victoria, which experiences similar challenges.
Read More
Lake Naivasha Water Resources Users Association chairman Enock Kiminta described the weed as "a major threat" to the lake's ecosystem.
Speaking after touring the lake whose levels have risen sharply, Mr Kiminta expressed concerns at the speed with which the weed is spreading.
"Currently, some parts of the lake cannot be accessed due to this weed. We are calling on other stakeholders to join hands with us in containing its spread," he said.
Kiminta said that previous efforts to use beetles to contain the spread of the water hyacinth had failed, adding that the only option left was to use mechanical means of removal.
Lake Naivasha Boat Owners Association chairman David Kilo said that manoeuvering through the lake had become near impossible due to the weed.
Mr Kilo also revealed that large numbers of fish were dying daily after getting trapped in nets abandoned in the lake, adding that there was need to remove them.
"The number of abandoned nets in the lake is worrying. They are not only affecting fish production but tours by boat operators," he said.
Fred Muthui from Friends of Lake Naivasha said the presence of water hyacinth remained a key challenge.
He said efforts being undertaken in Lake Victoria to remove the dreaded weed should also be deployed in Lake Naivasha as one way of saving the water body.
"The weed has covered nearly a third of the lake. We call on the Government to make sure the machines in Lake Victoria are also brought to this lake and help remove it," Mr Muthui said.