This has been a good year, maize farmers rejoice
RIFT VALLEY
By Titus Too | December 31st 2020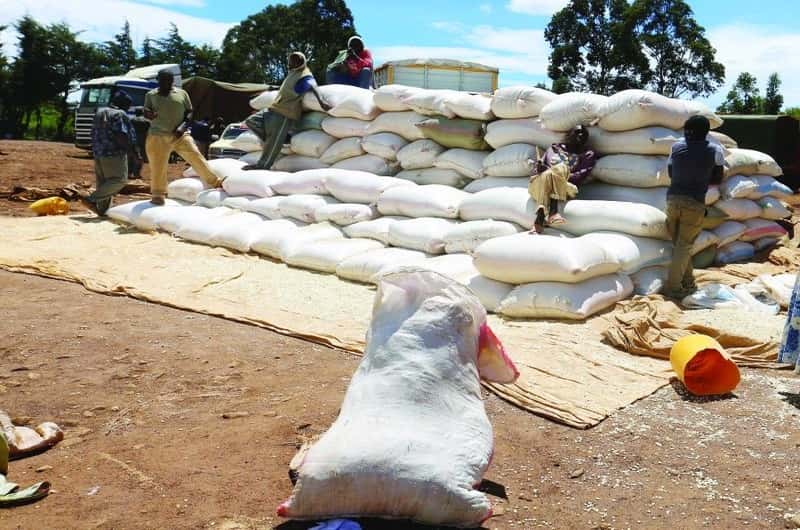 There have been no protests that normally characterise the festive season in the North Rift as farmers push for better prices.
Even though the government did not give maize farmers subsidised fertiliser or buy their grains, 2020 has been more rewarding.
Unlike in the past when farmers in the North Rift region staged protests often to compel the government to open the National Cereals and Produce Board (NCPB) stores, all has been calm this year.
The North Rift region, which is classified as Kenya's food basket, normally experiences long queues of lorries, tractors and pick-ups outside the NCPB depots.
The government set maize prices at Sh2,500 per 90kg bag, but farmers did not supply their grains to the government agency, thanks to the good prices in the free market throughout the season.
Parliamentary committee on Agriculture Chairman and Moiben MP Silas Tiren said challenges in the sector will be addressed through ongoing reforms that will empower farmers economically.
On Monday, NCPB opened its gates for commercial maize purchase from farmers, but the farmers said there were prices in the market than what is being offered by government.
"The decision by the government not to import maize has given local farmers an opportunity to enjoy the fruits of a non-saturated market," Kimutai Kolum, a farmer from Soy in Uasin Gishu County, said.
Mr Kolum said there was no food deficit in the country and that demand that prevailed throughout the season gave farmers reasonable prices in the market compared to the previous years.
"Although NCPB depots have now opened for commercial maize purchase, they may not get stocks since farmers currently enjoy good prices at the farm gate by traders and some millers," he said.
The prices are gradually improving and may hit Sh3,000 in the next few months, Kolum said.
He said farmers prefer selling their produce at their gates as it helps them cut transport costs and the tedious processes of drying and selecting discoloured grains.
Jackson Kwambai, a maize farmer from Moiben, said without the subsidy programme, farmers did not apply required quantities of fertiliser and their yields were greatly reduced.
"The weather throughout 2020 was conducive for maize production. The yield could have been better had farmers accessed fertiliser subsidy. Since they bought fertilisers from traders at over Sh3,000 per 50kg, some applied a single bag per acre instead of the recommended two," he said.
A subsidised 50kg bag of fertiliser costs Sh1,800.
Greedy cartels
But Tiren said the subsidy programme did not benefit the intended farmers, but greedy cartels who diverted the fertiliser to the market and sold it at exorbitant rates.
"With ongoing reforms and the Building Bridges Initiative (BBI) proposals, we will push for a guaranteed minimum returns (GMR) where respective counties will allocate certain percentage of the 35 per cent revenues to agriculture," said Tiren.
If it passes, Tiren said, respective counties will cushion farmers in case of crop failure to encourage more productivity in the country.
"Various counties have varied crops ranging from cereals, sugarcane, tea, coffee, pyrethrum, cotton and horticultural produce. Sectors including dairy and other sub-sectors will benefit from the county allocations," said Tire.
Kipkorir Menjo, a Kenya Farmers Association (KFA) director, said cartels had infiltrated the government subsidy programme, leading to importation of cheap but poor quality products that compromised yields.
"All players in the fertiliser industry participated in availing the input to farmers after government stopped the subsidy programme. This led to quality fertiliser, which although is slightly higher in price, translates to better yields," Menjo said.
He asked the government to speed up reforms and implement the e-voucher system of subsidised fertiliser distribution to farmers.
Through the system, a farmer pays for required quantities and receives a voucher, which can be used to purchase fertiliser from registered stockists in the market.
Import glut
Tiren said farmers in the cereals sector had for long been frustrated by a flood of maize imports.
"Recent maize imports from Mexico brought the maize sector to its knees. There was a deficit of four million bags in the country, but importers brought in 19 million bags, causing a serious glut," he said.
The MP said the problems in the maize sector are created by greedy people who import in excess and hurt the sector for several years.
"Whenever there is need for imports in future, we will demand that the public be informed of the required deficit, disclosure of companies awarded tender their history and names of directors for transparency purposes," he said.
Kolum, however, urged the national government to review the subsidy programme and assist farmers lower production costs and boost the country's food security.
"Without a subsidy, farmers bought fertiliser for as high as Sh3,200 per 50kg. With a price of Sh2,500 per 90kg bag of maize, it implies a farmer sells two bags of maize to buy a single bag of fertiliser," he said.