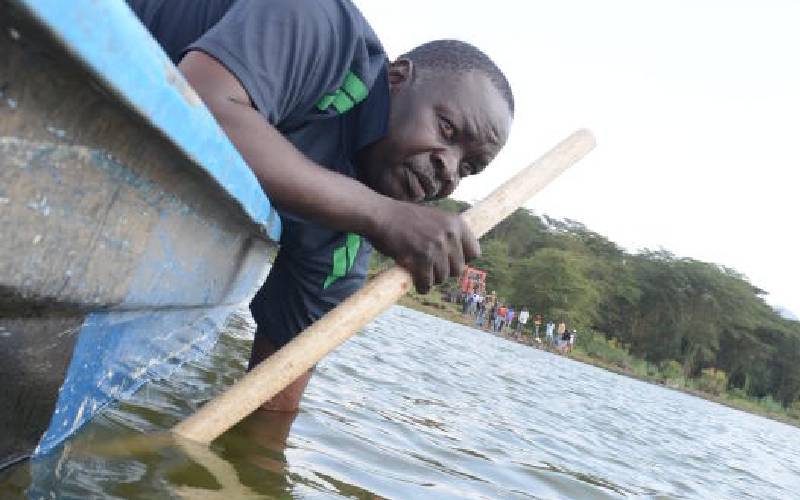 A boat ride for a family of nine nearly turned tragic yesterday when the vessel capsized in Lake Naivasha.
Quick action by boat operators along South Lake saw the relatives, who included two minors rescued, though they lost some of their personal effects.
The midday accident was blamed on abandoned nets and strong winds, which saw the coxswain lose control of the boat.
This comes barely two months after officers from the Kenya Maritime Authority launched a crackdown around the lake targeting unlicensed boats and operators.
According to Lake Naivasha Boat Owners Association chairman David Kilo, the boat was licensed to conduct tourism operations around the lake.
Read More
"The nets are at times washed away by water hyacinth and in the current incident they trapped the boat engine, making it impossible to move," he said.
He added that in the process of clearing the nets, the passengers panicked causing the boat to capsize and hurl them into the water.
"Quick action by nearby boat operators saw the nine rescued and whisked to safety. We are calling for action to clear abandoned nets," he said.
Meanwhile, water levels in the lake continued to rise due to rains which have been pounding the region, flooding more homes and farms.
Hundreds of people have already been displaced with fears the numbers could rise. According to Lake Naivasha Water Resource Users Association chairman Enock Kiminta, water levels started rising last week.
"Kihoto estate is most affected with over 4,000 people displaced and with the ongoing rains more families could be affected," he said.