Kinsmen face off over land in tsetse fly-infested valley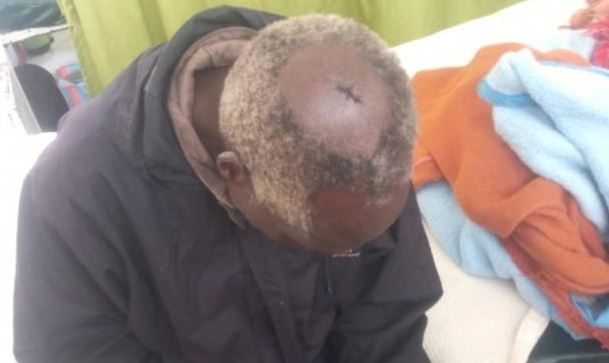 Over half a century ago, tsetse fly and mosquito infestation forced families to migrate from their ancestral land in Kerio Valley, Elgeyo Marakwet County.
They left huge tracts of land for livestock grazing and built kraals where herdsmen would spend the night.
Due to population explosion, some families on the highlands returned to their ancestral land while those who remained dominated the white highlands in Uasin Gishu, Trans Nzoia and Nakuru counties and periodically visit the valley.
The people are going back in droves to the once-abandoned valley to reclaim their ancestral land.
However, they are now facing resistance from their kinsmen who have since sold the land to other people.
The haste to reclaim the land has been fuelled by speculation of oil deposits in the region, huge potential in fruit farming and hotel and tourism business.
This has led to fights pitting kinsmen and people who acquired land in the region.
Set out to subdivide
As Paul Tuwei and some of his kinsmen learnt two weeks ago, their 200-acre ancestral land has since changed hands.
He set out to subdivide their community land in Lower Cheptebo sub-location, Keiyo South County but was surprised to learn that the property was now in the hands of other people.
Tuwei, 60, was attacked by people hired to thwart any attempts to subdivide the land, which he claimed belongs to K'ongot clan.
"I was the eldest and as others sprinted to safety, I could not run and the goons descended on me with all manner of weapons and left me for dead. It is by luck that I survived," narrated Mzee Tuwei, who suffered broken ribs and legs and was admitted to hospital.
He said one of the kinsmen sold the land without their knowledge.
"Our land is under trust of three individuals who are part of the K'ongot community. But one of the trustees illegally sold the land without the knowledge of other members," he states.
Yesterday K'ongot community chairman Joel Kiptunoi, 87, told The Standard that land bequeathed them has been taken by outsiders.
He said those who registered and issued title deeds should be held accountable.
"This is fraud and the issue should be dealt with accordingly by the National Land Commission (NLC). Many genuine residents who were born in the area risk being landless if this is not checked," he protested.
He claimed that they visited Ardhi House when now Kitui Governor Charity Ngilu was the Minister for Lands, and she instructed the local land offices to revoke the title deeds, but nothing has happened save for the development being undertaken by the new owners.
Majority of land in Kerio Valley is communally held through clans and lack of registration documents makes it easy for people to sell it to unsuspecting people.
A visit to the region reveals magnificent houses mushrooming on swathes of land.
There are crops on farms as well as livestock.
The hospitality industry is also booming. Traders come from as far as Nairobi and Kisumu to buy mangoes, paw paws, watermelon among other fruits from the region.
But Kiptunoi denied reports that they abandoned their land, saying people migrated to the highlands because the lowlands were infested with tsetse flies and mosquitoes.
"On the contrary we did not abandon our land, but we were fleeing the insects. It is shocking that when we come for our birthright we are attacked by our kinsmen," he said.
The Kapkomol clan is also feuding over the ownership of 5,000 acres that is being illegally adjudicated while some portion has already been sold.
"We do not want strangers to take our ancestral land," said John Chebii, the clan representative, adding, "We have fought to have our land back since 1985 but no one has listened to us. The grabbers are now subdividing the land."
William Kimaru accused some clan members who had migrated to other counties of returning to cause trouble.
Jonathan Kangogo said it was shocking that few people can take what belongs to an entire clan and attempt to disinherit them by selling ancestral land that is yet to be subdivided.
"We petitioned NLC after we found out that some individuals who are not members of our Kapkomol clan had acquired documents showing they are the owners of our ancestral land. On probing they told us they bought from certain individuals whom we do not know," said Kangogo.
Sego clan is also claiming 2,000 acres of their ancestral land that has been taken over by individuals.
Commission for Revenue Allocation (CRA) former chairman Micah Cheserem told NLC to revoke the title deeds and conduct fresh land adjudication by involving all clan members. He said previous meetings to resolve the row have been futile.
"It is shocking that few people can take what belongs to an entire clan that has five sub-clans. And we hope NLC will correct the anomaly," Cheserem said when NLC visited the region last year.
When the commission visited the region it admitted that cartels were illegally acquiring land.
"It is baffling to find out an entire communally owned land has already been sub-divided and registered among different individuals without the knowledge of the owners who have already been rendered squatters on their own land," said former NLC Commissioner Samuel Tororei, who led the commission on a fact-finding mission to the region.
And consequently in a gazette notice dated March 1, 2019 NLC sanctioned fresh adjudication for land owned by Lower Sego and Kapkomol clans.
Review of adjudication
"The commission recommends that a review of the whole adjudication process is undertaken by the NLC, Ministry of Lands and Physical Planning, County Government of Elgeyo Marakwet and clan elders with a view of solving the claim amicably," recommended the NLC.
Keiyo South OCPD Charles Laboso said they have received complaints about land-related issues.
"Some people sold land without the knowledge and approval of their kin and when the others who had migrated come back for their share they are attacked," said the OCPD. He warned those perpetrating violence.