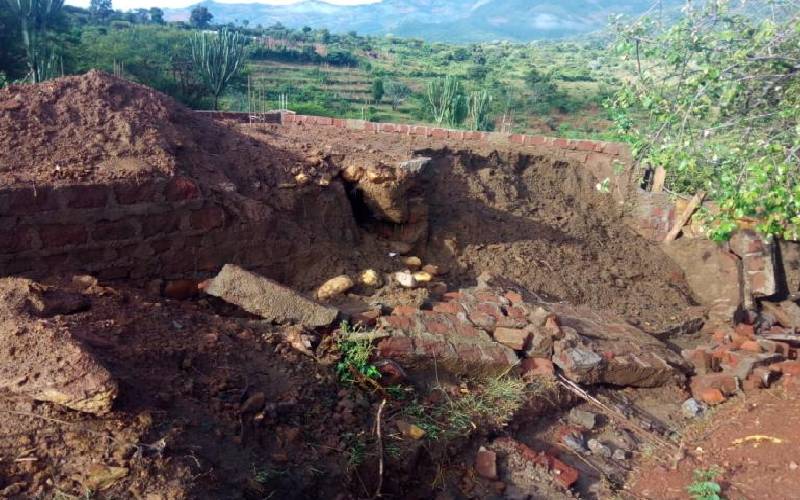 More than 90 families who were displaced following the recent landslides in Muino Location in West Pokot county are pleading for humanitarian aid.
The residents, who are camping at Kositet Early Childhood Education Centre, were left homeless after their houses were swept away by floods and landslides that killed two people.
They are now appealing to the national government to supply them with bedding, food and other essential items.
The landslide that occurred last week in Tortoi village claimed two lives - a woman aged 75 and a six-year-old child while hundreds were displaced.
Read More
Speaking to The Standard, Muino Location chief Emanuel Chesta said more than 150 people are camping at the nursery school after 90 households were affected by the landslide.
"They have run short of food. When the landslides happened, they had just harvested their crops which were destroyed in the stores. We are appealing for food, clothing and shelter," he said.
According to the chief, a 25-year-old woman, Rosslyn Cheptoo Mukelima who was rescued from the rubble together with her children and are now undergoing treatment at Kapenguria Referral Hospital. The mother of seven suffered serious injuries.
Buried in debris
"A family of five that was buried in the debris was rescued and taken to Tamkal dispensary. Those who sustained serious injuries were transferred to Kapenguria Referral Hospital," he added.
When The Standard visited the site where the affected families are camping, a resident told journalists that most of them have not received any medical support and the cold weather was exposing them high risk of contracting infections.
Most of the people in the camp are women and children.
Cheporokwo Riposia, a mother of eight, said they are forced to share bedding even at this time when the country is grappling to contain the spread of the coronavirus.
Riposia said sanitation is poor and they lack clean water for cooking and drinking and are at risk of water-borne diseases.
"My house was buried by the landslide but I managed to save my children. We have been camping here since last week but have nothing to eat and no warm clothes. We will have to build from scratch when we return to our villages," she said.
Another survivor, Koo Regina Siwanoi, said most of them cannot go back to their homes because the rains are still heavy and there are fears of another landslide.