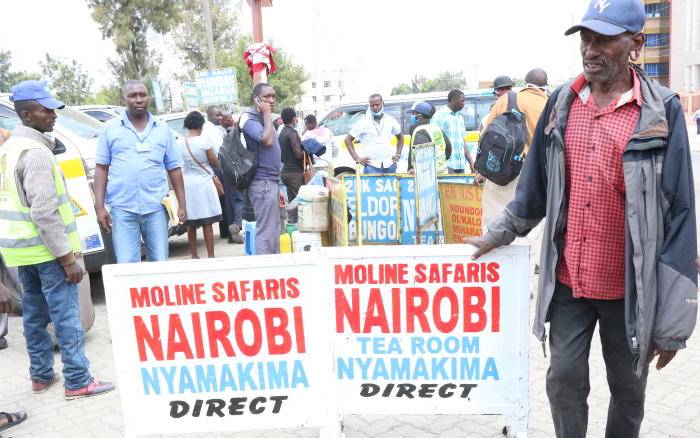 Over 50 saccos in Nakuru County have resolved to withdraw their vehicles from the roads in Nakuru town.
This follows Governor Lee Kinyanjui's decision to kick them out of the town center to three different locations outside town.
The county operators were led by national officials of their association-Matatu Owners and Bodaboda Operators Federation.
The leaders had this morning sought to meet with Kinyanjui but were reportedly dismissed.
Read More
They have vowed to continue with protests until Kinyanjui allows them back to town or rehabilitates the current termini which are in deplorable state.
On Monday, Nakuru Town East MP David Gikaria was arrested after he allegedly assaulted a senior police officer over the eviction of matatus from the town centre.
County police commander Tito Kilonzi yesterday confirmed Gikaria's arrest and said the MP would be taken to court.
"The MP came to my office, hurled insults at me and harassed me. He almost beat me up and I had to call in officers to arrest him," said Kilonzi.
He dismissed claims that the county government was misusing the police.
"It is not true that the county government is using the police outside our mandate. The protesters were unruly, throwing stones and lighting bonfires on the streets. They disrupted everything and we had to come in," said Kilonzi.
Governor Lee Kinyanjui faulted the matatu operators, saying their approach was wrong as the county government had made the relocation plans clear to them.
"Their decision to hold protests was uncalled for. We have good intentions whose full implementation will lead to an expanded modern and vibrant town," said Kinyanjui.
The governor said the county had set aside funds to construct a modern bus park.
"We have already allocated Sh100 million for this project and will seek more funding to increase the scope. We call for patience and dialogue when dealing with such weighty matters," said Kinyanjui.