At glance Kelvin Natembeya aka Kelvin Shaban may pass as any other handcart pusher operating in Eldoret town.
But a sneak peep at the 25-year-old man reveals 'Professor Shaban' as he is fondly referred to on the streets, is not your typical handcart pusher.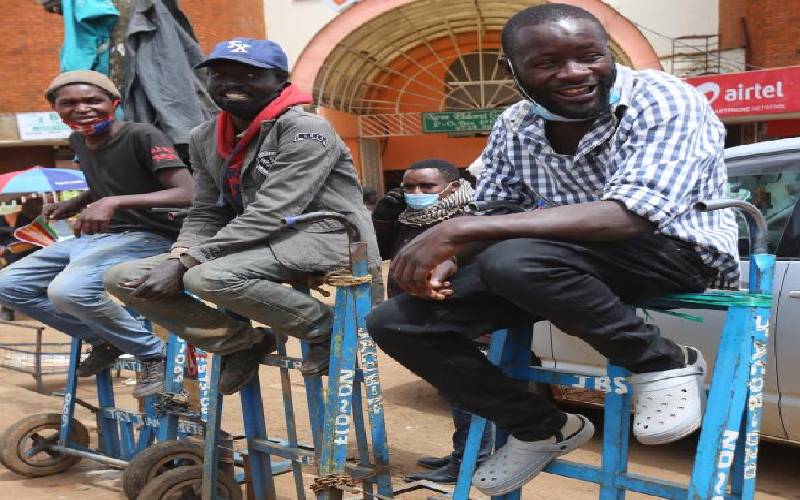 He was a lecturer at a local private college in Uasin Gishu, before being pushed out of job thanks to the Covid-19 pandemic.
Donning unkempt hair and jagged clothes among other ordinary cart pushers, Shaban is one bright man who leaves his peers and passersby in awe with his wit and mastery of English and Swahili languages.
In contrast, he has neat clothes and shoes at his house.
He is also a journalist, a thespian, an author and a public speaker whose eloquence has left many tongues talking on why such an individual is wasting himself on the streets.
"I once approached some people whom I thought would assist me out after life became difficult, but their response pushed me into the streets. One of them told me I should never be a beggar," he narrates as he ushered The Standard into his bedsitter house at Munyaka estate where he lives with one of his brothers.
He says being an orphan he has been living hand to mouth, and he went back to the streets since he was once a street child before being rescued and taken to a foster home in Nakuru county.
"My parents separated before our mother brought us to Eldoret from Bungoma while we were still toddlers. She then abandoned us on the streets of Eldoret. That is the information we heard of our parents," said Shaban, a last born in a family of six children.
He recalls how one day a Good Samaritan took him away from the streets and brought him to Nakuru where a prominent city lawyer became his guardian.
"It was by luck that I got a guardian who sponsored all my education right from primary to University. Despite the challenges in most children's home I got admission to Moi University and graduated in 2018 with a Bachelor's of Science in Communication and Journalism," he recalls.
"Back at the university I was an actor and even an anchor at the Moi University owned Kenya Television Service (KTS). I wrote guide books to simple set books for high school students and later distributed them for free to several schools," he says.
Almost a year after graduation, he notes, he approached his guardian help with a startup capital of sh 50, 000 to start a mitumba business.
"At first he gave me Sh20 000 promising to top up the rest once the stock was over. Together with some savings he went to Nairobi and bought the mitumba ready to start his business," he states.
But luck was not on his side, several months in the mitumba business he lost his entire stock to thieves, but when he approached his guardian, he did not believe him
"When I recall when someone I relied on once told me to stop being a beggar, I get comfort in the words of the world's greatest neurosurgeon Ben Carson who said in his book- Take the Risk. I have learned all about the daily risk I face daily," he notes.
Shaban says that in late 2018, one college in Eldoret town advertised for a lecturer position, and he applied.
"The only challenge which stood between me and the job was that they needed a business-oriented lecturer which I did not qualify. But I risked and convinced the management to allow me volunteer the services which they agreed after much prodding," he recalls.
It was until March that Shaban secured a job the college but unluckily he only earned a one-month salary before the school was closed due with the Covid-19 protocols.
"I survived on the one-month salary but returned to the streets to find something to do and to sustain myself. Here at the streets its survival and conformity. I do all that they do including talking like them, dressing, even in dingy places but only I do not take illicit drugs," he notes.
His peers on the streets talk highly of Shaban.
"He is a friend to all and respects those who comes across without discriminating on gender, age or religion and tribe. He does not see himself as educated," said Benjamin Munala.
Evelyn Korir an Eldoret local said a mother she feels pain to see children educated doing odd jobs.
"Such demotivates many youngsters from going to school it also brings despair to parents to educate children yet find no job later," she said.