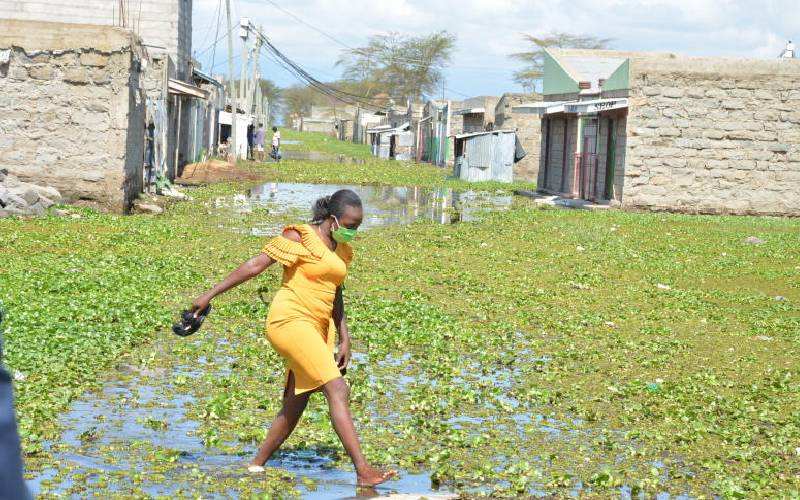 A new study by two environmental state agencies has predicted mass death of fish in Lake Naivasha in the near future due to the rise in nitrate levels.
The report by National Environment Management Authority (Nema) and the Kenya Marine and Fisheries Research Institute (Kemfri) states that with the high presence of nitrate, plants like algae grew at an alarming rate, taking nearly all oxygen in the water.
"As the plants grow fast due to the presence of this chemical, they end up consuming a lot of oxygen for other species and this could end up in mass-fish deaths," the report says.
It says the nitrates are mainly from farms or human settlements that have flooded and the towns' sewerage plant. The chemical, it notes, is known to cause some diseases among fish.
Read More
Tests on the water were conducted two weeks ago following the swelling of the lake that has covered a huge chunk of settlements and hotels around the lake.
Flooding of flower farms and several estates around the lake is said to be the main source of the chemical that mainly comes from fertilisers.
The two institutions have, however, denied the presence of metals in the lake or mass fish deaths occasioned by poisoning.
The studies follow concerns by fishermen that fish from the lake were decaying at an alarming rate.
Areas around Karuturi flower farm and Kihoto estate, which have flooded due to the rising water levels, have been identified as places with high levels of nitrates.
Nema director of environment in Nakuru County Solomon Kihiu said the tests were conducted following concerns from stakeholders.
He confirmed the presence of nitrates in the lake but denied they were poisonous.
"Tests on water from sections of the lake have confirmed the presence of nitrates and we suspect this is due to flooding of the estates and a few farms around the water body," he said.
Mr Kihiu was, however, quick to rule out the presence of metal in the fish from the lake.
He said they would come up with a report that will guide how to address challenges facing the lake.