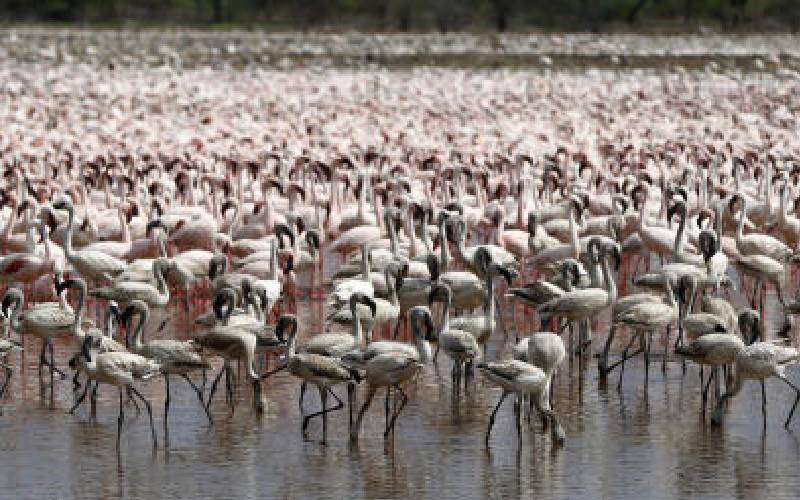 The phenomenal migrant flamingos are back to paint Kenya's alkaline lakes pink after a successful breeding season in Lake Natron in Tanzania.
The itinerant birds have flocked Lake Bogoria, the largest host of flamingos. The birds, which normally return between June and July, arrived last week with hundreds of young flamingos.
"The birds have come in large numbers and they all look healthy, signifying a successful breeding season in Lake Natron. The flamingos often fly back to Kenya to spend more time and feed after a successful breeding season," James Kimaru, Lake Baringo senior warden, said.
For the past seven years, Mr Kimaru said, the birds have kept constant their migration trends, which often kick off between June and July. They spend between four and five months in Kenya, then fly back to Lake Natron for breeding, he said.
Read More
"These birds are nocturnal, meaning they fly in at night. It is usually exciting to wake up to thousands of grunting flocks every morning when migration begins," Kimaru said.
Flamingos flocking back at Lake Bogoria often coincides with tourism peak season, a situation that has seen tourism numbers grow.
Lake Bogoria is a World Heritage Site under the Kenya Lake System that comprises other lakes: Nakuru and Elementaita. The population of flamingos at Lake Nakuru, which once emerged among top most colourful lakes in the world, has, however, decreased over years. The decreasing populations are partly attributed to the increasing water levels in the lake and pollution. This has also seen Lake Bogoria host larger populations of flamingos in the region.
And as all the lakes in the country are facing adverse challenges of swelling, Lake Bogoria has also experienced losses, with some of its infrastructure submerged.
"We have diverted some of the roads and every part is still accessible. Baringo County Government has also set aside Sh17 million for repair and infrastructure development. The contractor is already on the site," he said.
This year's peak season has been marred by the coronavirus pandemic that has seen a drop in the number of visists to the lake. During peak seasons, global broadcasting companies often pitch tent by the pink lake to relay and stream live feeds of the mysterious pops of pink strutting along the shores of the world famous lake.
This year, however, most of the visitors are domestic.
Kimaru said updates, including photos of the magnificent migration phenomenon and videos, would be relayed through social platforms managed by the county department of tourism.
"To keep all those who might not make it to Lake Bogoria, we will keep sharing the beauty and also to have those who can travel to visit and relish the beauty," he said.
A recent report on the status of World Heritage sites in Africa proposed that other lakes, which play a critical role in survival of flamingos, be included on the World Heritage List. The lakes include Lake Natron in Tanzania, a key breeding haven for flamingos.
The flamingos, the report said, mainly nest in Tanzania's Lake Natron, while the flocks also exist in Lakes Manyara and Eyasi and in Ethiopian lakes such as Lakes Abijatta, Shalla, Metehara, Chitu, and Aranguade.
Flamingo lakes are saline alkaline.