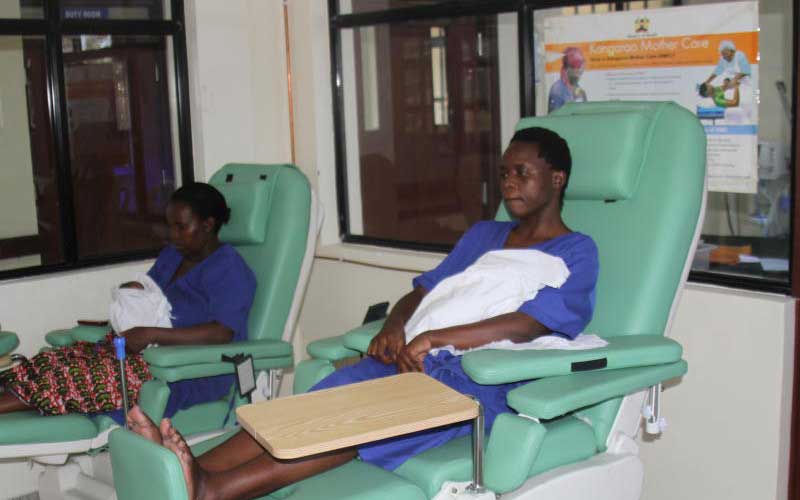 The number of pregnant women seeking hospital deliveries in Nakuru has increased after reduction of curfew time by three hours.
Among facilities where services have picked up is the Margaret Kenyatta Mother Baby Wing, at the Rift Valley Provincial General Hospital.
Initially, medical records indicated a decrease of deliveries by 25 per cent. The situation has changed since June 6, when dusk-to-dawn hours were increased from between 7pm and 5am, to 9pm and 4am.
Joseph Mburu, the officer in charge of the health facility, said they were now recording 50 to 60 deliveries daily.
Read More
"Means of transport was a major challenge that pregnant women faced, but the numbers are back to normal," said Dr Mburu.
Mburu added that initially a number of babies born at the facility were delivered with difficulties due to delayed hospital visits.
The 250 bed capacity maternity wing has four wards that are currently full to capacity, forcing some mothers to share beds.
Mburu said referrals from neighboring counties such as Baringo, Samburu, Laikipia, Narok, Bomet and Kericho were also being received.
"Though women used to fear coming for deliveries, the operation is back to normal, including referrals from neighbouring counties," said the doctor.
The facility has four modern theatres, antenatal and postnatal clinics, neonatal Intensive Care Unit, among others.
Women with reproductive challenges are also observed by obstetric specialists.
Kenya is one of the 21 countries with a very high rate of maternal deaths, according to the UN reports. At least 5,000 maternal deaths were reported in 2017.
Meanwhile, Nakuru County health data on hospital visits indicates an increase in the months of January, February, March and April, as compared to the same period in 2019.
In the report titled Indicator Trends During the First Four Months of 2019 against 2020, hospital deliveries by skilled attendants have increased from 13,558, captured in 2019, to 14,077 this year.
Deliveries were higher in Nakuru West constituencies, with 3,587 from 3,929, while Subukia recorded lowest deliveries, with only 311, from 308. "The county recorded a high number of deliveries by skilled attendances in the year under review," reads a section of the report.
Hospital admissions in health centers, sub-county facilities and main hospitals also rose from 37,000 to 38,000.