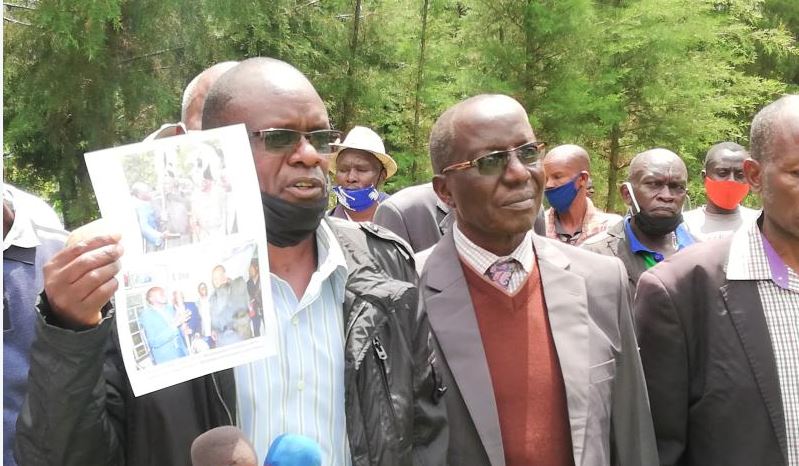 The controversy surrounding Deputy President (DP) William Ruto's coronation 11 days ago by the Talai Council of Elders in Nandi has taken a dramatic twist after the council's vice chairman Christopher Koyogi was expelled.
The Talai Council of Elders announced Koyogi's expulsion Tuesday following deliberations among 22 Talai clansmen at a meeting held at Kapsisiywa in Chesumei Constituency on Thursday last week.
Political affiliations played out after the elders' meeting invoked the council's modus operandi.
Among the accusations levelled against Koyoki is his alleged coronation of former Prime Minister Raila Odinga (ODM) in Kapsabet on June 6, 2017, without consulting the elders.
Read More
The elders led by the chairman Rev James Bassy, Moses Saina (Secretary), Christopher Agui (Treasurer), Amos Korir among others yesterday named Mr Lawrence Nganai as Koyogi's replacement. Both Nganai and Koyogi belong to Kapturkan Clan, the lineage of Koitaleel arap Samoei.
The elders maintained their stand that the DP got their blessings witnessed by the five sub-clans of Kapturgat, Kapsonet, Kapsogon, Kamursoi and Kapchesang.
At the weekend, Koyogi, 80, who served as a councillor for Kaspsisiywa for over a quarter-century, strongly criticised Ruto's coronation claiming that it was done while President Uhuru Kenyatta was still in office.
Koyogi dismissed the event and said they had coronated President Kenyatta in 2013 and were yet to identify another leader to be decorated with the leadership regalia and blessings.
"We gave Uhuru our blessings, and we can't give DP Ruto blessings when Uhuru is still in power," Koiyogi said during a meeting at Kapsisiywa.
But the clan, in a statement after its meeting, accused Koyogi of "being sly and [because he had] carried out illegitimate coronation of Raila Odinga in 2017 in Kapsabet while President Uhuru was still president. In 2011, he presided over the coronation of Martha Karua at Kapsisiywa without the consent of Talai elders. Kibaki was still in office then."
The elders termed Koyogi's remarks as 'malicious outbursts and propaganda that do not have the blessings of Talai council of elders'.
"Koyogi ceases to be a member of the council and is barred from attending Council of Elder, Kaburwo Council of Elders and Mioot Council of Elders meetings," read the letter.
Mr Christopher Agui (Treasurer) said at a press briefing at Kapsisiywa that President Uhuru had been invited to grace Koitalel Samoei commemoration in Nandi Hills on October 2017.
"This is when the Council of Elders decorated him with leadership regalia; with a leader's club and sambut (monkey skin). Because his deputy could not be decorated on the same event, we told him that another day would be organised," said Agui.
Agui added that since then, they have been organising to bless the DP with the leadership regalia and that June 5 was 'appropriate and fulfilment to his promise.'
He took issue with Koyogi whom he claimed was going round tarnishing the image of the clan.
The Talai clan, whose totem is a lion, is respected in the Nandi community.
Mr Fred Songol, another elder said the expelled elder 'will not be cursed' and that he has a right to choose his political affiliation. "We will only unseat his from the council.'
Mr Saina said several meetings were held before the DP was invited for the coronation, which was done in the morning in line with the community's respect for the light at sunrise (Asis).
David Sulo said a committee that brought together all members of the sub-clans of Talai was involved in coronation plans.
In their minutes, the Talai council of elders said Ruto's coronation was purely a Talai clan affair and that they totally support President Uhuru and his deputy Ruto.
According to the minutes of the meeting, Mr Saina, the secretary, moved a motion to expel Koyogi for allegedly violating the integrity of Talai. Mr Songol proposed the expulsion and was seconded by Kipleting Saina and members voted for the expulsion.
"A letter is to be written to Koyogi informing him officially of his expulsion from the council and at the same time be served with the letter in the soonest time possible," read part of the agenda.
Last evening, Koyogi confirmed having received the letter dismissing him.
"Why should they go to the press when they have written to me? The letter has been copied to Kaburwo and Myoot council of elders, which are different entities from Talai elders," said Koyogi.