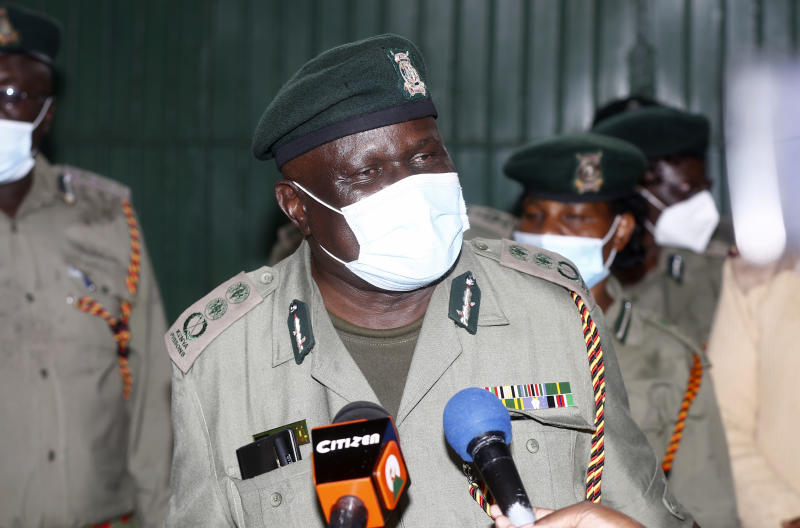 None of the prisoners held in the 118 penal institutions across the country is Covid-19 positive, the Commissioner-General of Prisons Wycliffe Ogalo (pictured) has said.
Speaking in Nakuru County on Tuesday evening after inspecting the Nakuru G. K. Prison, Mr. Ogalo clarified that the 31 positive coronavirus cases were remand prisoners who were referred to facilities by the court and had been taken to quarantine centers.
"An impression has been created that prisoners have been infected by the virus. I want to clarify that the alleged 31 cases are new remandees confined in quarantine facilities," the senior official stated.
He said that the 42 contacts were also new remand prisoners that were in quarantine with the two prisoners who tested positive.
"Those contacts have been quarantined at the prison quarantine facilities and protective measures have been put in place to ensure staff are not infected."
He added; "The two positive cases reported at Industrial Area Remand Prison are remand prisoners and not inmates serving sentences in prison. All inmates are secured."
Ogalo said that the report published in the media that prisoners were unsafe due to the cases reported was not true.
He added that prison authorities nationwide have set up several quarantine facilities to ensure those taken in remand are quarantined for a fortnight and subjected to test.
After testing is done, those who test positive are handed over to the Ministry of Health.
Ogalo maintained that the prison facilities are aware that they are vulnerable confined society and one case could trigger a chain that will affect prisoners, staff, and their families.
Relatives have been barred from visiting those in prison.
"We have however ensured that those in prison regularly communicate with their families through mobile phones."
Prison facilities have also started to decongest prisoners to ensure the 1.5-meter rule is achieved.
Some of the inmates' sentences have been reduced, bond terms varied and petty reformed offenders released from the prisons as directed by Chief Justice David Maraga.
In March, Nakuru High Court Presiding judge Joel Ngugi released over 340 petty offenders and varied bond terms for over 200 offenders to ensure they raise bail.