Alarm as town becomes new pandemic hotspot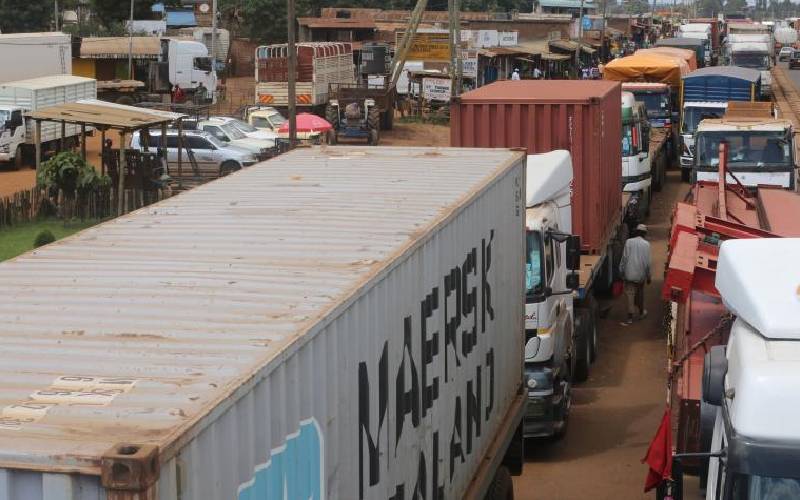 Shaban Juma jumps out of his truck and walks into a shop in Jua kali town in Uasin Gishu County, to buy a cigarette.
The visibly frustrated truck driver has stayed in Jua Kali, a village trading centre located about 30 kilometres from Eldoret, for the last eight days.
He mingles with a number of residents as he returns to his truck where about ten other truck drivers from Mombasa, heading to Uganda and Congo gather for a discussion. This has been his new routine for days.
Juma left Mombasa more than a week ago and is stuck in the highway town located in Turbo constituency, Uasin Gishu County.
Business as usual
Like him, more than 700 trucks and a group of 1,400 drivers and their turn boys have been camping at Jua Kali for more than a week owing to a Covid-19 testing deadlock at the Kenya Uganda border.
Despite the rising coronavirus cases, restaurants and shops are operating as usual.
Worryingly, Turbo in Uasin Gishu County is the new epicentre of the Covid-19 pandemic, after tests confirmed that 26 out of 28 Uasin Gishu's coronavirus positive cases are truck drivers from Mombasa who make stopovers along towns on the highway.
Last Friday and Saturday, eight and 11 truck drivers respectively tested positive for the disease, according to daily reports by Ministry of Health.
To contain the spread, the government set up a testing centre at Huruma, one of the areas where the truck drivers have been spending the nights en route to Uganda.
Jua Kali is less than ten kilometres from the mobile testing centre in Huruma.
The truck drivers and their turn boys say they decided to crowd in the small town until a traffic snarl-up occasioned by delays in Covid-19 testing in Malaba on the Kenya-Uganda, eases.
Juma explains why most of them have been camping in the area instead of the border area.
"We have more than 700 trucks here and more are still coming because it is better to spend the days here than be stranded on the Kenya-Uganda border," Juma says.
He says they were tested for Covid-19 before leaving Mombasa and have never undergone the tests in Uasin Gishu, but residents along the towns are expressing fears of contracting the disease.
Truck driver Michael Kariuki says his body temperature was taken once for the entire eight days he has been camping in Turbo.
Mr Kariuki says he had learnt about the rising numbers of truck drivers testing positive in Turbo yet there was no testing taking place.
He says more trucks are leaving Mombasa and they will stop in Eldoret until a traffic that has reached Webuye in the neighbouring Bungoma County.
And there is a downside to these negative reports.
Fueling stigma
"The Covid-19 reports have led to our stigmatisation here in Kenya and Uganda. Ugandans are good people but the Kenyan government is recklessly publicising information that has created a perception that all truck drivers from Mombasa are Covid-19 positive. Our government should be sensitive on the reports it is relaying about us," he says.
Lazaro Wanjohi, a trucker who has also been in Turbo for over a week, says they have been asked by authorities in Uasin Gishu not to interact with locals but no government official was enforcing the directive.
"We rarely see police providing security here. You can't stop people interacting and buying from locals," Wanjohi says.
At a guest house along the busy highway, several Kenyan and Congolese drivers and some mechanics from Uasin Gishu, had gathered to enjoy a meal as they share their frustrations.
A worker at the joint says they were instructed not to allow truck drivers to spend the nights in the hotel but she admitted that several male clients were spending time, during the day with their girlfriends – a worrying habit.
"We receive clients who spend day times with local women in the hotel rooms but sleep in their trucks at night," the worker says.
In a spot check, The Standard discovered that several eateries along the new 35 kilometres hot spot highway stretching from Eldoret to Turbo town were receiving customers, both locals and truck drivers.
Jua Kali resident Silas Kipkemboi, a mechanic, said he has not stopped fixing puncture and other technical issues for truckers despite the fears.
"They cook here at night and we share meals. During the day, most of them take their meals in eateries," he says.
Samuel Karanja, another resident said: "Most truck drivers are our friends. We do business with them. We have heard on TV that most of them are testing positive for coronavirus but here things are just normal."
Uasin Gishu County Executive Committee member (CECM) for health Evelyne Rotich said county authorities were not in a position to monitor the conduct of truck drivers while making stopovers along the highway.
"We can't track movements and interaction of the truck drivers. This a multi-agency issue and all of us have a responsibility to enforce the measures," Ms Rotich said.
She said of 17 cases confirmed positive by Friday, eight of the truckers were residents of Uasin Gishu.
Uasin Gishu Governor Jackson Mandago on Thursday warned truck drivers from visiting their relatives whenever they were on their way to Uganda.
"We are asking truck drivers from Uasin Gishu to spare their families during this period," Mandago warned.
Uasin Gishu County Commissioner Abdirisack Jaldesa said the issues that have been causing delays at Malaba border have been resolved.
"Moi Teaching and Referral has been testing truck drivers who have not been tested in Mombasa and those whose test certificates have expired," the commissioner said.
He added: "Yes, there have been contacts between the long distance drivers and locals. We have held meetings and this will not happen again because we are clearing all trucks in Uasin Gishu."