Five people die in freak Londiani road accident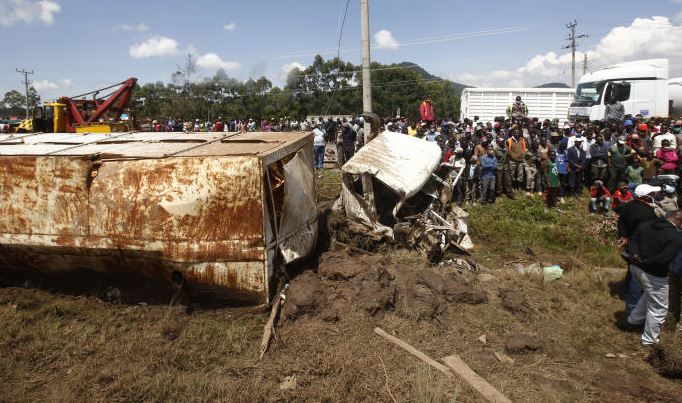 Five people died while twelve others sustained multiple injuries after they were involved in a tragic road crash at a roadblock mounted along the Nakuru- Kericho highway.
The accident victims, three males and two females died after a trailer rammed into five PSVs and a private car that had been flagged down for Covid-19 screening and routine motor vehicle check near Londiani road junction.
The fatal road accident which caused a huge traffic jam occurred at 11:30 am on Saturday. The victims' personal effects were strewn all over the accident scene.
As if to indicate the horror the victims underwent, a leg broken was also lying at the scene when The Standard arrived there.
"A Mitsubishi trailer which was being driven from Nakuru heading towards Kericho side and on reaching the scene of the accident, it's driver lost control due to break failure and rammed into six oncoming vehicles. He hit an electric pole before landing on the right-side ditch," said Londiani OCPD Musa Kongoni.
Three male adults died on the spot while two female adults died on arrival at the hospital. One of them died at Londiani sub-county hospital while the other while being rushed to Kericho County hospital.
"Twelve survivors of the accident were seriously injured and rushed to Londiani sub-county hospital," said Mr Kongoni.
Among the accident's lucky survivors was the badly injured lorry driver who the Standard team bumped into as he was being transferred to Kericho County hospital.
"We have secured the road and all wreckages of the vehicles involved in the accident have been towed to Londiani police station awaiting inspection," said Kongoni.