Matatu operators face off with gang leaving 40 vehicles vandalised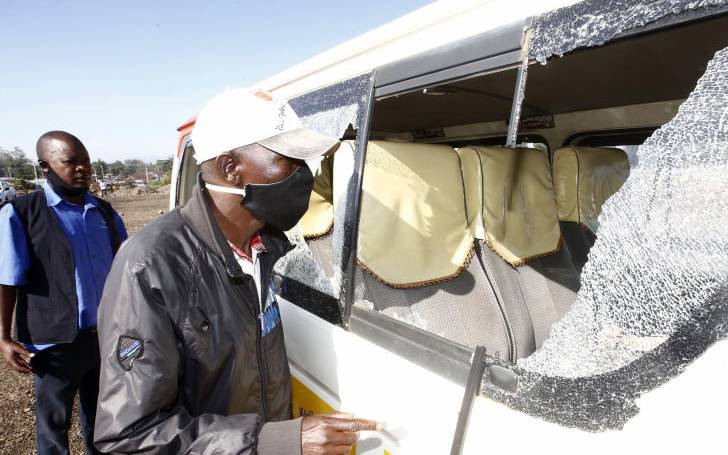 Transport was paralysed in Nakuru town for nearly two hours after a gang attacked matatu operators and vandalised at least 40 vehicles at the Ziwani bus terminus.
According to the operators, the gang started by attacking drivers who had just resumed their activities yesterday morning.
"I arrived at the stage at around 7 am when I spotted a group of mean-looking youths armed with crude weapons walk into the stage," said Charles Njoroge, a driver.
Ejected drivers
Dennis Onchuki, a driver at Smartline Sacco, said the gang was armed with knives, clubs and stones and ejected all drivers and touts from the terminus within 10 minutes.
"Nearly 20 youths surfaced from Bondeni Estate dangerously armed. We tried reasoning with them, but they turned rowdy and charged towards us. Most drivers escaped on foot leaving behind their vehicles," said Mr Onchuki.
As the gang took control of the terminus, they vandalised matatus that had been left behind, claiming that their space had been encroached.
The operators were relocated to Ziwani grounds which lies between the town and Bondeni slum in March, in a move aimed at decongesting the main terminus amid Covid-19 pandemic.
Despite its proximity to town, Bondeni slum has been one of the most feared area as it harbours gangs, including the dreaded Confirm Group.
Some of the gangs have been operating from Ziwani ground which had been neglected.
Police officers arrived minutes later and managed to take control as the youths fled into the slum, leaving at least 40 vehicles with shuttered windows.
Mololine Travellers Manager Kefa Wanyioike said at least 40 vehicles were damaged at the terminus while two others were involved in accidents as their drivers sped off from the scene.
"The youths have been demanding money for any slight assistance offered. Those who don't comply are harassed and some robbed. The terminus is unsafe for us and travellers.
We need assistance from the county administration and the police," said Mr Wanyoike.
Initial assessment
He said initial assessment on the damage done on the vehicles could cost operators at least Sh5 million, noting that some of the vehicles will require all the windows to be replaced.
Nakuru East Sub County Police Commander Elena Kabukuru said a manhunt for the vandals had been launched.