Nandi brothers improvise portable ventilator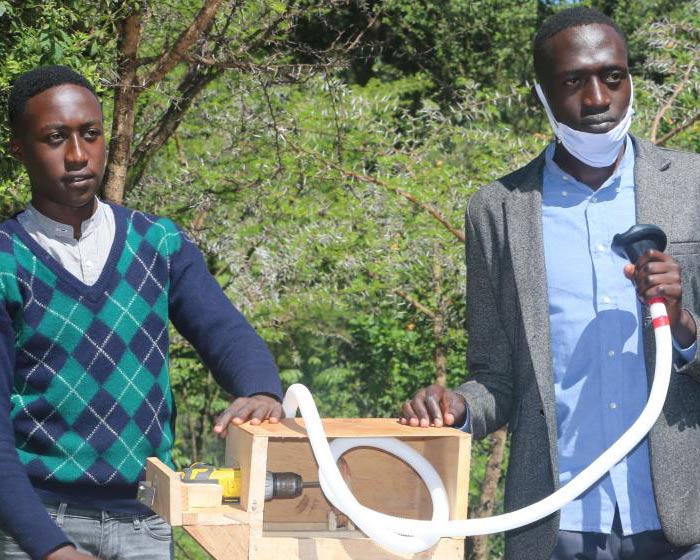 It all started with the sad revelations that Kenyan hospitals lack adequate ventilators to manage Covid-19 patients.
Down in a sleepy village in Nandi, two young brothers were following the news of the disturbing reality on the face of the highly infectious disease that attacks the respiratory system.
One of the brothers had just completed high school in 2019 and another one had completed a degree in nursing and is still looking for employment at one of the health facilities in his home county or beyond.
After one of the daily Coronavirus briefings, the duo, was hit by a rude shock after Health Cabinet Secretary (CS) Mutahi Kagwe forthrightly told Kenyans that hospitals had inadequate ICU facilities and particularly ventilators to manage critical Covid-19 patients.
Then, it was barely two weeks after Kenya confirmed its first coronavirus positive case when Erick Sabulei and his younger brother Felix Sabulei came with an idea to make a simple, portable and cheap ventilator, a decision that has culminated in a respiratory machine.
Erick, 24, is a trained nurse and Felix, 20, is a technology enthusiast.
The duo has converted their parent's hotel into an assembly point for their innovation. They have been testing their innovations over the past week.
Erick and Felix have electrified the sleepy Mosoriot village along the Eldoret-Kapsabet road with a ventilator they started making on March 28.
Their invention was informed by the level of poverty in the country and they thought of a breathing aid that can be accessed by ordinary people living in villages, away from referral hospitals where ICU facilities are available.
We meet the duo testing the portable ventilator at their parents' hotel.
It is made of a battery-powered hand driller, an Ambu bag, plastic connectors and a pipe connected to a face mask.
Felix, while demonstrating how their innovation works, says the medical respiratory technology is powered by an electric motor.
"When the battery-powered hand driller is put on, the rotation of the driller creates energy that causes consistent contraction of the Ambu bag which eventually pumps air in and out of the lungs," Felix explains.
He says the materials fit into a wooden box, making the machine weigh not more than ten kilogrammes.
"When the coronavirus pandemic struck Kenya, the government announced that it was the responsibility of every Kenyan to fight the disease. My brother and I decided to come up with a solution that would save lives," he says.
Felix says, unlike the large ventilators in ICU rooms, theirs is small and works without pressure gauges and oxygen cylinders – using natural air instead of an oxygen cylinder.
He says the machine that has so far cost Sh30,000 can be used to save lives at home in remote villages where there is no access to health facilities and ambulances.
The herculean challenge for the duo, however, is getting approvals by the Ministry of Health to produce the respiratory machine in mass and supply hospitals.
"If we get the approvals to venture into mass production, this ventilator will be used in areas where there is no electricity because it uses a rechargeable battery," Felix says.
On his part, Erick who has been the technical advisor owing to is training as a nurse says he got concerned after the shocking discovery that the country had an acute shortage of ventilators when simple respiratory machines can be made.
Erick who completed his degree in nursing at the University of Eastern Africa, Baraton observes that Kenya has thousands of techno savvy youth who can produce health equipment needed in the fight against the Covid-19 pandemic.
"My brother and I decided to help the government in this fight. CS Kagwe said it would take individual efforts to fight Corona and we feel that this is our contribution to the war," he said.
He explains: "Our ventilator is a simple and easy to use machine. It requires minimal resources to produce, unlike ventilators in ICU facilities which are complex and too expensive."
The duo tested the machine on a young boy who they describe as an inquisitive mind who has been keenly watching the process, and it literally took over the boy's inhalation and exhalation when it was turned on.
Erick says the machine, like an ideal ventilator, expands a collapsed air sacs in the lungs (also known as alveoli), allowing in air.
"Our machine uses the positive pressure mechanism which increases pressure along the trachea (respiratory track). With that pressure, it will make the collapsed alveoli to expand, letting in the air," the unemployed nurse explains.
He says with approvals and adequate funding, they can make at least 100 of the simple ventilators in a day.
The innovation earned the duo praises from their father Kiprono Sabulei who said he helped them buy materials.
Mr Sabulei said his sons took to the internet to learn some of the procedures of making the ventilator.
"I have been helping them to buy data bundles and materials. Their efforts have been an encouragement to me. The younger son has shown interest in technology since his childhood," the father said.
He said he plans to enrol Felix in a technical training college to pursue an engineering course of his choice.
Their mother Matilda said approval and funding would help her sons create job opportunities for other youth.
Nandi County Executive Committee Member (CECM) for health Ruth Koech said she assessed the respiratory machine yesterday.
According to Ms Koech the portable ventilator might be subjected to analysis by experts at the ministry health who will give approvals.
"In my observation, it worked well during the testing but we will want to be sure by engaging experts from the Ministry of Health," the CECM said.
She said Nandi County's health department was ready to support the two innovators to advance the technology and if approved, she promised, they will be supported to produce the machines in mass.
"The innovation is good but has to be subjected to expert tests before approvals. It is our hope that it gets approved. Our experts are also taking part in testing the machine," she said.