Traders want County set up sanitation facilities in new markets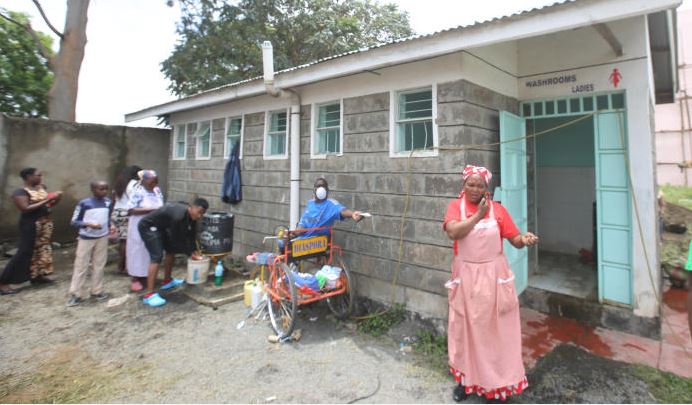 The new markets where traders have been relocated to in Nakuru lack adequate sanitation, thereby exposing people to infectious diseases.
The county government relocated the traders in efforts to combat spread of Covid-19.
Wakulima Market was closed indefinitely and traders relocated to new Afraha Annex Market.
The new market has a single block of toilets with at least six doors being used by about 1,000 traders.
Dickson Adiko, the sanitation manager at the market, said the toilets are not enough and this poses a health risk.
He said Wakulima Market, which is currently undergoing fumigation had 115 toilets.
Each trader was being charged Sh10 to access the toilets, money that is used for maintenance.
"Management of toilets is a major problem because they are few. We need a quick solution," said Mr Adiko.
A visit by The Standard established that the traders have to line up to access the toilets.
Adjacent to the toilets are lorries that collect waste from the market for dumping at Gioto dumpsite.
Margaret Muthoni, a vegetable vendor, whose stall is a few metres from the toilets, said some people relieve themselves in the open, near the market fence, which could lead to an outbreak of cholera.
The market sells fresh produce like tomatoes, green maize, bananas, fruits and vegetables among others.
"Though this is a holding market for the time being, we would like sanitation to be prioritised for safety of traders and food consumers," said Ms Muthoni.
In May 2015, there was an outbreak of cholera that killed at least 20 people, with 280 affected.
Traders pay Sh360 monthly operation fee to the Nakuru county government.
During relocation of the traders, County Commissioner Erastus Mbui promised to provide them with essential amenities.
Kiratina Market is also operating with a single block of toilets – three toilets for men and three for women.
However, the toilets are in a pathetic state and do not have a roof.
Ease congestion
Kwa Rhonda and Kaptembwo markets have also been opened up to ease congestion.
County Public Health Chief Officer Samuel King'ori said plans are underway to supply the markets with movable toilets and tanks to store water for hand washing.
Mr King'ori said a portable septic tank will also be supplied to manage waste at the new trading premise to curb infections.
"The market place should be kept clean because it supplies fresh food items to thousands of people. Together with other stakeholders, we will find a solution to management of waste," said King'ori.
However, he asked traders to observe personal hygiene.