Drama as patient drives away in Moi hospital ambulance, collides with truck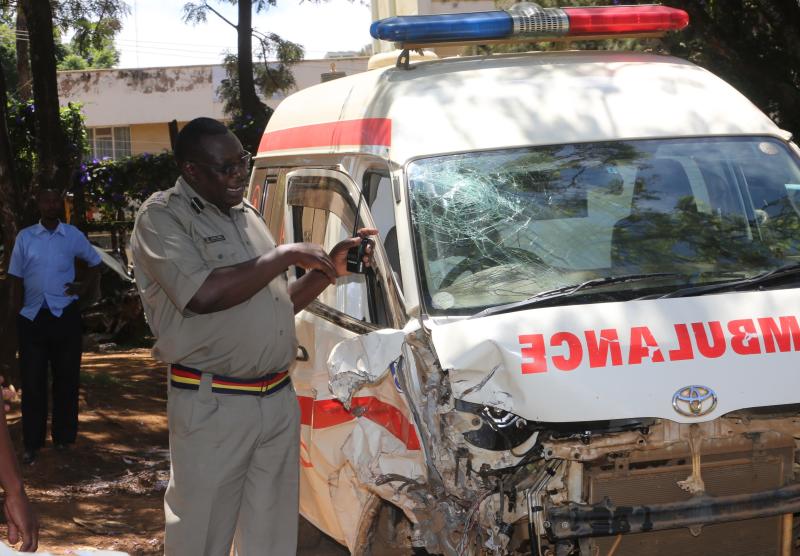 Picture this, an ambulance pulls over at the emergency entrance of Moi Teaching and Referral Hospital (MTRH)-Eldoret, medics wheel the patient into the emergency room.
As all this happens a man standing pensively at the emergency entrance monitors the situation and in a twinkle of the eye enters the ambulance, locks all the doors and drives away at high speed.
The ambulance belongs to a Uasin Gishu hospital.
The security officers at MTRH chased the ambulance thief as the residents were left reeling in shock.
Apparently the ambulance driver was standing few metres away from his vehicle waiting for the engine to cool before switching it off when it was driven away.
Paul Songok, who was driving the ambulance, told The Standard on Tuesday that the vehicle being diesel-powered, its engine could not be switched off immediately after being driven at a high speed and so he had left it idling for a few minutes to cool off before switching it off.
"Since the vehicle was still on, I had not locked the doors but stood just a few metres from it. Out of nowhere a man entered the car and locked himself in it before driving off. I attempted to gain entry through the passenger door but he had locked it too," narrates Mr Songok at Eldoret Central Police station.
The unperturbed man drove through Eldoret town before joining the Iten-Eldoret road.
"I even attempted trailing him before boarding a motorbike but he sped off only to be involved in an accident with a fuel tanker and a matatu some 12 kilometres away at a place known as Marura," he said.
Mr Songok said he was awed by the man's driving skills as he drove the vehicle at a terrific speed without hurting anybody within the precincts of the hospital.
"I am still shocked how I struggled to open the door that he had already locked it using central locking. I have seen such incidents in movies but never imagined one day it would unfold before my eyes," he said.
The driver of the fuel tanker sustained minor injuries and was taken to MTRH for treatment.
MTRH boss Wilson Aruasa said the agitated patient was being attended to after he had been brought in some minutes earlier by relatives for treatment.
"As a matter of fact, he had also been brought in for treatment and had been in the hospital a few minutes earlier before the ambulance arrived," said the CEO.
Eldoret West OCPD Eliud Maiyo said they received a distress call from security officers at MTRH and immediately commenced a manhunt.
"He suffered head and chest injuries and he was evacuated and taken to MTRH for treatment. He is in a stable condition," he said.
According to our investigation, the police boss said, the victim hails from Manyatta in Moiben sub-county and he is reported to have been suffering from a mental condition.
"We have commenced investigations into the matter and we are relying on the medical report to establish his mental status. If he is mentally fit we shall charge him in court," said the OCPD.