Security tight at President Daniel Moi's Kabarak home ahead of burial service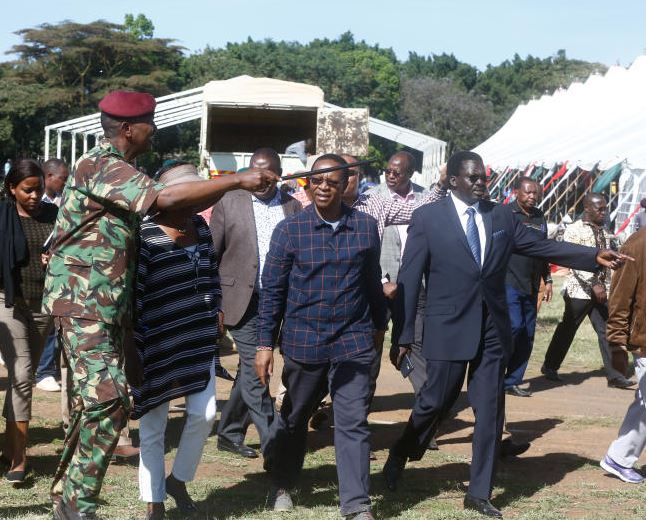 Security has been beefed up ahead of Wednesday's state sendoff of the former President Daniel arap Moi, at his Kabarak home in Nakuru County.
Rift Valley regional commissioner Mr George Natembeya said a contingent of police officers including General Service Unit (GSU), regular police, traffic police and Administration Police (AP) have been deployed to beef up security at his residential home.
Speaking to The Standard, Mr Natembeya added that Kenya Defence Forces (KDF) has also been deployed in strategic places to beef up security in a send-off ceremony that will be attended by dignitaries and presidents from at least 10 countries.
More than 100 Criminal Investigation Department (CID) officers are also collecting criminal intelligence reports at his Kabarak home.
"Security ahead of burial is tight, with adequate police officers and KDF deployed at the venue and along the highway," said Natembeya.
Areas that experience high traffic along the busy highway like Gilgil weighbridge have more police officers including Recce Squad to ease traffic.
"We have police officers on standby, who will be deployed to areas of need, and also others continue to conduct traffic patrols in designated localities and the highway," said the commissioner.
In addition, the commissioner, who is in charge of security said trucks will not be allowed to ply Nairobi-Nakuru-Eldoret highway as directed by Inspector General of Police, Hilary Mutyambai.
According to the directive issued last week, trucks were to be barred from plying the highway from Tuesday noon, to Wednesday at 7pm.
"All long distance truck drivers should follow the law issued by IG, until the state function is concluded. Anybody who will not obey the directive will be arrested because he will be interfering with state plans," said Mr Natembeya.
A check by The Standard along the highway revealed eased flow of traffic with no trucks plying Nairobi-Nakuru-Eldoret Highway.
Traffic police officers led by the Rift Valley Traffic Enforcement officer Mr Rashid Ali manned the Nakuru-Kabarak highway.
"So far, there is no traffic challenge. All truck drivers have obeyed the directive and we believe traffic flow shall continue," said Ali.
Mr Ali told The Standard that Nakuru-Kabarak highway will be closed, and vehicles coming from other designated localities directed to main parking space opposite Kabarak Main gate.
"Only VIP vehicles will be allowed to enter Kabarak while other vehicles will be directed to the parking," he said.
Tuesday, military officers conducted final ritual send-off of President Moi, who was Commander-in-chief,of the armed forces for the 24 he served as the president.
Sitting arrangements of dignitaries and locals who will attend the service was also underway.
At least 60,000 people are expected to attend president Moi's burial service at his Kabarak home.
The service will be conducted at Kabarak University, and later, his body laid to rest at his residence in Kabarak, next to his wife Lena's gravesite who was buried in 2004.
It was the second president's wish to have his remains laid to rest at his Kabarak home, where he moved to live in 1970s. He made the pronouncement during Lena's burial.
However, according to security arrangements, there will be no viewing of Mzee Moi's body at Kabarak. The body will be flown from Nairobi to Kabarak on Wednesday morning.
Burial of Mzee Moi will be conducted in accordance with military rites.
The service will be televised on screens at Afraha Stadium in Nakuru, Moi's ancestral home in Sacho and Kabarnet town, in Baringo County.
Mr Natembeya said people who will attend the burial service will be frisked for security purposes.
"Frisking of people attending the service will be done for security purposes. We are therefore asking everyone planning to attend the funeral to observe security directions," he added.
Public school buses will be used to ferry people from designated places to Kabarak.