Kibor's fight with Kanu and how he knelt before Mzee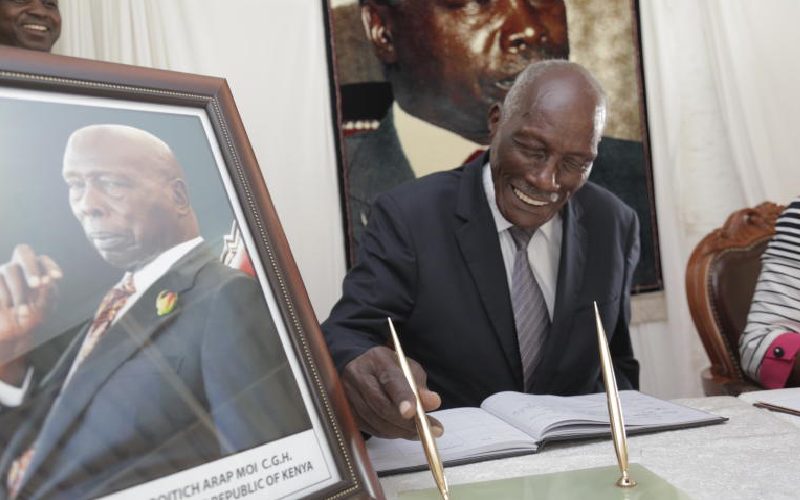 In December 1991, political history was made when President Daniel arap Moi repealed Section 2A of the Constitution, making Kenya a multi-party state.
Less than one year later, an emboldened farmer in Uasin Gishu named Jackson Kibor began agitating for his community's rights.
Kibor and Cherangany MP Kipruto arap Kirwa led a group of Nandi elite in demanding for positions in government as well as jobs for their youth. They claimed not to have benefited from Moi's leadership despite their support.
The group gained popularity and Kibor would soon be elected as the Kanu district branch chairman, with the faction he led referred to as Kanu 'B'. He drew support from grassroots leaders in Turbo, Moiben, Ziwa, Kesses and Ainabkoi.
As the group's profile grew by the day, other leaders in the region, especially the powerful Nicholas Biwott and his allies, grew alarmed and accused Kibor and his faction of sabotaging the government and its projects, like the Eldoret Airport.
It therefore came as no surprise when, after months of disquiet, orders were issued from Kanu headquarters suspending Kibor from the party.
Although this disciplinary measure did not come as a surprise to political observers, some still found it odd because Kibor had been an ardent party supporter who used to donate his trucks to ferry supporters to campaign meetings in the North Rift and western Kenya.
But because Kibor and Kirwa had widespread support in pockets of Rift Valley, he was easily re-elected in a subsequent election to the chagrin of senior Kanu operatives.
It was a short-lived victory because the results were annulled over alleged malpractice. Moi personally took charge of mobilising support for Kanu in Uasin Gishu and the surrounding areas.
Party officials also tried to organise rallies against Kibor and Kirwa in Eldoret town but they were largely ignored by residents who had embraced Kibor's narrative that the community was being marginalised by the government.
Kibor reacted by defecting to Ford Kenya where he was received by party chairman Michael Wamalwa Kijana. He was made branch chairman and became the party's face in the North Rift alongside activist Kipkorir arap Menjo.
The expanded democratic space suited Kibor who was unafraid to challenge the Head of State unlike previous years of one-party rule when the threat of arrest and detention was real.
In 1995, the politician broached what was then a taboo topic when he told a meeting in Kesses that Moi should name his successor because retirement was an inevitable act of nature.
As expected, he was widely condemned by Kanu leaders. The president also warned that succession talk was reckless.
The strained relationship between the two men would thaw and they buried the hatchet following the intervention of leaders like Mark Too and Ezekiel Barng'etuny.
Too later narrated how he got Kibor to kneel before Moi following his succession remarks. After the politician accepted an invitation to the president's home, the crafty Too made his move.
"With Mzee striding before us, I went down on my knees while asking Kibor to do the same. Maybe he thought there was a coup or something serious happening so he went down. As this happened, Mzee walked in to find us kneeling. He smiled. I had made Kibor kneel before him! Kibor never forgave me for this and referred to me as sungura mjanja (trickster)," Too was quoted as saying.
Hold rallies
Things were not rosy on the political front, too. As was common practice at the time, the provincial administration restricted outspoken leaders from holding rallies, thus consigning them to spectators as Kanu called the shots.
Kibor later moved to Simeon Nyachae's Ford People with long-time ally Menjo, who was made party secretary general. Kibor was appointed as one of the party trustees at a delegates' conference in Limuru.
With Kibor's support, Menjo contested for the Eldoret North seat in the 1997 elections and came a close second to William Ruto (now the deputy president).
After being rendered inactive for about two years, Kirwa joined Lugari MP Cyrus Jirongo and Ruto to form the United Democratic Movement (UDM).
Although Jirongo appeared to be the force behind UDM, it was largely seen as a Rift Valley entity after Kibor and fellow disgruntled leaders in the North Rift threw their weight behind it, further unnerving the Kanu leadership.
While on the campaign trail in Rift Valley during the first multi-party elections in 1992, Kibor, who was back in Kanu, was accused of demanding that non-indigenous people leave politics to local communities.
The statement raised uproar from human rights groups and opposition parties who argued that Kibor was calling for disenfranchisement at the tribal level.
In 2000, Kibor and Kipkalya Kones were summoned to the Criminal Investigations Department headquarters to record statements over their alleged roles in tribal clashes that rocked Rift Valley in 1992.
Kibor, former Tinderet MP and long-serving minister Henry Kosgey and Ruto later joined Raila Odinga's ODM party before the 2007 elections.
Kibor told The Standard that he visited Raila's office in Nairobi and told him to feel free when visiting the Rift Valley.
The outspoken retired politician appeared to have been striking a conciliatory tone, saying: "In 1992 we fought against the Luhya, in 1997 we fought other tribes and last year's election results caused unnecessary enmity between the Kikuyu and Kalenjin. I asked Raila, Ruto and other ODM MPs to work in harmony."
Kibor was, however, charged with incitement to violence after the 2007 elections and remanded in police custody in Nakuru. He was accused of inciting members of the Kalenjin community against the Kikuyu community but was later acquitted.