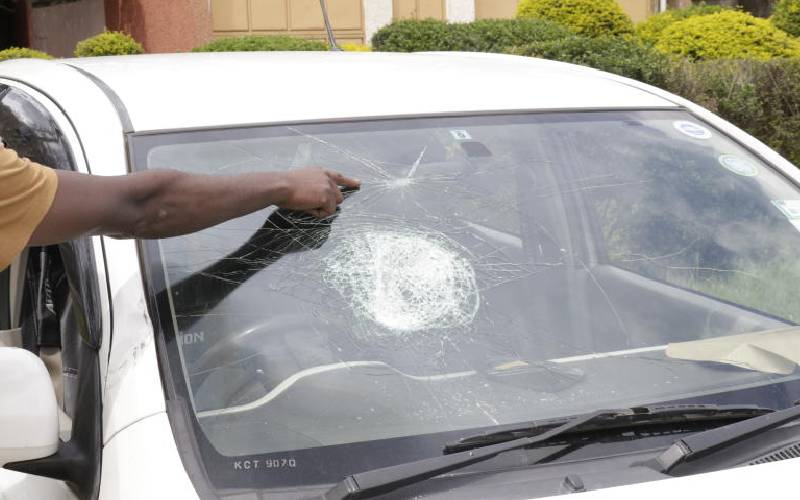 Police are looking for a gang of teenagers that has been terrorising residents of Nakuru Town east and west constituencies. Residents suspect that the gang, whose members are teenagers between 12 and 18 years, is the outlawed 'Confirm' group that has regrouped and was behind a spate of armed robberies reported at the weekend. More than 20 vehicles were destroyed and their occupants assaulted during the brazen attack. There were also reports that at least six women who attended a music extravaganza at a local private members club were sexually assaulted, several entertainment joints raided and patrons attacked.
SEE ALSO: Nganga leaves Safaricom board as quietly as he served
Some of the victims who spoke to The Standard said the teenagers were armed with crude weapons. "They appeared intoxicated and fearless. They attacked motorists who refused to stop with clubs, metal bars and other weapons," said a taxi driver who did not want to be named for fear of reprisals.
Brush with death
David Kiema, a taxi operator, said he escaped death narrowly when he was accosted by the gang last Saturday. "They stopped me near Bontana Hotel. There were 20 of them and they were armed. I defied their orders to stop and they broke the windscreen and side mirror of the car. They also destroyed my car's rear bumper and vandalised my headlamps," he said.
SEE ALSO: Former CEO Joseph back at Safaricom as board chair
He said his client was injured and lost her mobile phone in the attack. He now needs at least Sh100,000 to repair his taxi, but counts himself lucky to be alive after driving away from the scene. "I escaped death by God's grace. These criminals are ruthless. They were throwing stones at my vehicle and threatened to kill me if I tried to drive away," he said. The case was reported at Nakuru Central Police station OB number 10/08/12/2019. Another victim, John Mbugua also survived the attack along Moi Road the same night.
SEE ALSO: Rape: 41 people fall victim each day
Mbugua, who is nursing a wound on his cheek sustained during the attack said that the gang stopped him at midnight as he returned from dropping a client at Lanet. The gang posed as clients seeking transport before confronting the 29-year-old taxi driver, snatching his mobile phone, vandalising his vehicle and threatening to kill him. "The youths were walking in groups, they stopped me and rained blows on me," he said. When he got a chance, Mbugua escaped to Central Police Station located approximately 500 metres from the scene of the attack and recorded a statement, Occurrence Book Number 14/08/12/19. The criminals took off with the headlights of his vehicle, side mirrors and windscreen. According to locals, the gang also raided several business premises and hotels within Nakuru town. However, owners of the businesses were reluctant to speak to the press fearing reprisals. They accused the police of doing little to fight the gang. "These criminals are well known to the police, whom am I to fight them through the media ?" said one of business owner whose premise was raided. Police have denied this. Nakuru Town East Sub County Community Policing committee chairman Ibrahim Ogeto claimed that the gang is recruiting teenagers, especially school drop outs. He said group initially targeted mobile money transfer outlets but has since turned to robbery with violence, mugging and break-ins. Ogeto blamed laxity for the gang's activities. "It is sad that when the criminals are arrested, they are quickly freed," he said.
Broad daylight
Movine Ayege's house in Manyani was broken into in broad daylight on Friday last week by suspected members of the gang. The gang ransacked her house while she was away at work and made away with her gas cylinder and a cooker, television, a home theater, laptop and personal documents including identification card and ATM card. The case was reported at Bondeni Police station, OB number 08/07/12/2019. "The gang threatened anyone who tried to stop them at the gate," she said. Ayege called for more police patrols within the estates. "There are times I see criminals openly terrorising residents in the streets," she said. Mercy Moraa has abandoned her boutique business the gang broke into the premises and stole her stock. She now runs a salon at the premises after increasing the number of locks on the doors. "I close my business early to avoid being attacked. These are young men well known to me, but they are ruthless," she said. She reported the case at Bondeni Police Station. The Standard team visited Bondeni estate, one of the crime hot-spots, on Monday morning and found hordes of idle youths roaming the lanes. Nakuru County Police Commander Stephen Matu maintained that the weekend's attackers were not members of an organised gang.