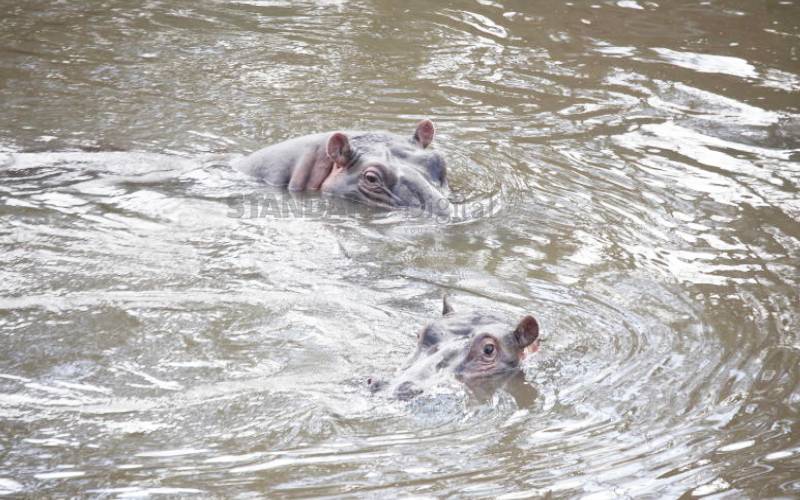 Communities living around Lake Naivasha are up in arms over an increase in cases of hippo attacks in the last one year.
This came as another fisherman was killed by a rogue hippo along South Lake bringing to 13 the number of people killed by the animal this year.
Hours later, residents of Kihoto estate were carting off chunks of free meat after another hippo was hit and killed by a truck along the Naivasha-Mai Mahiu road while searching for pasture.
The current rise in the cases has been attributed to a rise in the number of the animals against the closure of wildlife corridors around the water body.
In the first incident, the 'foot-fisherman' was in the company of colleagues near Finlay farm when the animal attacked crushing him on the left shoulder.
According to David Kilo, an honorary game warden, the most affected were 'foot fishermen' who had invaded the lake in the last one year.
"We have recorded over ten deaths in this lake from the hippos and this is mainly due to the rise in their numbers against limited grazing grounds," he said.
Kilo noted that the ongoing rains had seen pasture grounds of the hippo reduced drastically after flooding forcing the animals to seek feeding grounds elsewhere.
"In the process you will find the hippos roaming along the Naivasha-Mai Mahiu road and some have caused accidents along the road and attacked members of the public," he said.
The sentiments were echoed by the chairman Friends of Lake Naivasha Francis Muthui who said that the only solution in addressing the current crisis lay in culling them.
"Early in the year one man lost both of his legs in Kasarani while a couple of week's back a Chinese tourist was killed by a hippo that was later shot dead by KWS officers," he said.
Muthui added that the situation had been worsened by the closure of wildlife corridors and fencing of riparian land where the animals used to graze.