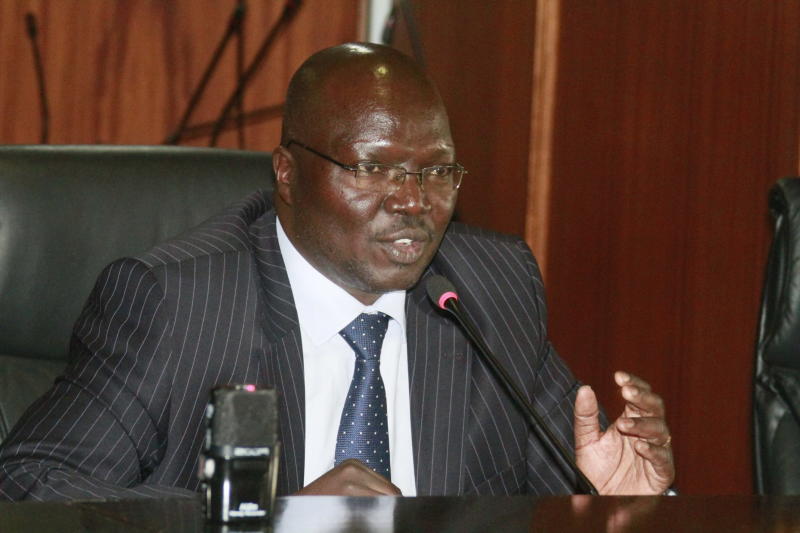 Water and Irrigation Cabinet Secretary Simon Chelugui (pictured) has absolved himself from any blame over the stalled Itare Dam project in Nakuru County.
Mr Chelugui who had appeared before the Directorate of Criminal Investigations (DCI) headquarters on Wednesday for grilling, yesterday said he had been summoned to shed more light on the procurement processes of the dam and dismissed claims of being a suspect in the case.
Speaking during the launch of the Resource centre on ground water resources education training and research strategic plan 2018-2022 in Nairobi, the CS said that he was not in office during the procurement process of the dam and took over the project from his predecessor Eugene Wamalwa after works had already began.
"Itare dam project started in 2014 and that's when it was signed, sealed and delivered. I, however, took over office in 2018 and found payments had been done and work was going on. My visit to the DCI was on procurement which involves feasibility, due diligence and contracting which were all done in 2014 with the first advance payment of Sh4 billion done in 2015," said Chelugui.
The CS explained that nowhere was he involved in the certification or authorisation of payment for works done, saying that his job as a CS is to provide policy and strategic direction of the ministry. He added that the rest of the responsibility fell in the management and operational departments.
He intimated that payments amounting to Sh11 billion were made in installments since 2015 with the last batch being paid in 2018.
"My oversight role does not involve me trying to micro-manage or overstep my mandate. We have a clear mandate in terms of policy and in terms of accounting. At no stage does the CS see or get any information on the payments and only gets it during the budgetary allocation policy statement," he reiterated.
The payment process, he explained, starts with the contractor who is in this case was CMC di Ravenna making a claim to the consultant who was a German firm.