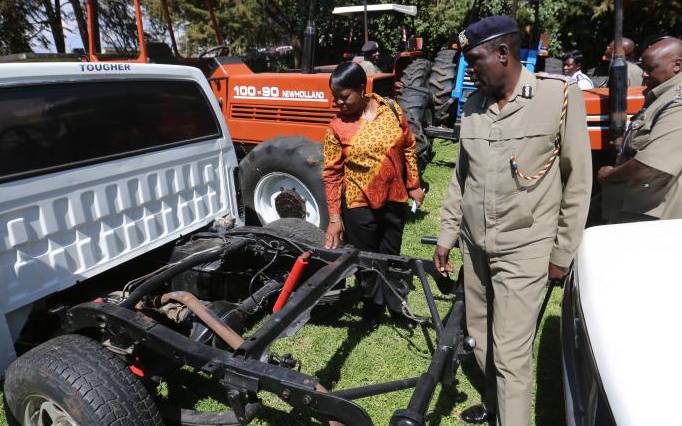 Police from Eldoret have recovered eight vehicles and five tractors suspected to have been stolen in a homestead in Mosoriot, Nandi County.
The owner of the home was arrested and is being held at the Eldoret Central Police Station.
Uasin Gishu police chief Johnstone Ipara yesterday said police from a special unit have been tracking down the suspect following intelligence reports linking him to a cartel comprising car dealers and government officials.
Mr Ipara said the vehicles and tractors have chassis numbers that do not exist in the National Transport and Safety Authority database.
Read More
Among the vehicles recovered during the Thursday, operation includes a Mercedes Benz, a Toyota Hilux, Toyota Premio, Subaru Forester, a Mitsubishi FH and two pickups (Mitsubishi and Isuzu).
The five tractors were New Holland 100-90 and 80-665 models.
The police boss said investigators suspect the vehicles and farm machinery might have been smuggled from neighbouring countries or transit goods diverted to evade taxation.
"The intelligence information led us to the compound of the suspect in Ndaptabwa in Nandi County.
Upon a quick check, we discovered that the chassis numbers had been tampered with," Mr Ipara said.
He said a crackdown had been launched. The suspects are believed to be working in various government agencies.