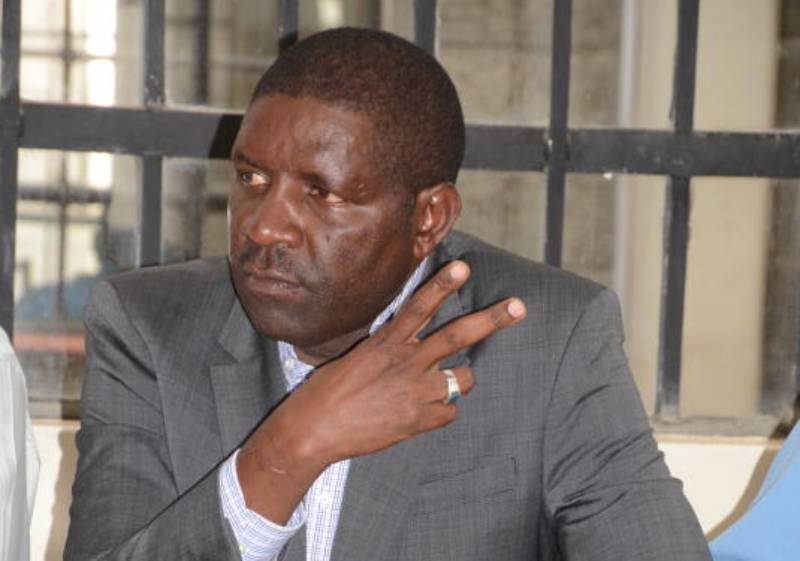 Nakuru Town East legislator David Gikaria (pictured) has tendered a public apology to Interior Cabinet Secretary Dr Fred Matiang'i over his recurring conflicts with security agencies.
Gikaria who spoke during the official launch of an e-passport center in Nakuru said that he had changed his ways and would closely work with the police to enhance security in his constituency.
"I never knew we had new officers and it is during the recent confrontation I came to learn about it. I ask for forgiveness from those whom I wronged. It is unfortunate our paths had to cross that way," said Gikaria.
Three weeks ago, the lawmaker was engaged in a fight with the police over the construction of bodaboda shades on a private land at Pipeline area. The lawmaker allegedly assaulted a Deputy Sub County Police commander during his arrest.
Read More
After police whisked him away, photographs of him bare footed and dressed in a T-shirt and a pair of shorts emerged. Gikaria later claimed he had been battered by a group of officers.
Gikaria said that he had forgiven the officers against whom he had already lodged a complaint at the Independent Police Oversight Authority (IPOA).
"I have forgiven those who assaulted me. From here I will engage IPOA to have the complaints I had lodged against officers who assaulted me withdrawn," said Gikaria.
The lawmaker has on several times been accused of derailing efforts of bringing down the dreaded criminal gang by bailing them out once they are charged in court.
The MP said that he would henceforth work with the police to have the gang dismantled to restore security in the estates they operate in.
Rift Valley Regional Coordinator Mongo Chimwanga said that during their efforts to fight the gang he came to learn that it was linked to the MP.
"After a court released members of the gang on bond they camped near my offices before they vanished. I was shocked to get information that they were Gikaria's people whom I learnt he had also bailed them out," said Chimwanga.
Accepting his apology on behalf of the officers, Matiang'i said that it was the responsibility of the security team to take necessary action against all Kenyans where there is breach of law regardless of their social status.
"Your apology is accepted and it is our hope you stick to your newfound self. It is time for you to sit with the county security team and help in strategising how security in the area can be improved," said Matiang'i.