Kerio Valley residents want Uhuru to act on bandit raids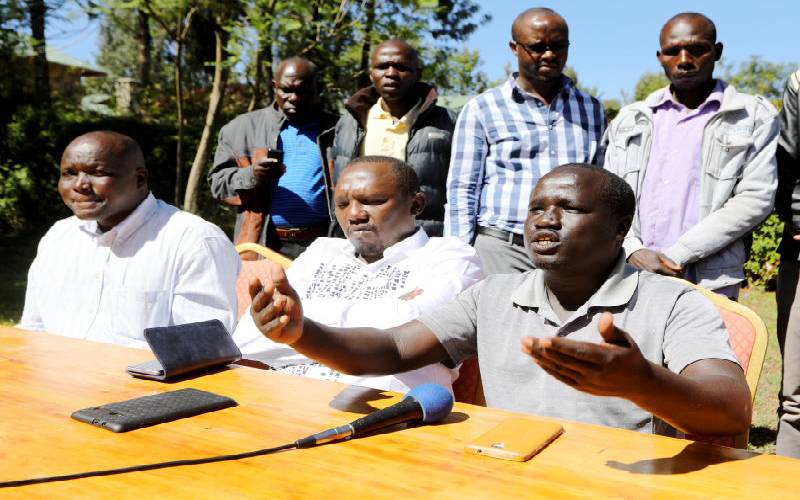 Kerio Valley residents have petitioned President Uhuru Kenyatta to come up with a permanent solution to growing insecurity.
Addressing the media in Eldoret yesterday, the residents warned that what began as cattle rustling was evolving into a full blown inter-ethnic conflict.
They said despite heavy police presence, the number of people killed or injured by armed bandits grew every day.
"We are making a passionate appeal to the President to take charge and ensure the issue of insecurity in Kerio is addressed. People are getting killed every day," said the resident's spokesperson Nixon Boisho.
The residents said hundreds of people had fled their homes, while as many children no longer attended school.
"In the 1990s people used to live inside caves for fear of bandits. The same is happening now," said Boisho.
At Chesegon, along the West Pokot-Elgeyo Marakwet border, residents accused the Government of inaction.
"We have named the bandits but the Government has failed to take action," said one resident.
The attacks are now threatening farming in the area.
"Mangoes, vegetables, potatoes and onions are rotting in farms," said David Mutai, who has since abandoned his mango farm.
Kenya National Chamber of Commerce and Industry West Pokot chairman Mark Lotee said insecurity was affecting business locally.
"There is little investment in the North Rift due to insecurity, no business is going on along the West Pokot -Elgeyo Marakwet border," he said.