8 held in slum protest against piling garbage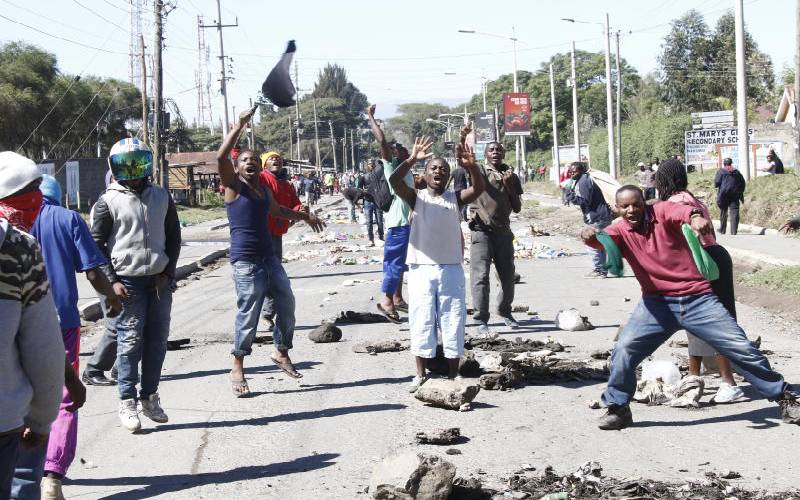 Residents of Bondeni Estate blocked Mburu Gichua Road for hours to protest failure by the county administration to collect garbage.
The residents dumped mountains of garbage on the busy road that leads to Lake Nakuru National Park, disrupting traffic before police moved in to disperse them using tear gas.
The protesters used boulders and wood planks to barricade roads, accusing the county of ignoring their pleas to clean up the slum and collect garbage.
"Our drainage systems are clogged with waste brought in by storm water, yet nobody is addressing the issue," said Benson Genge.
The residents claimed that several cases of cholera have been reported in the estate due to poor sanitation. However, The Standard could not independently confirm these claims.
"Why should the county claim to be fighting cholera when it has neglected a simple issue of waste management," said Genge.
Monthly payments
Others accused the county administration of shortchanging them.
Salima Kaburuka said garbage has been accumulating in the area despite residents paying Sh100 monthly for waste management.
"We pay Sh100 every month for services, yet we have been left to live in such a dirty environment," she said.
According to the chairman of community policing in the estate, Ibrahim Mageto, garbage has not been collected for the past three months.
He said the problem was compounded by the rains that swept garbage from other parts of Nakuru town into the slum.
"In January, we hired a lorry to transport the waste to Gioto dumpsite, unfortunately it keeps flowing back to the estate," he said.
Police said eight protesters were arrested.
"It is their right to conduct peaceful protests but we cannot have them causing chaos and disruptions," said Nakuru Town East sub-county deputy police commander Daniel Kitavi.
Environment chief officer Muriithi Kiogora blamed the situation on the residents and politicians, accusing them of rejecting private waste management agencies contracted by the county since October 2016.
He said the most affected estates were Bondeni, Kaloleni, Kivumbini and Manyani.
"Agents who had been contracted to manage waste in the estate said they were sent away by local politicians despite having undergone the normal procurement process," he said.