Tribunal clears Sh160 billion Nairobi-Nakuru-Mau Summit road project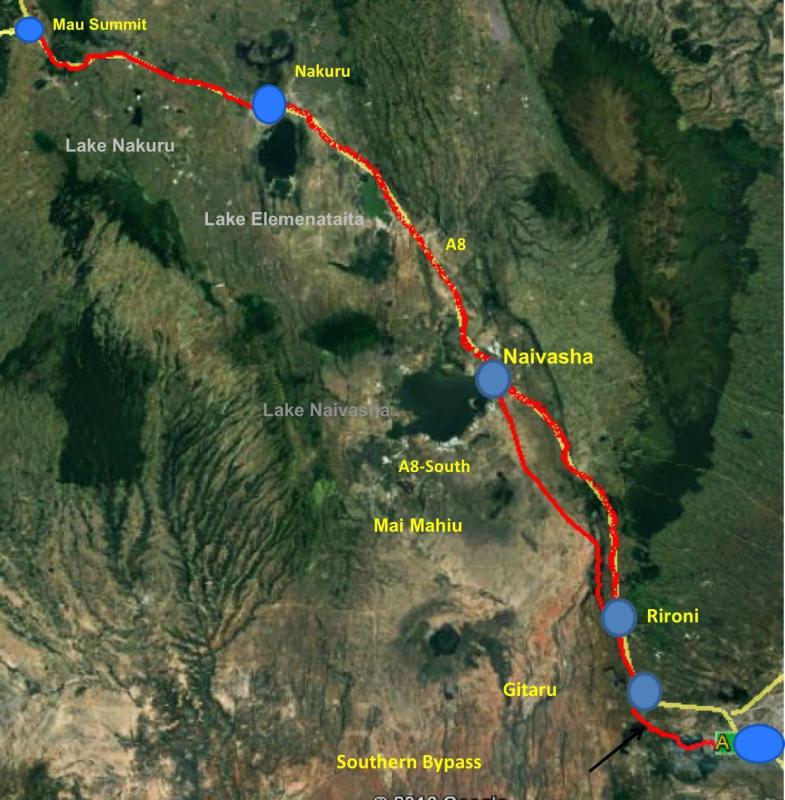 A plan to construct the Nairobi-Nakuru-Mau Summit road at a cost of Sh160 billion is back on track.
This emerged after a tribunal dismissed a case challenging a decision by Kenya National Highways Authority (KeNHA) to award the tender to the lowest bidder.
On Tuesday, the Public Private Partnerships Petitions Committee sitting in Nairobi dismissed the application by a consortium that had lost the deal, but wanted it nullified.
A consortium of Egis Projects S.A (France), Mota-Engil-Engenharia E Construcao Africa, S A (Portugal), Africa Infrastructure Investment Managers Seed Partnership (South Africa), and Orascom Construction Ltd (Egypt) had bid Sh194,975,130,000 for the tender.
On the other hand, the consortium that won the bid - Rift Valley Connect consortium (RVC) which is composed of three French firms Vinci Highways, Meridian Infrastructure Africa Fund, and Vinci Concessions, quoted Sh159,499,760,000.
This made a difference of Sh35,475,370,000 and following the evaluation process, Kenha on February 27, 2019 awarded tender No. KeNHA/PPP/1689/2017 to the lowest bidder.
But on March 8, 2019 the losing bidder filed its petition at the committee, accusing Kenha of violating the law governing Public Private Partnerships (PPPs) and engaging in a non-transparent exercise.
However the committee chaired by James Kihara and composed of members Ledishah Jebichii Kipseii, Beatrice Nyabira, Maurice De Souza and Paul Karekezi dismissed the case on irregularities of documents filed.
The committee established that the power of attorney given to John Kaigua Kimotho, who filed the petition on behalf of losing consortium, was "fatally defective".
Kenha had argued that Mr Kimotho - who described himself as an investment professional employed by Africa Infrastructure Investment - was a stranger to the tender process and thus did not have the capacity or authority to act on behalf of the petitioners.
"The power of attorney annexed to the petition is fatally defective and the petition is truck off. The prayer that the decision by Kenha dated 27th February, 2019 be declared irregular, unfair, unprocedural and unlawful is hereby denied," the ruling dated 8th April, 2019 reads.
"This means what we did was the right thing and this will go a long way in savaging Kenyans about Sh35 billion," Kenha Director General Peter Mundinia said.
He added: "This project will make the corridor very vibrant, travel time reduced, operational costs reduced and connectivity between Nairobi and Nakuru enhanced."
The contract may, however, take a longer time before it's sealed as Kenha has to follow several protocols before penning the deal.
Following this decision, Kenha will initiate negations with the winners, now referred to as preferred consortium, and if the two agree, then they will refer their document to Treasury PPP Committee for onward transmission to cabinet.
Once Cabinet has approved it, then Kenha will be given a nod to sign the contract paving way for the contractors to negotiate for funding. The entire exercise is likely to take over six months.
"We hope that by end of this year, we will have moved to the ground," Mundinia told The Standard.
According to Kenha, the road to be done under a PPP will feature a dual carriageway of four lanes to be increased to six with increased traffic and an elevated road (Nakuru Expressway) being proposed in Nakuru town.
A8 from Gitaru up to the Rironi interchange, a distance of approximately 12km being a dual carriageway at the moment is scheduled to be widened to a 6-lane highway under a construction contract awarded to China Wu Yi Company and financed by the World Bank. It is expected to be completed within three years.
Between the Rironi interchange and Naivasha, users can opt to continue on the A8 single carriageway or use the parallel A8 South (formerly classified as B3/C88) road, which is also a single carriageway.
Both roads have a length of about 58km. Freight vehicles are currently required by Kenha regulation to use the A8 South route - which is scheduled to be revoked upon implementation of the project.
These two routes join up again just beyond Naivasha and the road continues as a single lane highway towards Nakuru, Kenya's fourth largest town with a population of around 300,000.
At Nakuru, the road becomes a dual carriageway again for a further 17km as it passes through Nakuru town. After Nakuru, the road again becomes a single carriageway until it reaches Mau Summit.
The road passes mostly through plain terrain with occasional sections of rolling and hilly terrain. Beyond the urban limits of Nakuru town, the road climbs up the Western Rift Valley until the end of the project road with frequent stretches of climbing lanes for heavy vehicles.
The road also passes through/along a number of lakes, forests and national parks and wildlife conservancies including Manguo Lake.